Winter TV 2019: Premiere Dates For All The New & Returning Series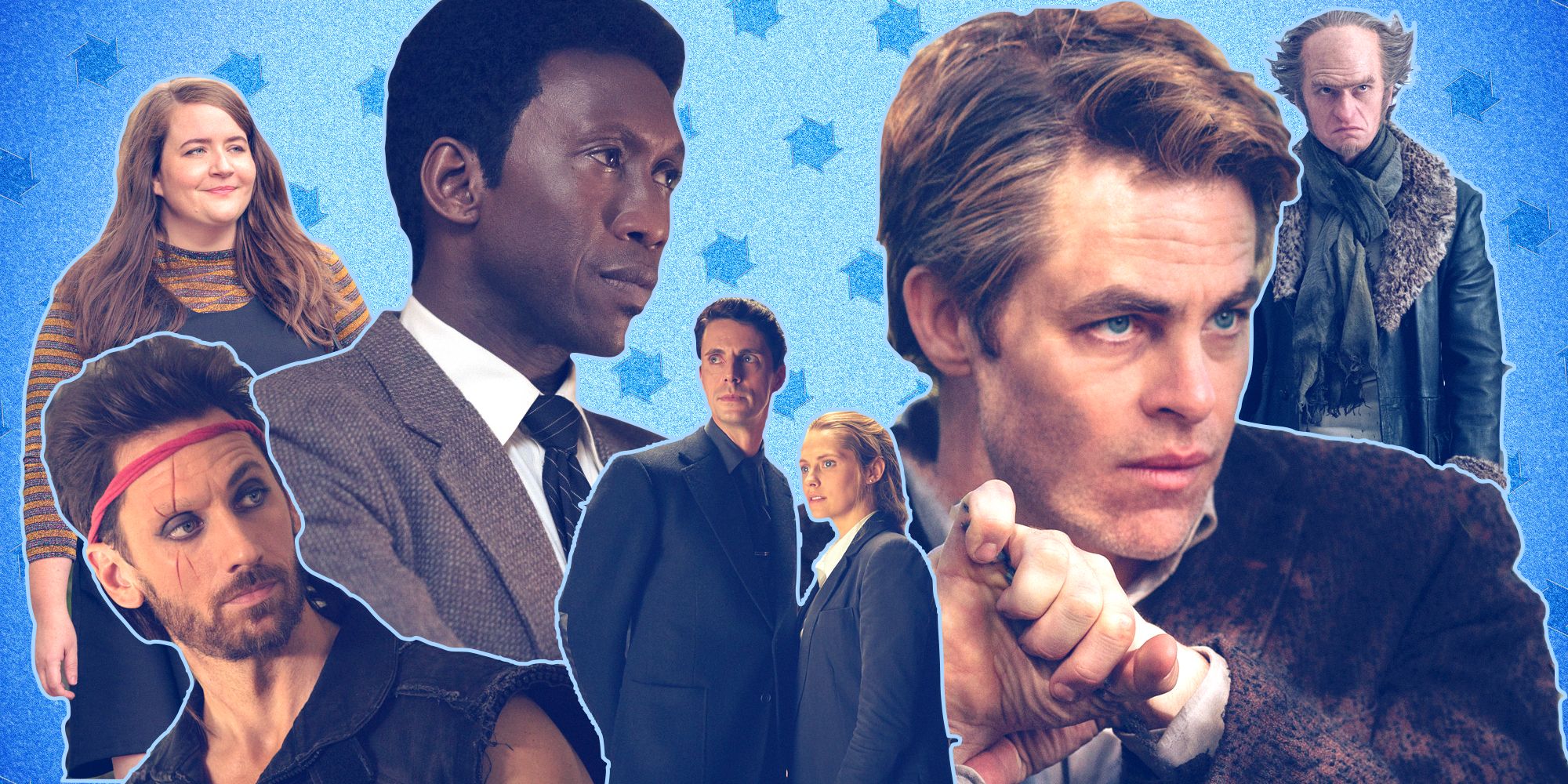 It has become something of an annual tradition that television viewers both celebrate and lament the mountain of content awaiting them as one year ends and another begins. That's certainly the case with 2019, as broadcast networks, cable channels, and streaming services all have more content than any one person can possibly watch competing for eyeballs in the year to come. While it's easy to feel overwhelmed when it comes to what to watch, knowing when old favorites will return and when those shiny new shows will begin might make things a little easier. 
This winter looks to be a busy one, as not only will favorites like The CW's Arrowverse return, but the network will also debut its reboot of the teen alien drama, Roswell, New Mexico. Meanwhile, FOX kicks off the beginning of the end for Gotham, while preparing for humanity's downfall in the series premiere of The Passage. Not to be outdone by the networks, HBO sees the return of True Detective, and Showtime makes room for Don Cheadle's return in Black Monday. Streaming-wise, things look typically busy, as Netflix readies the final season of A Series of Unfortunate Events as well as the return of Friends From College and The Punisher, before another comic book adaptation, The Umbrella Academy hits in February. 
Hulu has some early 2019 series worth checking out, too, like PEN15, Future Man, and Shrill, while Amazon will bring Inspector Poirot to TV in The ABC Murders. And that's just a small sampling of what's to come in the new year. Check out the premiere dates for January-March, 2019 below: 
January
Tuesday, January 1
A Series of Unfortunate Events — Netflix
Wednesday, January 2
grown-ish — Freeform
Thursday, January 3
Gotham — FOX, 8pm
The Blacklist — NBC. 10pm
Friday, January 4
Young Justice: Outsiders — DC Universe
Fresh Off the Boat — ABC, 8pm
Speechless — ABC, 8:30pm
Sunday, January 6
The 76th Annual Golden Globes — NBC
Tuesday, January 8
Good Trouble — Freeform 
The Conners — ABC, 8pm
The Kids Are Alright — ABC, 8:30pm
black-ish — ABC, 9pm
Splitting Up Together — ABC, 9:30pm
The Rookie — ABC, 10pm
Project Blue Book — History, 10pm
Wednesday, January 9
The Goldbergs — ABC, 8pm
Schooled — ABC, 8:30pm
Modern Family — ABC, 9pm 
Single Parents — ABC, 9:30pm
Match Game — ABC 10pm
You're The Worst — FXX, 10pm 
I'm Sorry — truTV 10pm 
Thursday, January 10
Brooklyn Nine-Nine — NBC 9pm
The Good Place — NBC, 9:30pm
Fam — CBS, 9:30pm
Friday, January 11
Informer — Amazon 
Friends From College — Netflix
Future Man — Hulu
Crazy Ex-Girlfriend — The CW, 9pm
Sunday, January 13
Valley of the Boom — National Geographic, 9pm
True Detective — HBO, 9pm
Victoria — PBS, 9pm
Monday, January 14
The Passage — FOX, 9pm
Those Who Can't — truTV, 10pm
The Good Doctor — ABC, 10pm
Tuesday, January 15
The Flash — The CW, 8pm
Roswell, New Mexico — The CW, 9pm
Drunk History — Comedy Central, 10pm
Teachers — TV Land, 10pm
Corporate — Comedy Central, 10:30pm
Wednesday, January 16
Riverdale — The CW, 8pm
Deadly Class — SYFY, 10pm
Schitt's Creek — Pop, 10pm
Thursday, January 17
A Discovery of Witches — Sundance
Star Trek: Discovery — CBS All Access
Grey's Anatomy — ABC, 8pm
Supernatural — 8pm
A Million Little Things — ABC, 9pm
How to Get Away With Murder — 10pm
Friday, January 18
Grace and Frankie — Netflix
Carmen Sandiego — Netflix
The Punisher — Netflix
Saturday, January 19
Dynasties — BBC America, 9pm
Sunday, January 20
Supergirl — The CW, 8pm
Shameless — Showtime, 9pm
Charmed — The CW, 9pm
Crashing — HBO, 10pm
Black Monday — Showtime, 10pm
High Maintenance — HBO 10:30pm
SMILF — Showtime, 10:30pm
Monday, January 21
Arrow — The CW, 8pm
Black Lightning — The CW, 9pm
Wednesday, January 23
The Magicians — SYFY, 9pm
Pure — WGN, 10pm
Suits — USA, 10pm
Thursday, January 24
Conversations with a Killer: The Ted Bundy Tapes — Netflix
Siren — Freeform 
Broad City — Comedy Central, 10pm
The Other Two — Comedy Central, 10:30pm
Friday, January 25
Black Earth Rising — Netflix
Unbreakable Kimmy Schmidt — Netflix
Kingdom — Netflix
Strike Back — Cinemax, 10pm
Monday, January 28
I Am The Night — TNT, 9pm
Thursday, January 31
Will & Grace — 9:30pm
Page 2 of 3: February Premiere Dates
Friday, February 1
Russian Doll — Netflix
The ABC Murders — Amazon Prime Video
Monday, February 4
Man With a Plan — CBS, 8:30pm
Tuesday, February 5
American Housewife — ABC, 8pm
Friday, February 8
One Day At a Time — Netflix 
PEN15 — Hulu
Saturday, February 10
The Walking Dead — AMC, 9pm 
Tuesday, February 12
Miracle Workers — TBS, 10:30pm
Friday, February 15
Doom Patrol — DC Universe
The Umbrella Academy — Netflix
Proven Innocent — FOX, 9pm
Wednesday, February 20
Documentary Now! — IFC, 10pm
Thursday, February 21
The Oath — Crackle
Desus & Mero — Showtime, 10pm
Sunday, February 24
The 91st Annual Academy Awards — ABC
Monday, February 25
Shadowhunters — Freeform
The Enemy Within — NBC, 10pm 
Tuesday, February 27
Whiskey Cavalier — ABC, 10pm
Page 3 of 3: March Premiere Dates
March
Sunday, March 3
Good Girls — NBC, 10pm
Thursday, March 7
Superstore — NBC, 8pm
AP Bio — NBC, 8:30pm
Station 19 — ABC, 9pm
For the People — ABC, 10pm
Sunday, March 10 
American Gods — Starz, 8pm
Now Apocalypse — Starz, 9pm
Tuesday, March 12
The Village — NBC, 10pm
Wednesday, March 13
SEAL Team — CBS, 9pm
Friday, March 15
Shrill — Hulu
Sunday, March 17
Billions — Showtime, 9pm
Monday, March 18
The Fix — ABC, 10pm
Wednesday, March 20
The Act — Hulu
Sunday, March 31
Call the Midwife — PBS, 8pm