Wally West May Be Redeemed in DC's FLASH FORWARD
Warning: SPOILERS for Heroes in Crisis
The story of Wally West has become a tragedy over the past several years, subjecting The Flash to heartbreak, loss, and even involuntary manslaughter of his fellow heroes. But Wally's story is far from over... and he's getting his own comic miniseries to tell it.
The recent Heroes in Crisis event will be what many DC fans immediately connect to the former Flash, after the event's shocking reveal that Wally West accidentally killed the victims of Sanctuary. The series ended without his own death, as was expected, but with the last twist of Wally West saving himself, and instilling some hope that he wasn't alone. When Heroes in Crisis ended Wally was alone in a prison cell--defeated, but not destroyed. And it sounds like that's exactly where the new Flash Forward comic series will begin. It's not the starring role Flash fans hoped for when Wally returned, but it's a chance to move... well, forward.
RELATED: The Future Flash, Old Barry Allen Revealed By DC
The miniseries is giving Wally a new mission, seeking some kind of redemption by interrogating the universe he once mastered through the Speed Force, before becoming a cruel punchline to it. Scott Lobdell (Red Hood and the Outlaws) will be writing the six-part series, with Brett Booth and Norm Rapmund on art. The artists are no strangers to DC's speedster, and Lobdell gave Flash fans an appetizer of his Wally in The Flash/Speed Buggy Special from last year. The first issue  of Flash Forward arrives on September 18th, so check out the cosmic cover art from Evan "Doc" Shaner below, via CBR: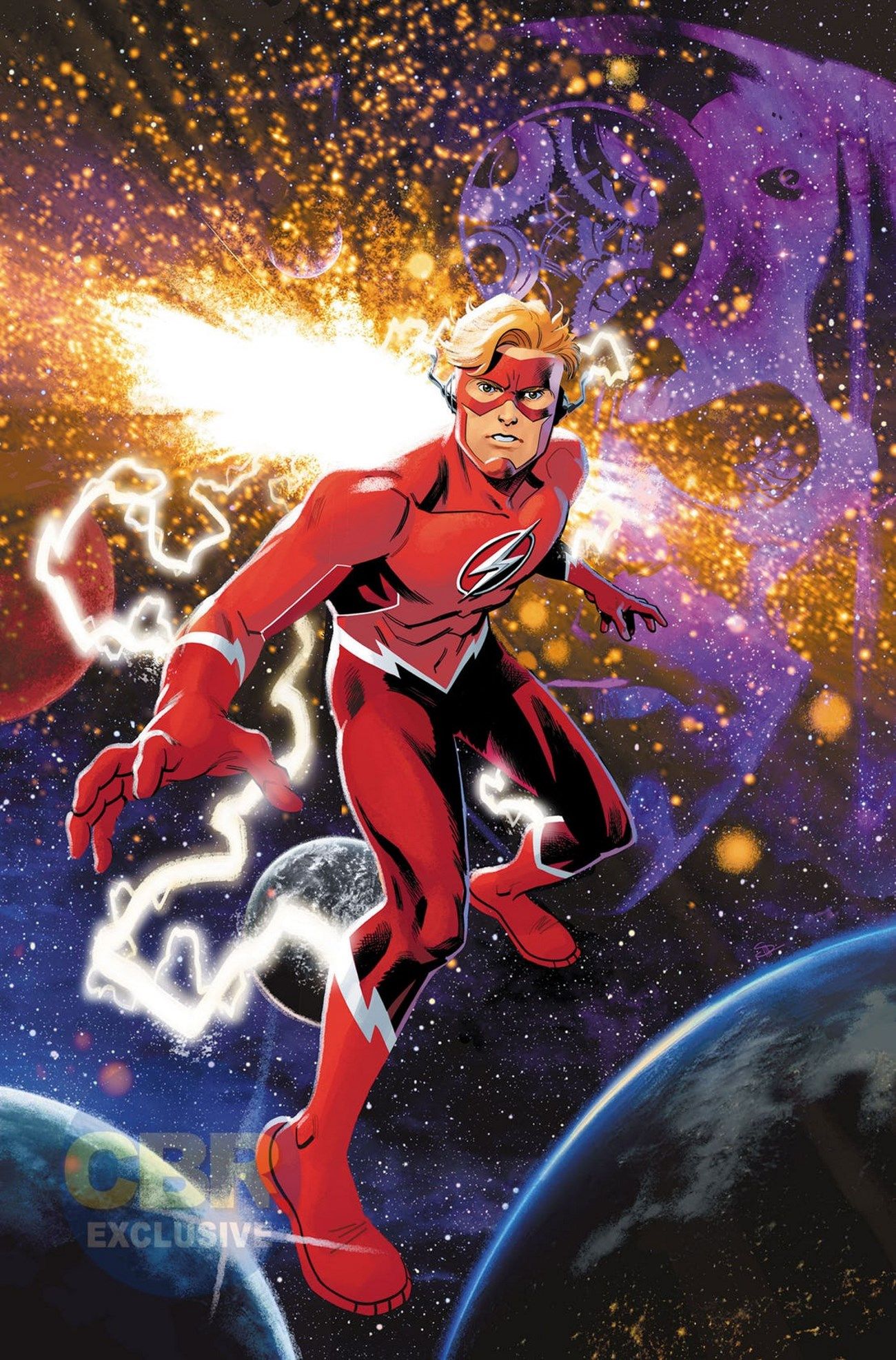 When Wally West took over the role of The Flash from his mentor Barry Allen, it kicked off an era of emotional, mental, and superhuman struggle synonymous with the scarlet speedster. It was because of that path that Wally's journey to becoming a husband and father was so rewarding. And also what made his erasure from DC continuity so heartbreaking. Geoff Johns set the scales right by returning Wally to kick off the DC Rebirth, but not the memory of his life beyond his love and wife, Linda Park. Once his memories of their children returned--children written out of existence like he had been, and whom he had forgotten--Wally snapped. Honestly, as any parent in that situation could with total understanding.
That began Wally's emotional and mental exhaustion and breakdown, which led to the tragic accident at Sanctuary. The final issue of Tom King and Clay Mann's event had Wally accepting that his failure meant the world now knew superheroes struggled as much as everyone else--the best he could hope to come from his own tragedy. So will Flash Forward be a journey as Wally seeks to set right everything that was taken from him? Or will it confirm our theory that Wally was framed by Dr. Manhattan? Only time will tell. For now, take a look at the full plot synopsis and solicitation details below:
FLASH FORWARD #1
Published: Sept 18th, 2019
Writer: Scott Lobdell
Art: Brett Booth, Norm Rapmund
Cover: Evan "Doc" Shaner
Variant Cover: Inhyuk Lee
His name is Wally West—and he was the Fastest Man Alive. That is, until the Multiverse was rewritten without him or his family in it. Wally returned and tried to make it work, but the damage was done. Spinning out of the events of HEROES IN CRISIS, follow the man who called himself Flash on an adventure to find redemption in a cosmos that has fought so hard to destroy him.
Flash Forward #1 will be available from your local comic book store on September 18th, 2019.
MORE: The Flash: Year One Begins Barry's Secret Origin Story