Venom's Trailers Missold (And Possibly Ruined) The Movie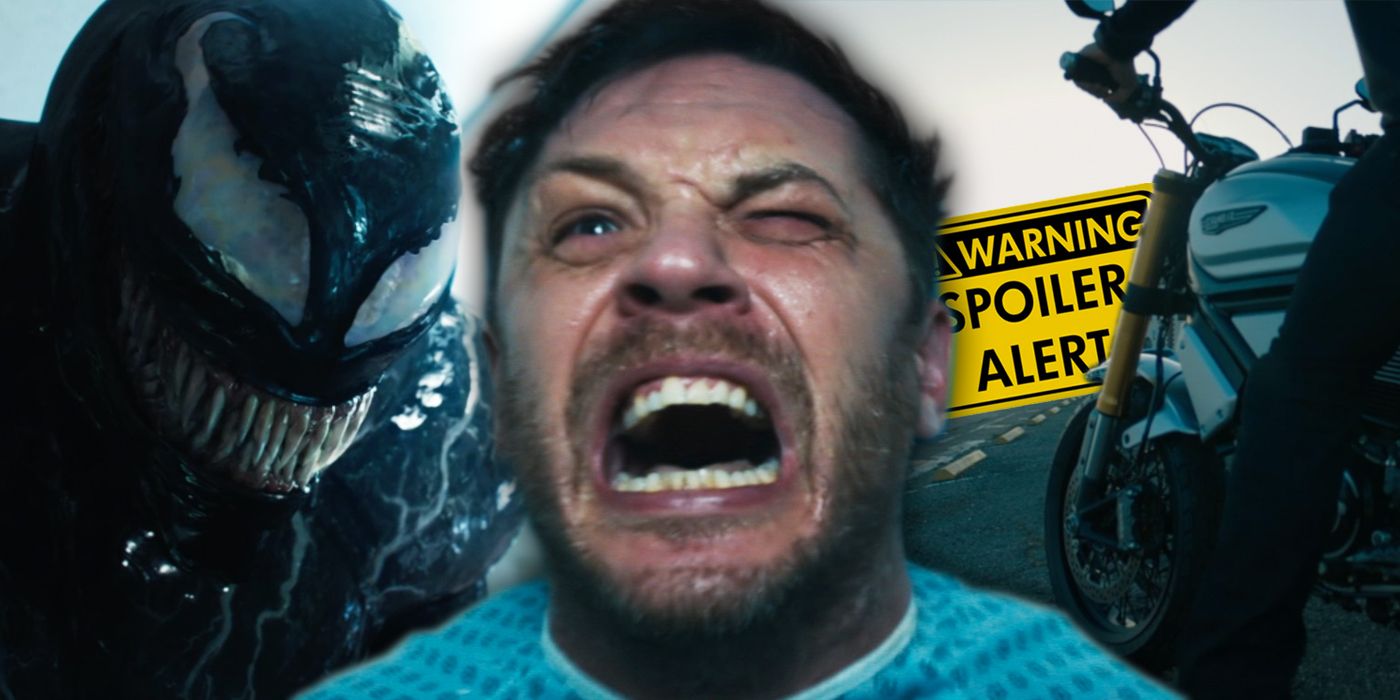 After opening to bad reviews but strong box office, did Venom's trailer advertise the movie wrongly to audiences? Venom opened to domestic grosses of over $80 million this weekend, with a massive opening Friday of over $32.75 million. Those numbers top the previous October opening week record set by Gravity ($55.7 million) and offer strong signals for Sony's plans to expand its Spider-Man franchise to its own Marvel-style universe. Unfortunately, the Venom reviews haven't been so kind. Currently, the film is sitting at 30% on Rotten Tomatoes and has a rating of 35 on Metacritic. For comparison's sake, Venom's main competition at the box office this week, A Star is Born, has 91% and 88 respectively.
Critics lambasted the film for its unwieldy tone, its lack of originality, the unavoidable absence of Spider-Man, who remains key to the origins of the character of Venom, and the unfinished nature of the story. Many questioned if the film had been cut down in the editing room prior to release, with the former promises of an R-rated movie becoming the increasingly large elephant in the room. While much hype had been created from the prospect of a fully R-rated Venom story that dug deep into the character's violent roots, fans couldn't help but be disappointed when the final product was revealed to be a PG-13 movie.
Related: Every Venom Easter Egg & Marvel Secret You Missed
Much of the controversy stemmed from the trailers and the way the film was marketed. As the pre-release publicity moved closer to release day, Sony seemed to wildly change track on what exactly the film they were selling was about. Yet none of the three major trailers released for Venom truly sell what the movie is and its unique strengths. Ultimately this, and Sony's own confusion about the project, may be what hurt Venom the most.
This Page: Venom's Trailers Misrepresented The Film
Venom's First Trailer Was Rushed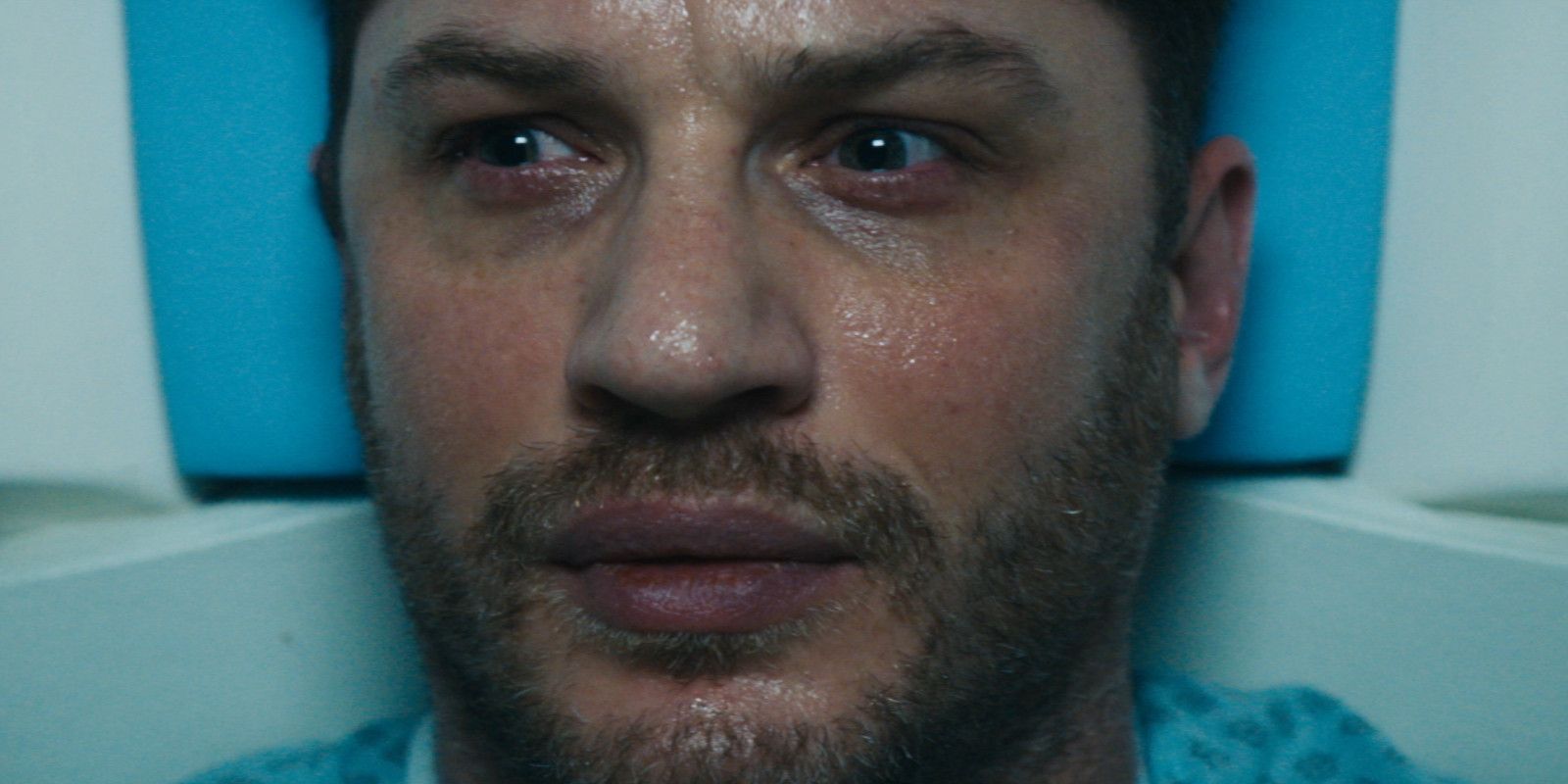 Principal photography for Venom began in late October 2017, with additional filming taking place in January of the following year. Tom Hardy officially wrapped up filming that month, and the first Venom teaser trailer was released in February 2018. The teaser was widely derided as derivative and underwhelming, not least because Venom himself does not feature. Instead, the teaser is mostly the main actors looking puzzled, some car crashes, wide shots of San Francisco and a brief shot of a symbiote. If you were a fan of Venom, you would be forgiven for watching the teaser and thinking it was for a totally different movie.
The trailer had clearly been rushed out to release alongside Black Panther, but the lack of time post-filming left no proper CGI shots and limited sense of, well, Venom. This started the marketing off to a bad start. Sony chairman Tom Rothman later acknowledged this problem and explained that the teaser's objective had been to "heighten anticipation" for the film, although the effect is debatable: it's true that a well-conceived teaser trailer can drive up anticipation for a film but Venom had a harder job.
Read More: Why Venom Wasn't In The Venom Trailer
While the character was recognizable to many Spider-Man fans, he didn't have the built-in fanbase or mainstream appeal of Peter Parker, nor did he have the sturdy foundations of the MCU to build buzz. If the job of the Venom teaser was to get people intrigued, it fizzled on that front. Rushing out a teaser less than a month after shooting ended was a bad move by Sony.
Venom's Later Trailers Sold The Wrong Tone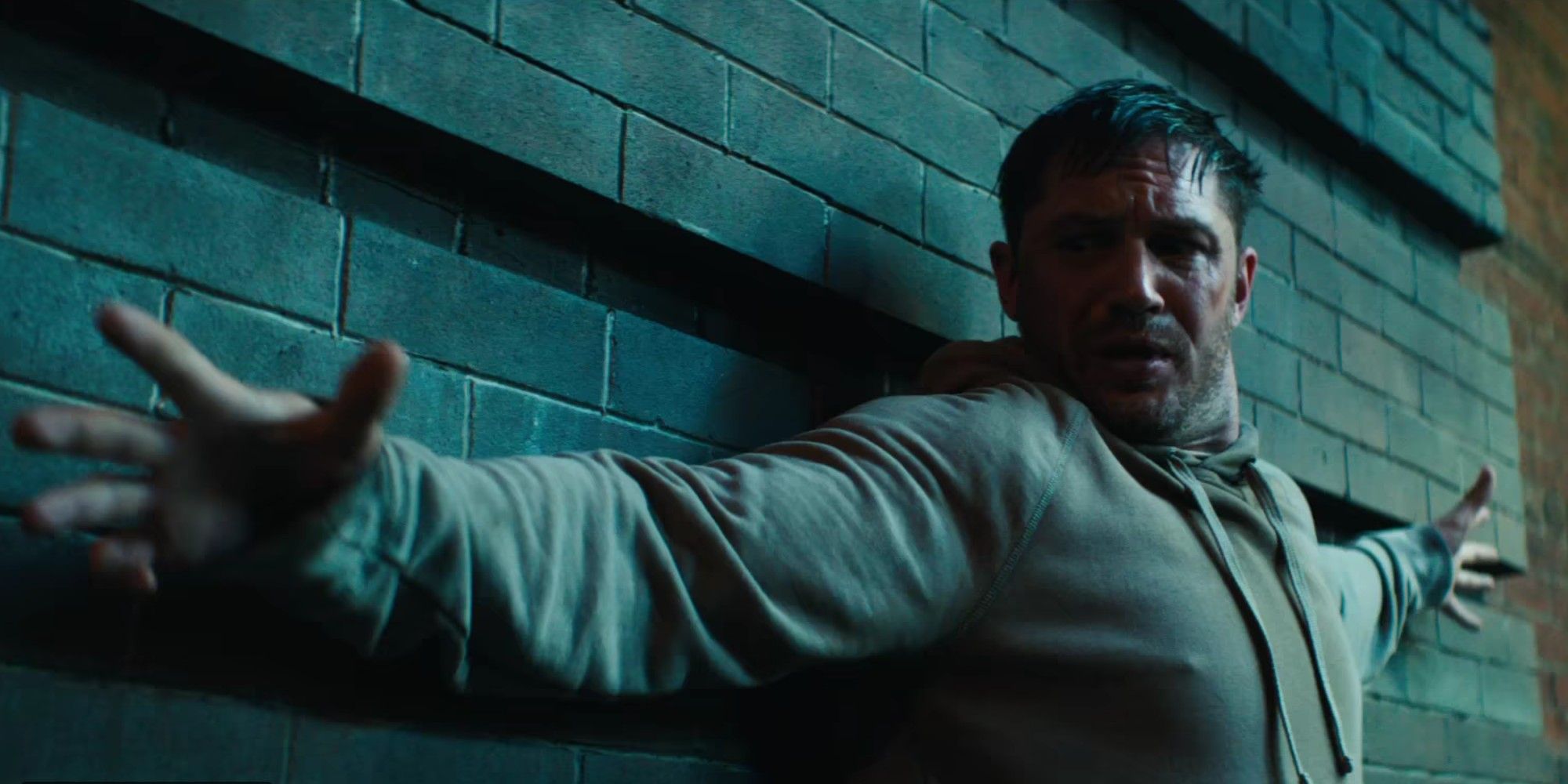 Missing CGI was the least of later trailers' worries. The first full Venom trailer continued the darker mood of the teaser and ended with a full reveal of Venom. Overall, it inspired mixed responses, but nevertheless established a tone and intent for Venom that the teaser had failed to; the tagline "Embrace your inner anti-hero" gave the film an identity that was easy to market and help it stand out amid a crowded market of superheroes.
The second full Venom trailer continued that intent, but with more focus on Venom himself. This was where the questions of tone became a problem. Venom making comments about eating people's pancreases and reducing them to a limbless creature that rolls around "like a turd in the wind" elicited giggles more than fear from viewers. Memes were created for both as well as Venom's unnervingly long tongue. It all seemed a tad too silly for a film that was marketing itself as a horror-tinged thriller.
RELATED: How Venom Sets Up A (Much Better) Sequel
This issue is especially problematic once audiences actually saw the film and it was revealed to be a much stranger comical beast. It's less a comic book origin story than it is a buddy comedy between an "aw shucks" good guy and his psychotic alien parasite that has a few action scenes in it. All those lines that landed with a thud in the trailer make more sense and play better in context because the film's tone is deliberately more comedic than it is sold as by marketing.
Specifically, the "turd in the wind" moment makes a lot more sense, tonally and thematically, when it comes at the end of the film after the audience has discovered Venom is a self-confessed loser. But it's hard to get over the problem of audiences feeling like they were mis-sold something they didn't ask for or expect, and that's something Venom's marketing has to deal with.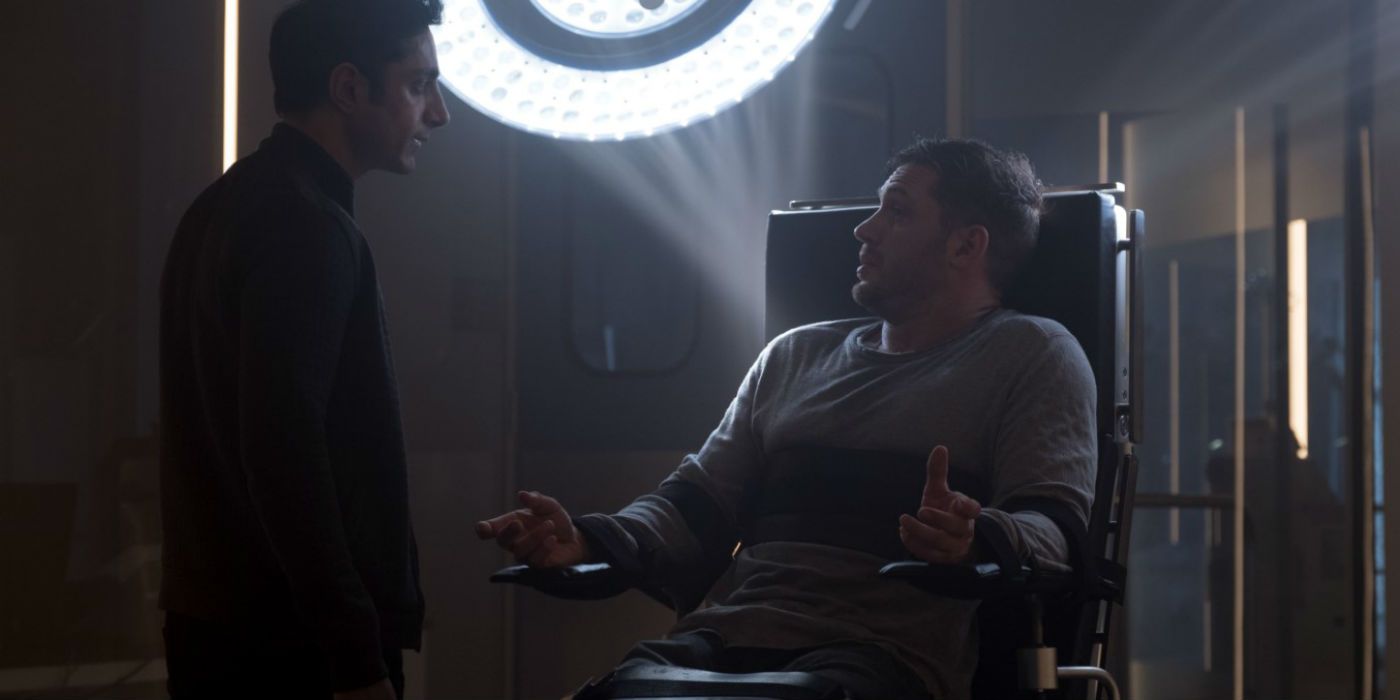 Venom's Trailers Spoiled The Ending (And Post-Credits Scene)
As already mentioned, that "turd in the wind" moment that was so mocked from the trailers is also the end of the film. It's not unusual for trailer companies to take key moments out of context and turn them into the big sell of the movie; if done well, audiences won't mind the bait and switch. The problem with Venom's trailer is that it strips a deliberately comical moment of its context and tries to position it as "badass" and it simply doesn't work.
This isn't the only spoiler moment the mishandled trailers reveal. The second official trailer opens with Eddie Brock arriving at San Quentin Prison on his motorcycle and being escorted through the hallways by a prison guard. In context, this moment isn't in the film: it's from Venom's post-credits scene that acts as a sequel hook, wherein Eddie goes to jail to interview Cletus Kasady, a.k.a. Carnage (played by Woody Harrelson). The scene seems to have been used for the trailer to emphasize that thriller-like tone more than add anything substantive in terms of the story the film has chosen to tell. In order to further sell the film as something it isn't, the marketing team of Sony spoiled Venom.
Related: Venom 2: Every Update You Need To Know
Did The Trailers Hurt Venom?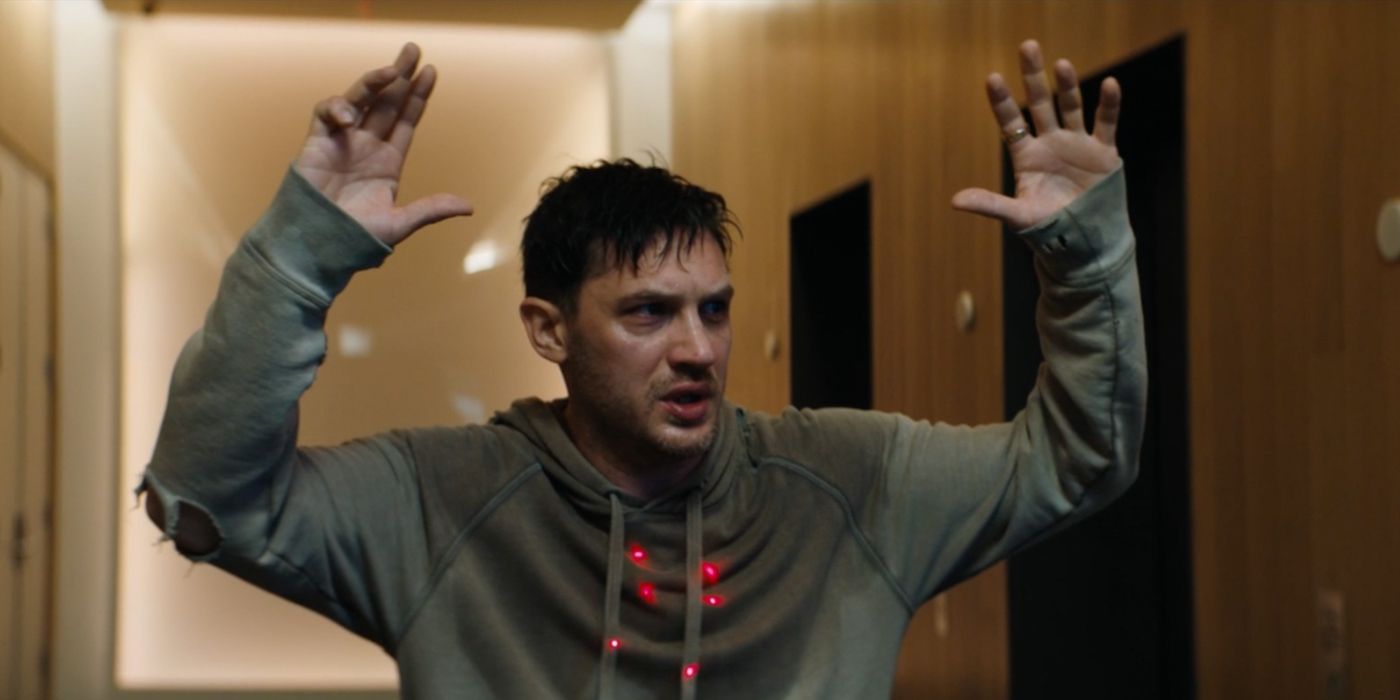 Questions remain over what kind of Venom film Sony, Ruben Fleischer and Tom Hardy originally wanted to make and the one they actually ended up creating. So much of the talk around production focused on how Venom would be a truly adult comic book film akin to Logan or Deadpool. The trailers seemed more in line with that sort of film. Yet the final product is very different: it's much funnier, less concerned with scaring audiences and more focused on Tom Hardy's debates with the voice inside his head.
Given how many of the film's reviews note its unexpectedly comedic shifts as a negative, one can't help but put some of that blame on Sony's mishandling of the marketing. Early bad buzz and confusion over Venom's PG-13 rating could have been dealt with more efficiently if Sony had given the film the marketing that made the most sense. Yet this may also have been something Sony couldn't have avoided. While Fleischer claims the film was always intended to be a PG-13, he had already given interviews talking about how Venom would take advantage of the R-rating. Speculation remains that the film was cut or remodeled in the edit in order to meet the PG-13 requirements as well as add more humor to the movie, but none of that is reflected in the trailers or marketing, which is stalwartly focused on the anti-hero angle and darker tone.
The marketing for the film was never able to keep up with its vision. While this confusion doesn't seem to have hurt Venom's opening weekend, it's still a problem that Sony will have to deal with in the long-term should they wish to continue with their planned Spider-verse.