Trine 4 Returns The Classic Co-Op Series To Its 2.5D Roots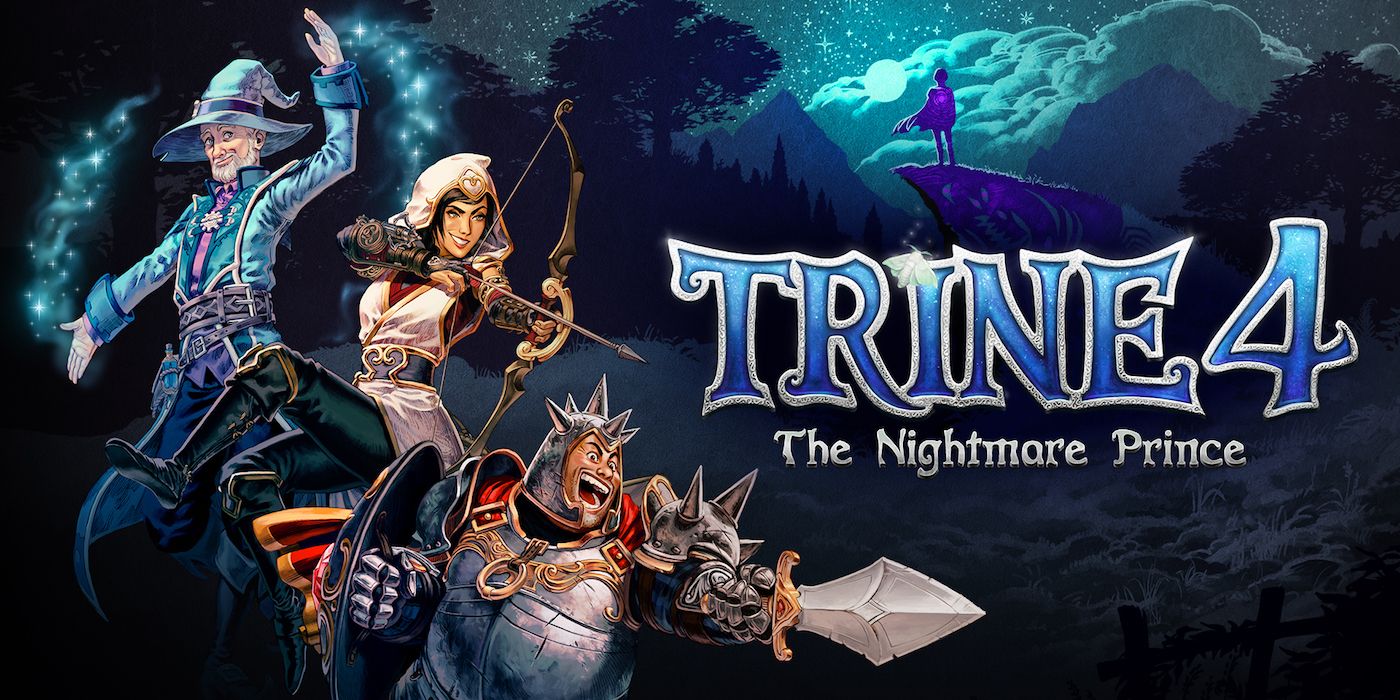 Trine 4 eschews the 3D gameplay of Trine 3 and returns to the original, side-scrolling puzzle-platforming action of the series' first two games!
The latest entry in the treasured co-op series eschews the 3D gameplay of its immediate predecessor and returns to the original, side-scrolling puzzle-platforming action that made the series a household name in the first place! The Trine games are revered for their mix of co-op action, platforming, and physics-based puzzle solving, all wrapped in a humorous story with entertaining characters.
The most recent entry in the series, Trine 3: The Artifacts of Power, rebooted the gameplay of the series, moving from 2D to 3D movement, a bold change which was met with a divisive reaction from longtime franchise fans. While still an enjoyable game in its own right, especially in three-player co-op, Trine 3 received lower review scores than its predecessors and failed to achieve the same financial success of its progenitors. Now, Trine 4: The Nightmare Prince seeks to return the series to its roots and create the best Trine experience yet.
Related: The 20 Strongest Artifacts In Final Fantasy
During a press day for publisher Modus Games, we sat down with members of the Frozenbyte team and witnessed a hands-off demo of Trine 4: The Nightmare Prince. Multiple levels were shown off, which articulate that Trine 4 is very much a return to form for the series, eschewing the 3D action of Trine 3 in favor of the 2.5 D adventuring that made the series famous, with a few new twists to shake things up just a bit. We were told that the Trine 4 team is comprised of veterans from previous games, as well as younger developers, who started out as fans and are eager to put their own stamp on the series.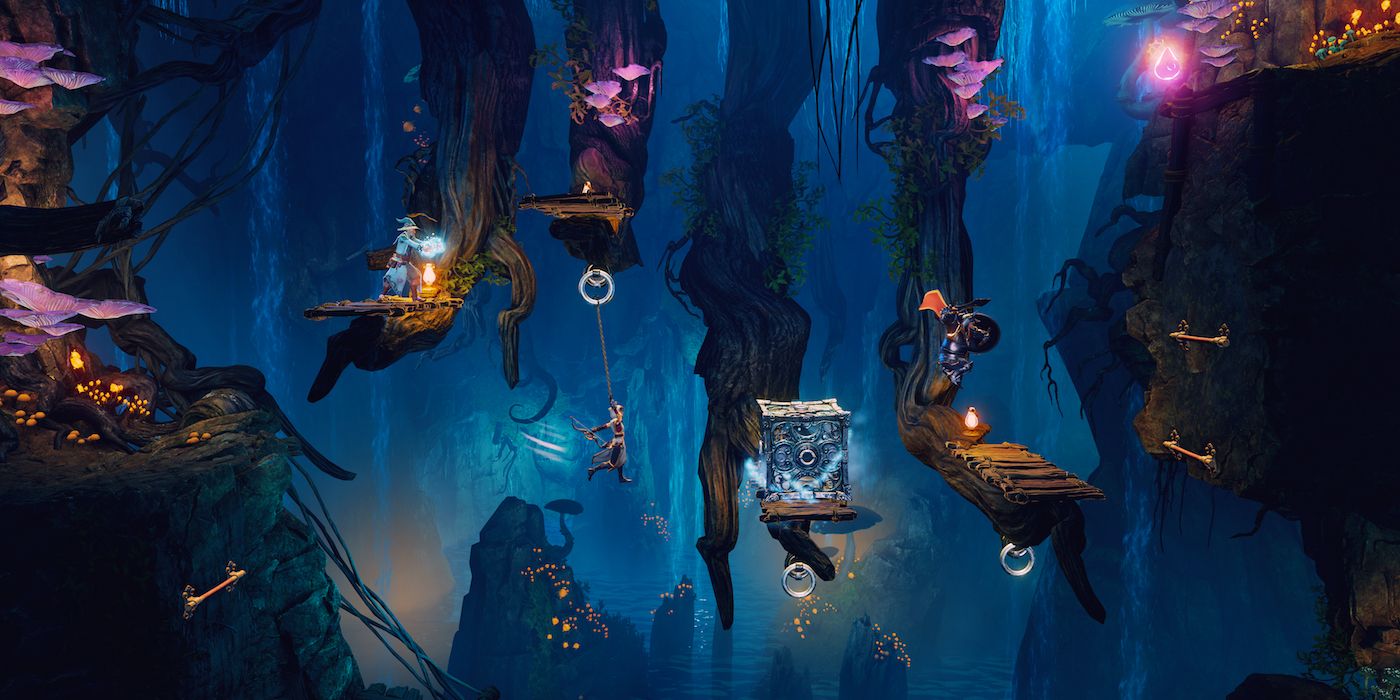 While the demo we witnessed only featured two adventurers, Trine is traditionally played with three players, either via online or local play. They joked that, considering it's Trine 4, they needed to include four-player co-op. Indeed, Trine 4 allows for up to four players at once, though there are still only three character classes, so someone has to double up. It's not a game-changer for the series, but four-player is an oft-requested feature for Trine, so the team at Frozenbyte was happy to oblige.
Another big change for Trine 4 is the addition of co-op puzzles. Obviously, the original trilogy of Trine titles were built with co-op in mind, but every puzzle could still be completed solo, since the game allows players to freely switch between the different character classes. For Trine 4, many puzzles contain two variants; one optimized for the solo player, and another designed with multiple players in mind, with elements altered or removed, meaning they can only be completed with at least two players. We asked if the puzzles would be further altered to account for three or four players, but they said they currently have only a single "multiplayer" variant on puzzles.
The story of Trine 4, as its subtitle suggests, is based on the eponymous Nightmare Prince, a troubled young man who brings people's darkest fears to life, leading to some inventive enemy designs and combat scenarios. The developers even teased that we may get so see some of the player characters' deepest fears as the source of some enemies in the game.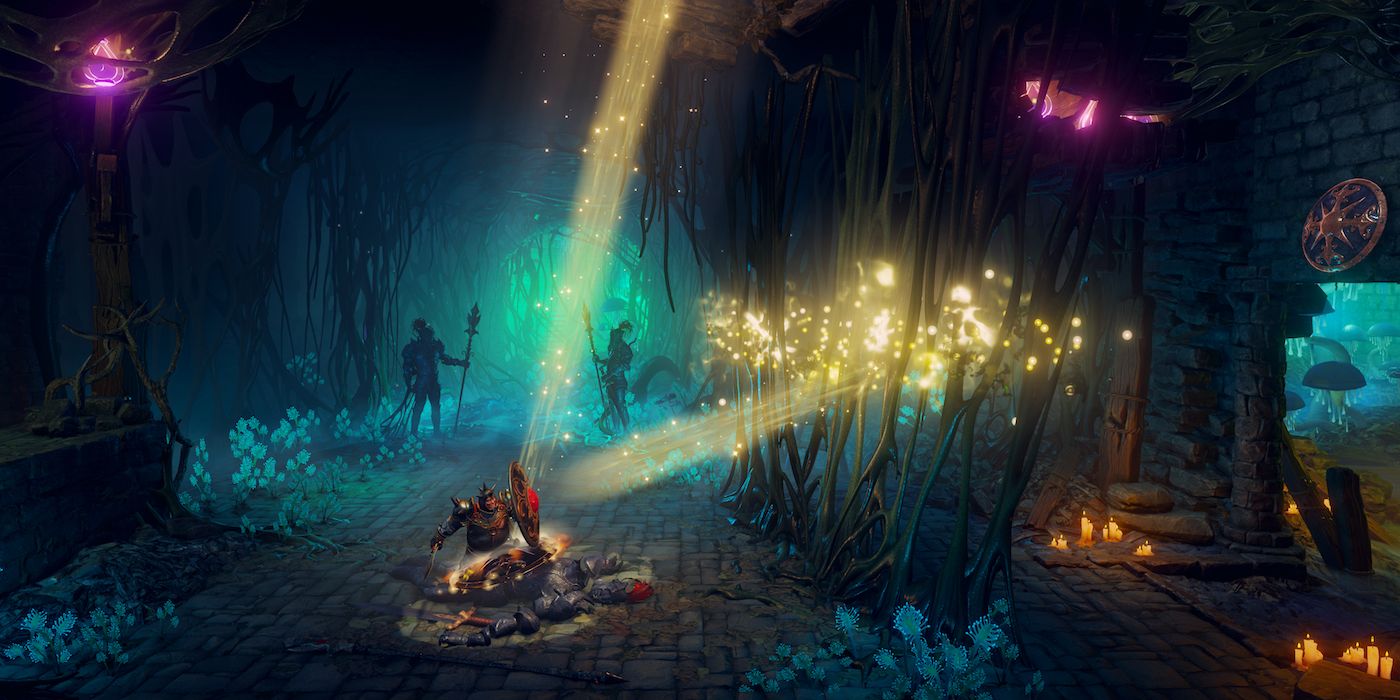 Despite these changes, Trine 4 feels very familiar to fans of the series. It's built on the same engine as the original games, and the formula of physics-based puzzles, rudimentary combat, and jolly cooperation feels like a warm blanket. Trine 3 came out in 2015, meaning the last "traditional" Trine game, 2011's Trine 2, is already eight years old. Since the beginning, Trine has carved out a niche for itself as a destination for co-op puzzle-solving adventure, and it's been a very long time since fans have gotten a proper dose of what Trine was created to offer. Hopes are high that, after a particularly long wait and the missteps made by Trine 3, longtime fans and newcomers alike will be more than satisfied by Trine 4: The Nightmare Prince.
Next: 15 Best Playstation 4 Couch Co-Op Games You Need To Be Playing
Trine 4: The Nightmare Prince is due out this Fall on PlayStation 4, Nintendo Switch, Xbox One, and PC.