SNL: Alec Baldwin's Donald Trump Meets Kanye West in Latest Cold Open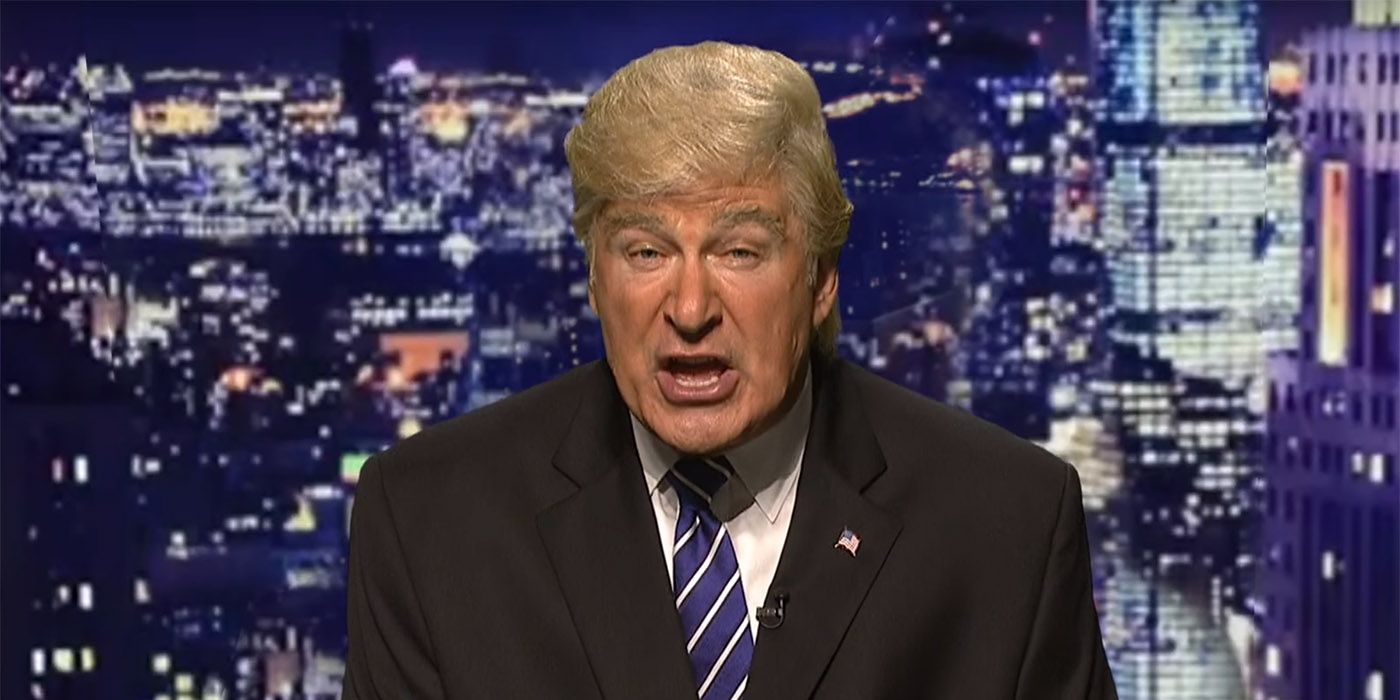 Alec Baldwin's Donald Trump meets an incoherent Kanye West (Chris Redd) in last night's Saturday Night Live cold open. There are some who think SNL has gotten too political in recent years, but clearly Lorne Michaels doesn't share that sentiment, as he has once again invited back Alec Baldwin to impersonate President Trump.
Baldwin first did his Trump impression on SNL during the campaign in 2016, and since then, he's returned multiple times to again skewer the president, becoming essentially a semi-regular cast member. Baldwin himself has expressed doubts about whether he wants to go on playing Trump, but apparently he can't get enough of the bit. Earlier this year, during one of his many returns, Baldwin's Trump crossed over with the MCU (sort of) when he took on Wakanda in the episode hosted by Black Panther star Chadwick Boseman.
Related: SNL: Chris Hemsworth Turned Down Racially Charged Avengers Sketch
Now, in last night's SNL cold open, Baldwin's Trump came back again for a sketch taking aim at Friday's strange Oval Office meeting between the president and rapper Kanye West. Chris Redd took on the task of playing West while the venerable Kenan Thompson played football legend Jim Brown, who was also present at the meet-and-greet. The sketch comes just two weeks after the real Kanye West appeared on SNL as the musical guest and reportedly went on a post-show rant described as a hostage situation. See video of the new sketch below:
The basic premise of the sketch is that the bombastic, semi-coherent West is essentially the black version of Trump. Redd's West rants about invisible planes, alternate dimensions, and time being a myth, and it dawns on Baldwin's Trump that he's dealing with someone else who shares his characteristic narcissism. Meanwhile, Thompson's Jim Brown acts as the straight man, mostly sitting there in mortified silence while Trump and West ramble. Brown does get possibly the best zinger in the sketch when he says, "I've been on coalitions with Bill Cosby and O.J. Simpson, and this is the first time I'm having regrets."
Of course, not everyone out there is convinced there's anything comedic about West's recent behavior. Many people think West is suffering from a dire mental health issue and believe that instead of mockery he deserves compassion. SNL clearly believes that West's stature as a public figure who hobnobs with president Trump leaves him open to spoofing even if he is possibly in the middle of a very serious meltdown. The sketch does at least acknowledge the possibility that West is battling serious issues when Brown makes reference to mental health in the black community being worse than he thought.
Whether people find West a sympathetic figure or a ridiculous one, there's no doubt he made news with his Trump meeting, so it's no surprise to see Saturday Night Live and Alec Baldwin tackling his strange, rambling appearance.
Source: SNL