Simon Pegg Interview: The Boys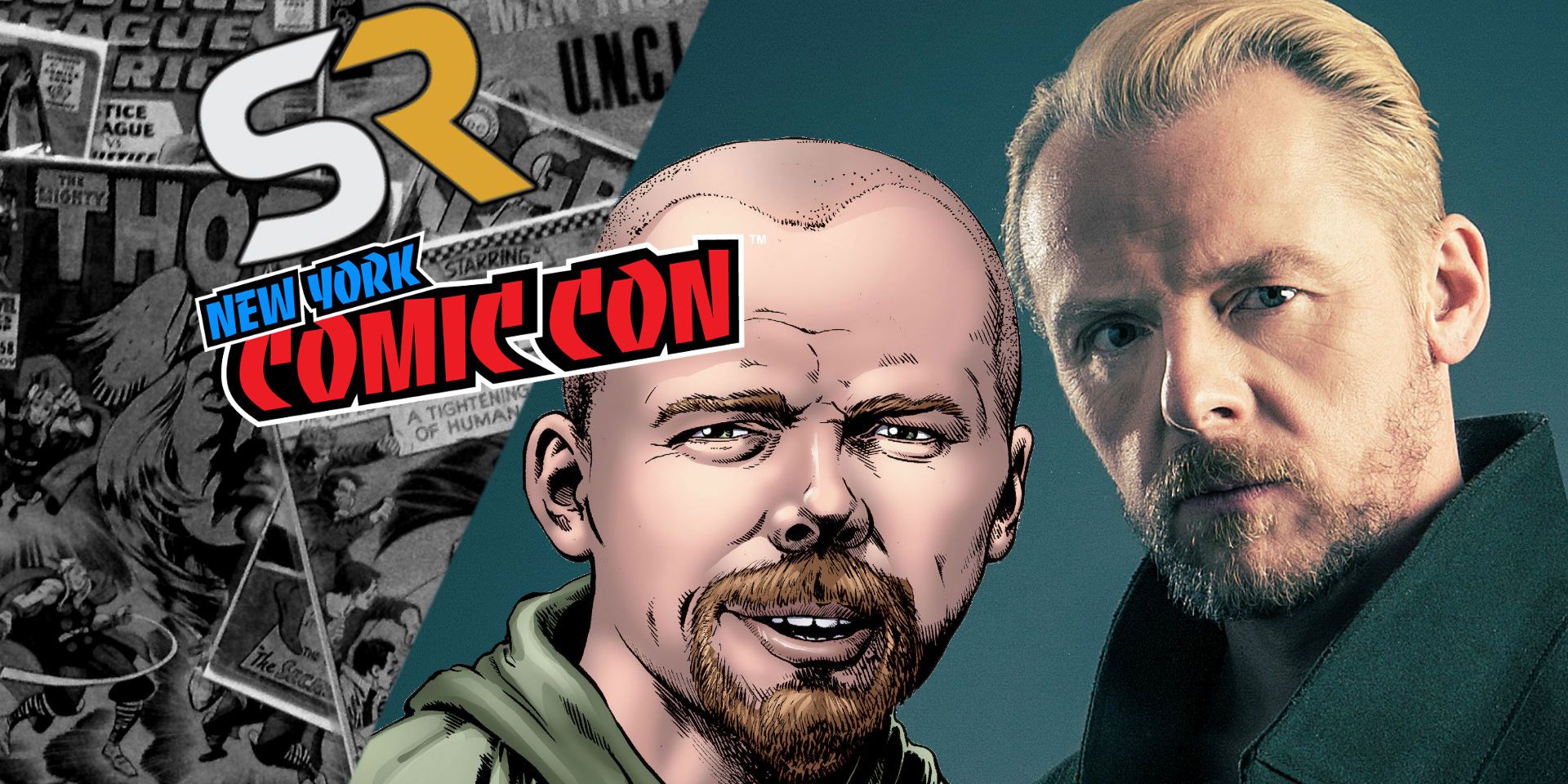 Amazon's upcoming comic book adaptation, The Boys, dropped some big news at New York Comic Con this week; not only did was the first clip from the show revealed, but so was the news that Simon Pegg would be appearing in it. The Boys is an adaptation of the Garth Ennis comic series of the same name, which satirizes the superhero world and imagines life in a universe where those with powers become corrupted by them - but maintain their public image.
The 'Boys' of the comic title are a group of vigilantes, mostly without superpowers, who take it upon themselves to keep tabs on the various 'supes' in this world - and occasionally, to take them down. The series follows Butcher (Karl Urban), his new protege Hughie (Jack Quaid), and the rest of their gang as they wreak havoc on the twisted supes that the world sees as heroes, and it promises to be violent, foul-mouthed, and hilariously dark. After the reveal that Pegg would be appearing in the show as Hughie's father, we sat down to talk about what fans can expect from his new character on the show.
Related: The Boys TV Show Casts Simon Pegg As Hughie's Father
SR: So, obviously this was a big reveal for The Boys today. Can we ask now how big your part in the show is?
Simon Pegg: I'm a guest role. I think I'm in a few episodes, and it was something that we really wanted to do from the off. When the show became a reality, they were very kind to get in contact when Jack was cast and say 'maybe you can be in the show'. And I think I suggested that maybe I could play Hughie's father or something.
SR: So it was your idea?
Simon Pegg: Well, I can't remember, but I feel like I did say that! Whether or not they had already had the character in mind I'm not sure, because he certainly... he serves a real purpose in the show. He's not in the comic book, but I think in the show he represents the possibility of Hughie not taking action. And the show begins with this terrible tragedy that happens to Hugie and he has two choices; he can stay on the sofa with Dad like every Campbell man has in the past, or he can actually change his life.

And so, as a sort of visual representation of Hughie's possible destiny, the Dad works really well as a character.
SR: And do we see any of Hughie's Mom?
Simon Pegg: No, she passed away, so it's just Hughie and Dad, and they have a very sweet relationship. That picture that you saw of us, the family shot, is very much prior to A-Train doing what he does. They have a very sweet little... you know they are just father and son, and he's still got his toys in his bedroom, and they live together, and Dad dotes on him. He's a nice guy, he's just very ineffectual.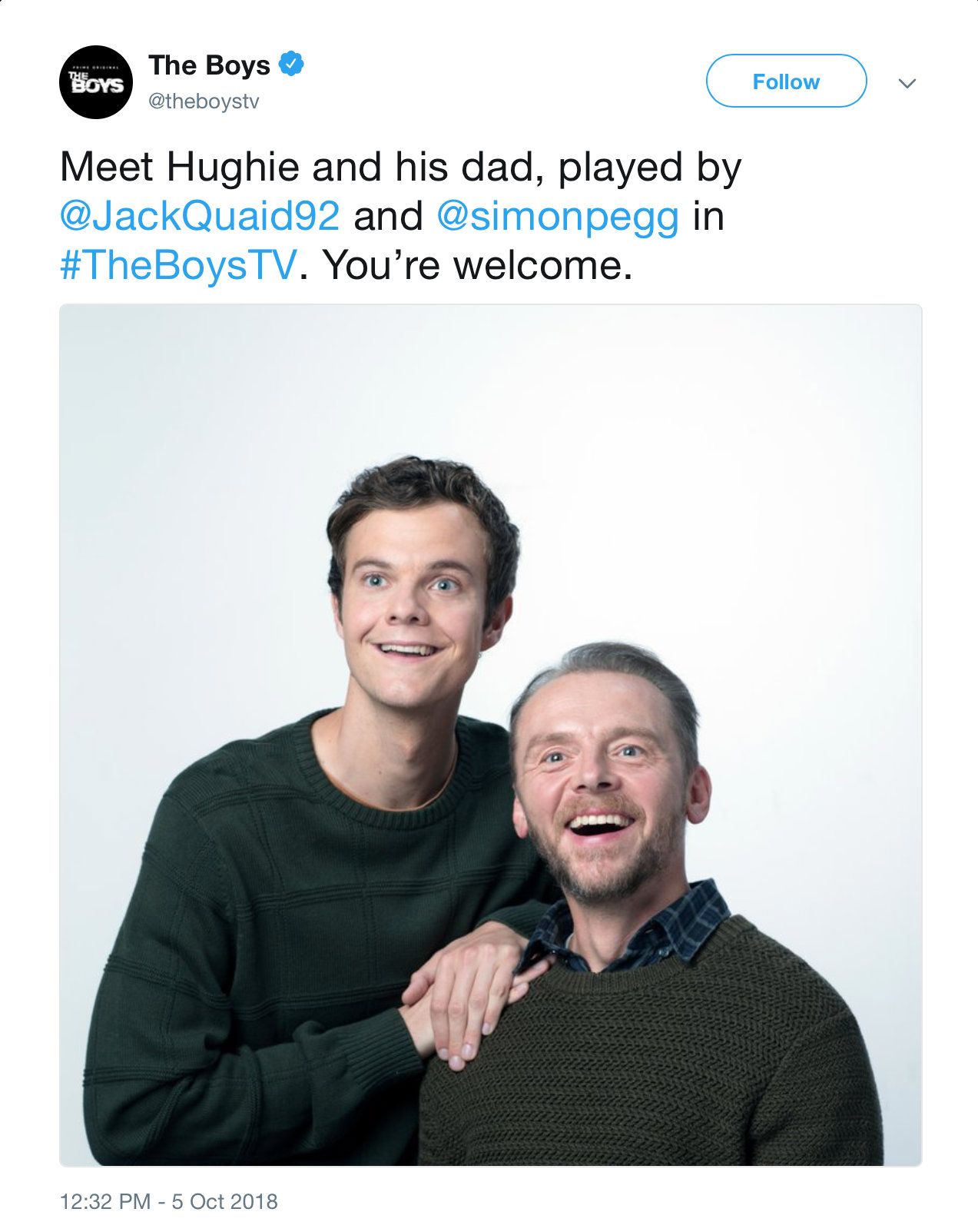 SR: How do you feel about the fact that in the comics, obviously Hughie is Scottish and now we're coming over to the US for this series? Are you going to be an English Dad or are you going to do the American accent?
Simon Pegg: Well, we talked about this, and I think what happened was initially I was going to play Hughie's Dad as Scottish in reference to the comic book, but then we decided in a way that if Hughie was used to a British accent of any kind, it would make Butcher less alien to him, in a way. Because Butcher's got to feel like he's from a completely different world, you know, and so he has this rough Cockney accent, and so we thought ok, let's make them American. So I play Hughie's father as American.
SR: Which other character are you most excited about? Which one is your favorite, either in the comics or the show... is it the same one?
Simon Pegg: I was just really happy to see the Supes, you know! When I did my first scene it was quite early on in the shoot and not all of the Boys had actually arrived. I hadn't met Karen [Fukahara] or anybody and I was kind of like, really wanting to see some superheroes. And then when I came back to shoot some more scenes later on I got to see A-Train, and pictures of the other ones, and it was just really great to see them in 3D! But the one that I saw that was a full on 'there he is, right in front of me' superhero was a real treat.
SR: Do you think that this show is going to be particularly appealing to people who are maybe getting a little of that so-called 'superhero fatigue'?
Simon Pegg: Yeah, I think that in a weird way, as a satire on superheroism, that's kind of the least of what this show is, in a way. It's a broader satire about the notion of power and celebrity, and it just so happens that the subjects of that particular analysis are superheroes in this show. We do, obviously, satirize superhero culture a little bit, and people might enjoy the parallels to other known superheroes that The Boys delights in. But at the same time, you know, it's still a superhero show, I think it's just a welcome change of tone, for sure. But it's not like, I don't think it's sneering at its roots in any way. In the great tradition of comics like The Watchmen and The Dark Knight Returns, it's kind of a slightly skewed version of that world, no less reverent.
SR: And other than yourself, because obviously your character doesn't exist in the comics, were there any other major changes that surprised you, going in as a fan? At least, I am assuming you are a fan!
Simon Pegg: I am, yes! Everything that I saw, I really really liked, and I appreciate the importance, when making an adaptation, of not being too slavish. You can tie yourself in knots by being desperate to please, and I think that the best thing you can do with a story that first appeared in 2008 sis to make sure that it feels relevant in 2018. So they've done everything they can to do that. So the changes that I saw felt completely in keeping with the spirit of the comic book, and I know that's what Garth Ennis really wanted as well, and Darick Robertson (the artist). And so as long as they maintain the kind of mission statement of it I'm happy to see it change. It must change, in the same way that The Walking Dead as a comic book is very different to the series, but it still has its own personality. TV is a different medium, you know, and it should have its own identity.
SR: And finally, I think we have time for one more, so given that you know the works of Garth Ennis, would you think that The Pro would be an interesting thing to be adapted next? And would you like to appear in that one, if it did?
Simon Pegg: [LAUGHS] I think anything he does is always... I think Garth kind of writes specifically to try and challenge people not to adapt... as if to say 'alright, adapt that then!'. You know, things that just seem completely unadaptable. So, yes, I would always be happy to be involved in anything that Garth does, I've been a fan a long time, so yeah.

And, now they've done Preacher and now this, I think it's paved the way for pretty much anything he does to appear in some form, you know, however mental. I shouldn't say that, it's the wrong word to say.
SR: Well, it's a very British word.
Simon Pegg: [CHUCKLES] Yeah. So - who knows, you might have started a rumor - this is how these things start!
The Boys is expected to premiere on Amazon in early 2019.