Salem Revealed in New Chilling Adventures of Sabrina Teaser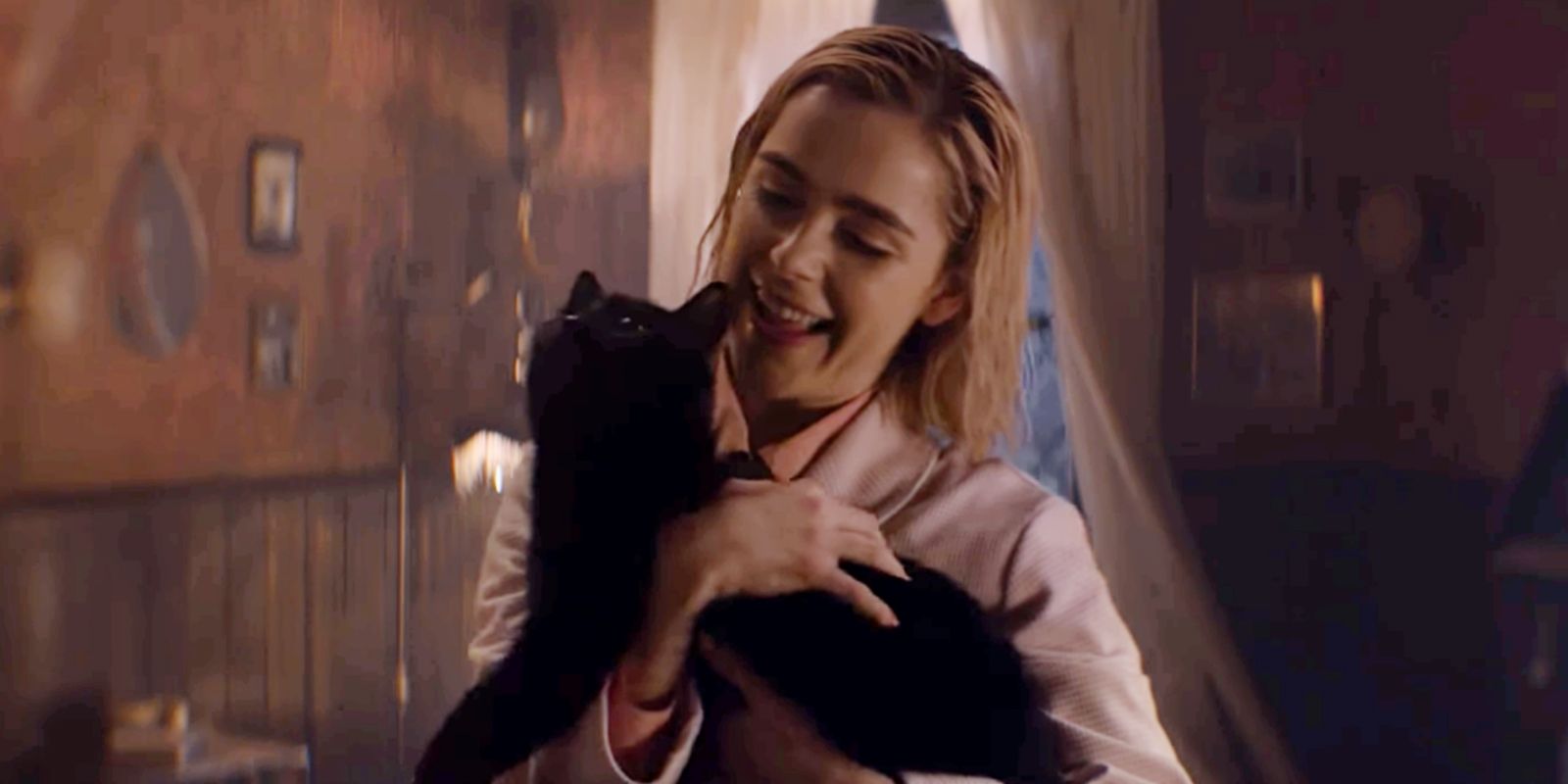 A new clip from Chilling Adventures of Sabrina reveals a completely new version of Sabrina's cat, named Salem. The famous black cat made his debut in the comic book Archie's Mad House #22 in October 1962. Since then, the cat has seemingly been inseparable from Sabrina appearing each time the character is adapted for a new TV series.
In the original comics, Salem couldn't do anything special and was simply just a pet for Sabrina Spellman. When Sabrina was adapted for the '90s sitcom Sabrina, the Teenage Witch, the origins of Salem changed drastically. In this version of the character, Salem Saberhagen was imprisoned inside the body of a cat for 100 years after he attempted to take over the world. This version of Salem is also known for being quite sarcastic and being voiced by Nick Bakay. Other origins of Salem include him turning into a cat after he left a witch at the altar and when he tried to get a mortal to love him by using magic. In The Chilling Adventures of Sabrina comic books, Salem was similar to the '90s version; however, he was much darker than the cat that went on adventures with Melissa Joan Hart. Now with the newest adaption of Sabrina, Salem looks to be getting his biggest change yet.
Related: Chilling Adventures of Sabrina Episode Will Reference The Exorcist
Salem is getting a brand new origin story for Chilling Adventures of Sabrina, as shown in a new video. In the clip, Sabrina hears a creepy voice after she goes to shut her window. After she tells the voice to confront itself, some type of a magical creature can be seen creeping out from behind a mirror before turning itself into a black cat. While it's unknown what exactly the creature is, the show will likely explain its origins further.
Back in September 2017, it was announced that Riverdale would be getting a spinoff show in the form of Sabrina the Teenage Witch. The show moved forward fairly quickly after the announcement with Kiernan Shipka being cast as Sabrina and the show moving to Netflix with the order of two seasons for Chilling Adventures of Sabrina. It's since been revealed that both series will exist apart from one another, though Sabrina's showrunner is hoping for a Riverdale crossover down the road.
Even though Salem was often one of the funniest parts of the '90s sitcom, it's probably for the best that Chilling Adventures of Sabrina is going with a darker version of the black cat. After all, having a cat puppet cracking jokes in an otherwise serious show probably wouldn't have fit the tone of the series. While not a lot is currently known about Salem, it's worth mentioning that he appears to be able to take the form of a cat at will, unlock previous versions. Fans will surely get to see a lot more of the cat and learn his origins when Chilling Adventures of Sabrina premieres at the end of the month.
Chilling Adventures of Sabrina premieres October 26 on Netflix.
Source: Netflix