Marvel's WandaVision Image Reveals Retro Scarlet Witch & Human Vision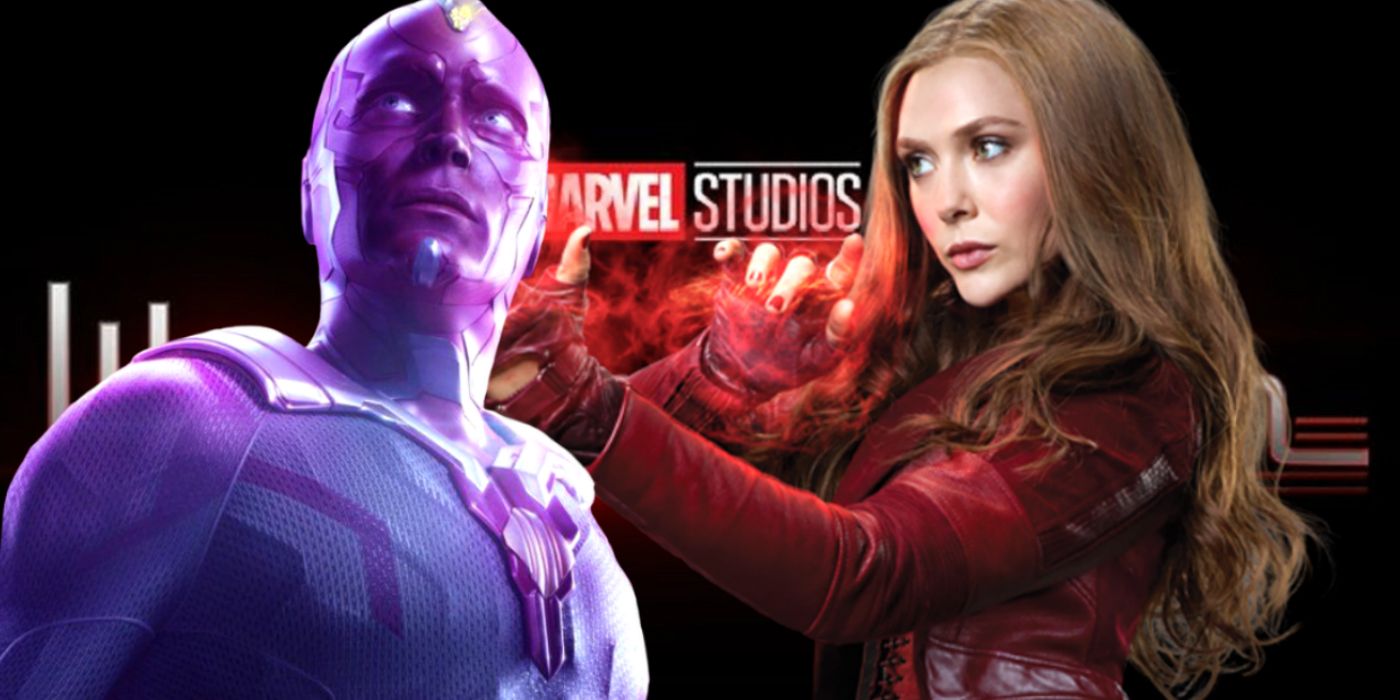 Marvel head Kevin Feige brought a first look at Disney+'s WandaVision to CCXP and confirmed that the series is now filming. Already considered to be one of Marvel's most eccentric projects, the six-episode series will see the return of Elizabeth Olsen's Wanda Maximoff/Scarlet Witch and Paul Bettany's Vision. Also returning to the MCU are Kat Dennings and Randall Park, reprising their roles as Darcy Lewis and Jimmy Woo respectively. New additions include Teyonah Parris as a grown Monica Rambeau and Kathryn Hahn in an unnamed role.
Marvel has kept plot details closely under wraps so far, save for the show's 1950s setting and its connection to Doctor Strange in the Multiverse of Madness. Olsen will appear in the film as the events of WandaVision will impact Doctor Strange's (Benedict Cumberbatch) second solo adventure. WandaVision doesn't have an official release date, but it's expected to hit Disney+ in spring 2021 as the streamer's second MCU-set series. The first, The Falcon and the Winter Soldier, will arrive in fall 2020.
Related: Everything We Know About Marvel's WandaVision TV Series
At Comic-Con Experience in São Paulo, Brazil, Feige took to the stage to preview some of the MCU's upcoming projects, including WandaVision. In addition to confirming that production has begun on the series, he presented a first look image of Olsen and Bettany in 1950s-sitcom style costumes, something that was already hinted at in a previously-released poster.
There are a lot of questions surrounding WandaVision. Namely, how can Vision be a part of the show if he's currently dead? Also, how is the 1950s setting possible? Wanda is unquestionably one of the MCU's most powerful characters, and her magic will definitely come into play somehow. There is a chance that this image of her and Vision from a 1950s sitcom stems from a fantasy she has created for herself to cope with his loss. Alternatively, perhaps she has truly found a way to revive him, and the sitcom elements are her way of creating an "ideal" domestic life for them.
With much of WandaVision still shrouded in secrecy, all fans can do at this point is speculate. Olsen previously teased that the series is "gonna go weird, we're gonna get deep, we're gonna have lots of surprises," further cementing this show's status as one of the most exciting projects on the Phase 4 slate. There are a variety of comics storylines the show could pull from, so it's anyone's guess as to what will really happen. Ideally, it will dive deeper into Wanda's powers and character, something the movies haven't done exceptionally well. This first look image is enticing, and hopefully it won't be long until more information is revealed.
More: WandaVision Is Marvel's Most Exciting Disney+ Show
WandaVision premieres on Disney+ in Spring 2021.
Source: omelete/Twitter