Marvel Reboots Conan the Barbarian... To Kill Him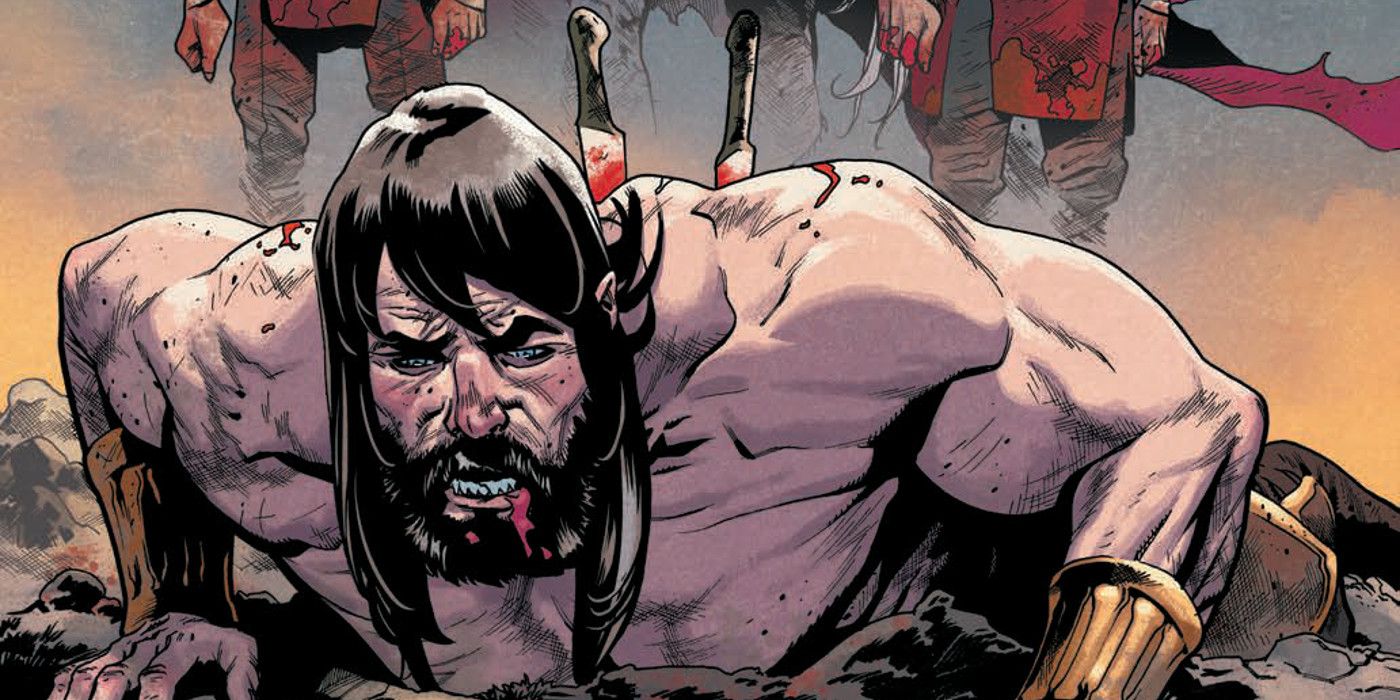 Warning: SPOILERS For Conan The Barbarian #1
It seems that Marvel has revived the Conan The Barbarian comic book line just so they can kill off Cimmeria's favorite son. The first issue of their reboot boasts that it is the first part of "The Life and Death of Conan" and the opening narration proclaimed that this is "not just a tale of how Conan lived. This is the story of how he died."
Conan The Barbarian has long been associated with Marvel Comics. Created in 1932 by Texan pulp writer Robert E. Howard for a series of short stories in Weird Tales magazine, Conan later achieved greater fame as the star of a Marvel Comics series based on Howard's tales. These comics, in turn, inspired the 1982 movie starring Arnold Schwarzenegger, further cementing Conan's status as a fantasy literature icon. Recently, Marvel reacquired the license to publish original comic books based on Conan's adventures, which had been held by Dark Horse Comics since 2003.
Related: Conan The Barbarian is Joining Marvel's Avengers
While various pastiche works by writers other than Howard have purported to give a proper ending to Conan's saga, nobody has ever dared to depict Conan's actual death until now. Presumably writer Jason Aaron (best known for his work on Thor and Marvel Comics' Star Wars line) wanted to attempt something no writer had ever done before with the franchise, as many sword-and-sorcery fantasy works tend to be incredibly repetitive. Indeed, this first chapter opens with pure classic Conan, as we see a young Conan crushing his enemies in the fighting pits of Zamora and celebrating his victory with a golden-haired noblewoman whose flesh "burns like the noonday sun in Shem."
Naturally the noblewoman turns out to be a witch who has need of a special sacrifice to raise her master - Razazel, Arch-Demon of the Elder Night and the glorious and fearsome Red Rod of Doom. She also claims to have foreseen the future and that it is Conan's destiny to die within the temple devoted to Razazel's return. Conan has other ideas, of course, and is able to free himself from his chains, behead the witch and set fire to the unholy shrine as he makes his escape. High adventure, to be sure, but nothing that has not been seen in dozens of other Conan stories.
Aaron's twist comes in the final pages, as we jump forward in time to the days when Conan has become King of Aquilonia by his own hand. It is here that we see Conan ambushed by the witch and her followers while surveying a battlefield. The issue ends with the followers assuring Conan that his destiny will finally be met and that he shall soon die in the temple of Razazel.
The odds of this being the true end of Conan are slim to none, even if Marvel weren't intent on selling more Conan comics in the future. Prophecies are tricky things in fantasy literature and there are many ways Conan might be said to "die"while continuing to fight another day. If nothing else, the story may lead to Conan fighting his way back to life from whatever hell his soul is sent to. Whatever the case, sword-and-sorcery fans can be certain that this is not the last we'll see of Conan the Barbarian at Marvel Comics.
Conan The Barbarian #1 is now available from Marvel Comics.