Kevin Smith Starts Early Pre-Production On Jay & Silent Bob Reboot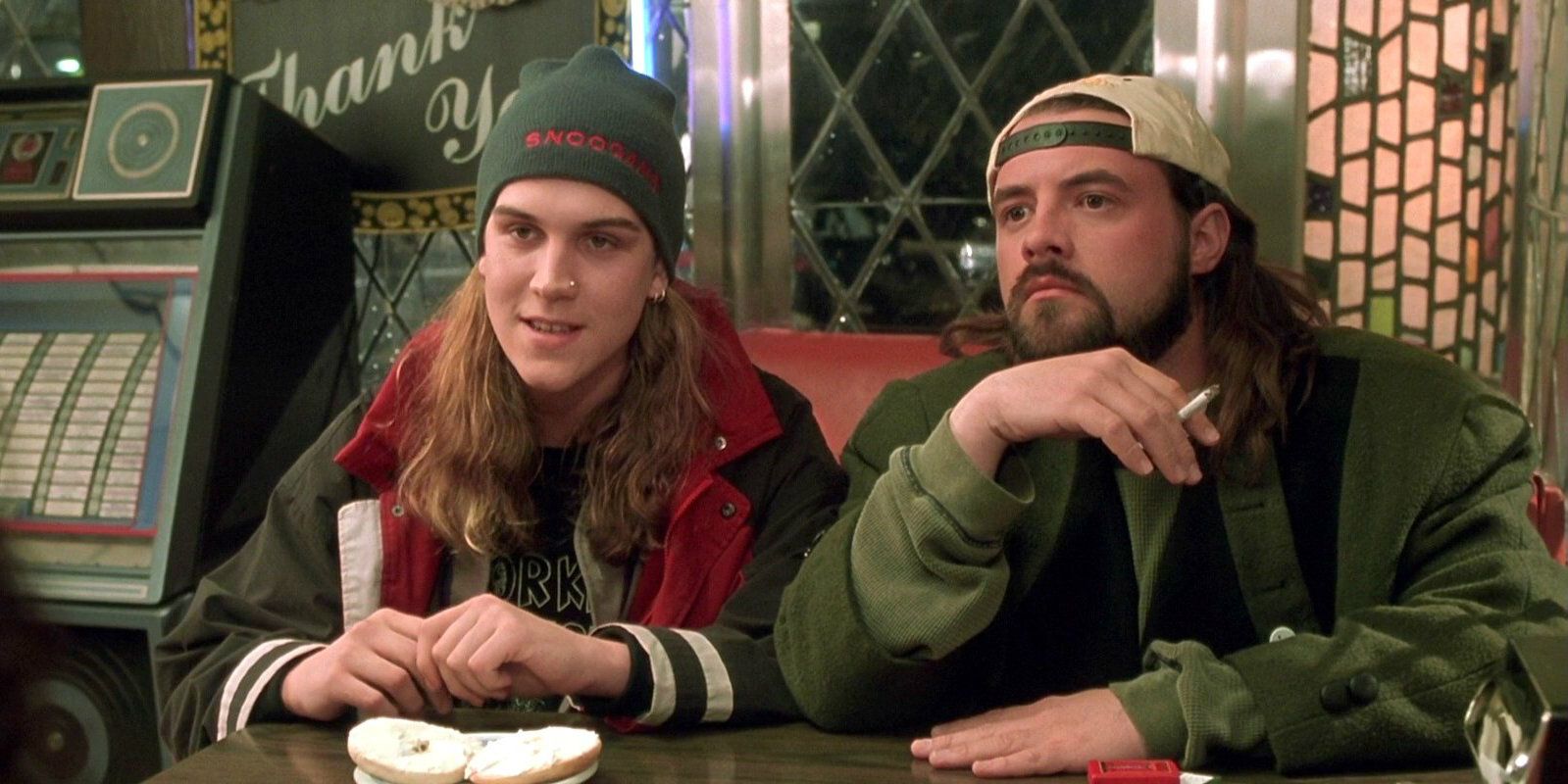 Kevin Smith announced on New Year's Day that he's begun early pre-production on his long-promised Jay and Silent Bob Reboot. Smith himself portrays Silent Bob, the non-speaking stoner character he originated in his very first feature film Clerks, released in 1994. Jason Mewes plays Jay, Silent Bob's decidedly chatty constant companion and fellow pothead.
After making their debut in Clerks, Jay and Silent Bob would pop up again in multiple installments of Smith's so-called View Askewniverse, including Smith's break-out feature Chasing Amy (where Silent Bob broke his silence to deliver one of the movie's many monologues). The characters later featured heavily in Smith's acclaimed 1999 feature Dogma, then were spun off on their own adventure in 2001's Jay and Silent Bob Strike Back, a wacky lampoon of the movie business. In late 2017, Smith announced that he was ready to begin filming a new take on Jay and Silent Bob that would once again skewer Hollywood, this time taking aim at the industry's love of reboots.
Related: Jay & Silent Bob Reboot Star Jason Mewes Says Script is 'Amazing'
Now, Kevin Smith has offered up another update on his progress as regards Jay and Silent Bob the reboot, tweeting that he has indeed begun very early pre-production on the project. In the tweet, a slimmed-down Smith shows himself and producer Jordan Monsanto getting down to the hard work of bringing Jay and Silent Bob back to the screen for yet another go-around. See the tweet below:
In addition to their early appearances in Smith's features, Jay and Silent Bob have also popped up in a lot of random places over the years, even making a cameo on an episode of the TV series The Flash. And in fact, Smith revealed last year that cast members from The Flash including Grant Gustin, Tom Cavanagh, and Carlos Valdes will return the favor by appearing in Jay and Silent Bob's new adventure. Recently, Smith also revealed that the beloved stoners are due to star in their own live-action VR series.
If/when the reboot movie finally arrives, it would mark the first appearance by Jay and Silent Bob in an actual feature film since they were featured in Smith's Clerks II back in 2006. Of course, Smith himself has largely moved away from his View Askewniverse, focusing in recent years on oddball horror movies like Red State and Tusk, as well as other media endeavors. Given Smith's diminished critical and box office reputation in recent years, a return to the Jay and Silent Bob characters is arguably a natural decision, though it remains to be seen if audiences are truly eager for more stoner comedy of the type Smith delivered back when he was a more relevant indie filmmaker. Many would argue that stoner comedy overall has run its course, and if that's indeed true, then the Jay and Silent Bob Reboot may have trouble gaining an audience.
Source: Kevin Smith/Twitter