Jon Hamm, Dakota Johnson & Cailee Spaeny Interview: Bad Times At El Royale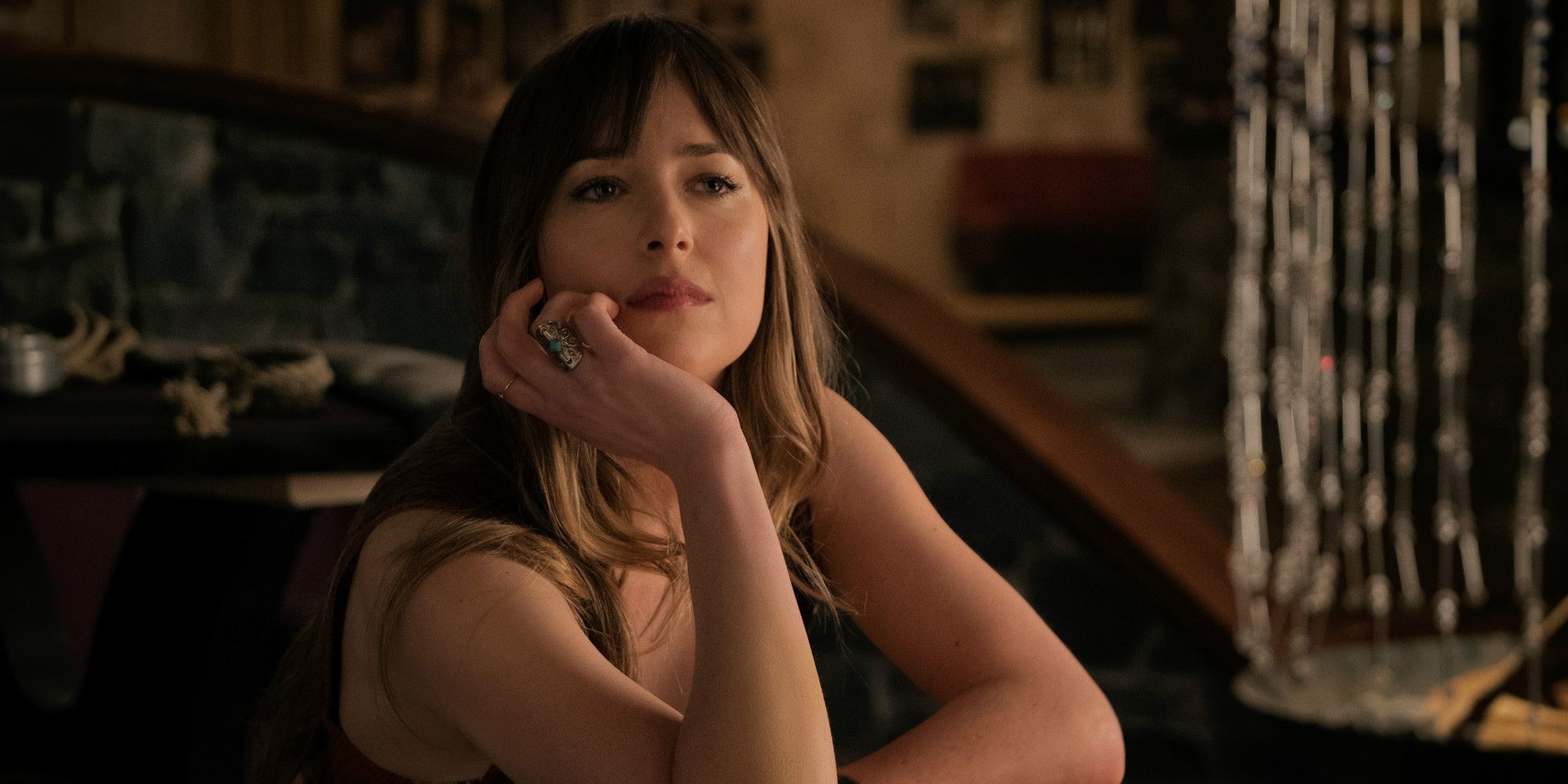 Jon Hamm has appeared in dozens of television shows and is best known for playing Don Draper on AMC's Mad Men.  His extensive feature film resume includes The Town, Baby Driver, and Tag.
Dakota Johnson has been acting for years, but her break out role was as Anastasia Steele in the film adaptation of Fifty Shades of Grey.  Her other film work includes A Bigger Splash, How to Be Single, and Suspiria.
Cailee Spaeny is an actress and singer whose first major film role was in Pacific Rim Uprising. She plays Amara Namani, a street orphan who builds and pilots her own giant robot.
All three appear in Drew Goddard's Bad Times at the El Royale, a mystery-thriller about seven strangers in a hotel that each have a dark secret. Bad Times at the El Royale hits theaters October 12, 2018.
Screen Rant: Wonderful film guys. Great, great performances. We can jump right into it. There's a lot of dualities in this film. You have the Nevada side, California side, and it seems to be a reoccurring theme.  John, the first time we meet your character, small spoiler, you're playing a little bit of an alter ego. Who helped shape those? Did you have a lot of freedom with that? Did you work with Drew at all?
Jon Hamm: I worked with Drew, I worked with a dialect coach.  We decided that he should probably be very flamboyant. And is sort of a presentation.  When the reveal of who he actually is, to kind of draw focus from there. And it's a challenge.  Obviously having played a character from the sixties… don't, don't.
Screen Rant: Speaking of challenges, you two had some challenging roles and very physical roles as well. What was that like? You want to go first?
Dakota Johnson: It was, it was cool. I think it was-- I just had an opportunity to do something different with my body and my body language. And this woman is really angry, and she's really tough, and she's very cold, and sort of shut off to any sort of connection except when it comes to her sister. And at her core, she's just love. But she's really damaged. And in order to survive, she's going to be really tough with people. So, that was fun. It was a good challenge. Also to be like a gun wielding asshole.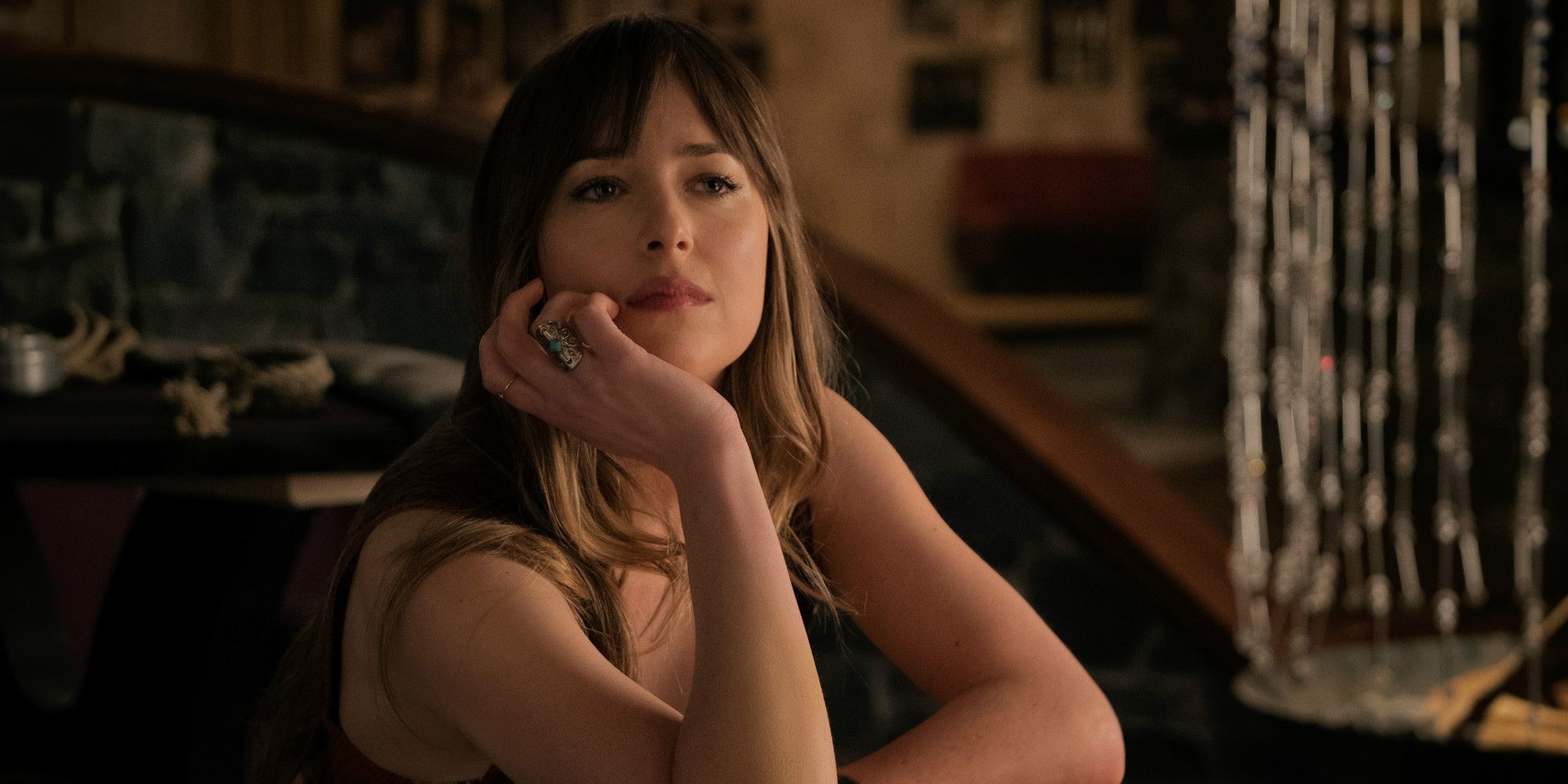 Screen Rant: Cailee, this was a really great role for you. Was there a lot of research or did you-- were you just having fun the whole time?
Cailee Spaeny: Well the research came first for sure. And Drew was super collaborative and sent me a lot of documentaries about cult members and trying to get into the head of why someone would fall into something like that. And then, physicality wise, just trying to be as young and innocent as possible. Again, with the duality of she also is not innocent at all.

But the scene with the chandelier and that whole bit, just being a little kid and running around in the background. Because I had a lot of free-- Basically because they were all roped up, I had the whole hotel to just kind of do whatever I want.  Drew was like, 'Just kind of linger in the background and find things to play with.' So, kind of gave me the freedom to just be a little kid.
Screen Rant: Jon, what was your impression of working with these up-and-comers. These young ladies are really taking the scene by storm.
Jon Hamm: Dakota's been working since she was nine, so probably longer than I've been working. But it was an absolute treat. It was such a pleasant experience. Dakota and I knew each other socially but never worked together. That was a real treat, the scenes we got to do together. And meeting Cailee was-- I didn't realize we were from like three hours away from each other in Missouri, so that's kinda cool too.  It was a blast and it's, I mean, it's on the screen, like the chemistry between these two. You should be sisters, like it's insane, like you guys are so-- look so much like sisters, that especially when you have your long hair, it was like insane. But it was a blast. It was just an absolute blast.