Happy Death Day 2U Trailer #2: Let's Do the Time Loop Again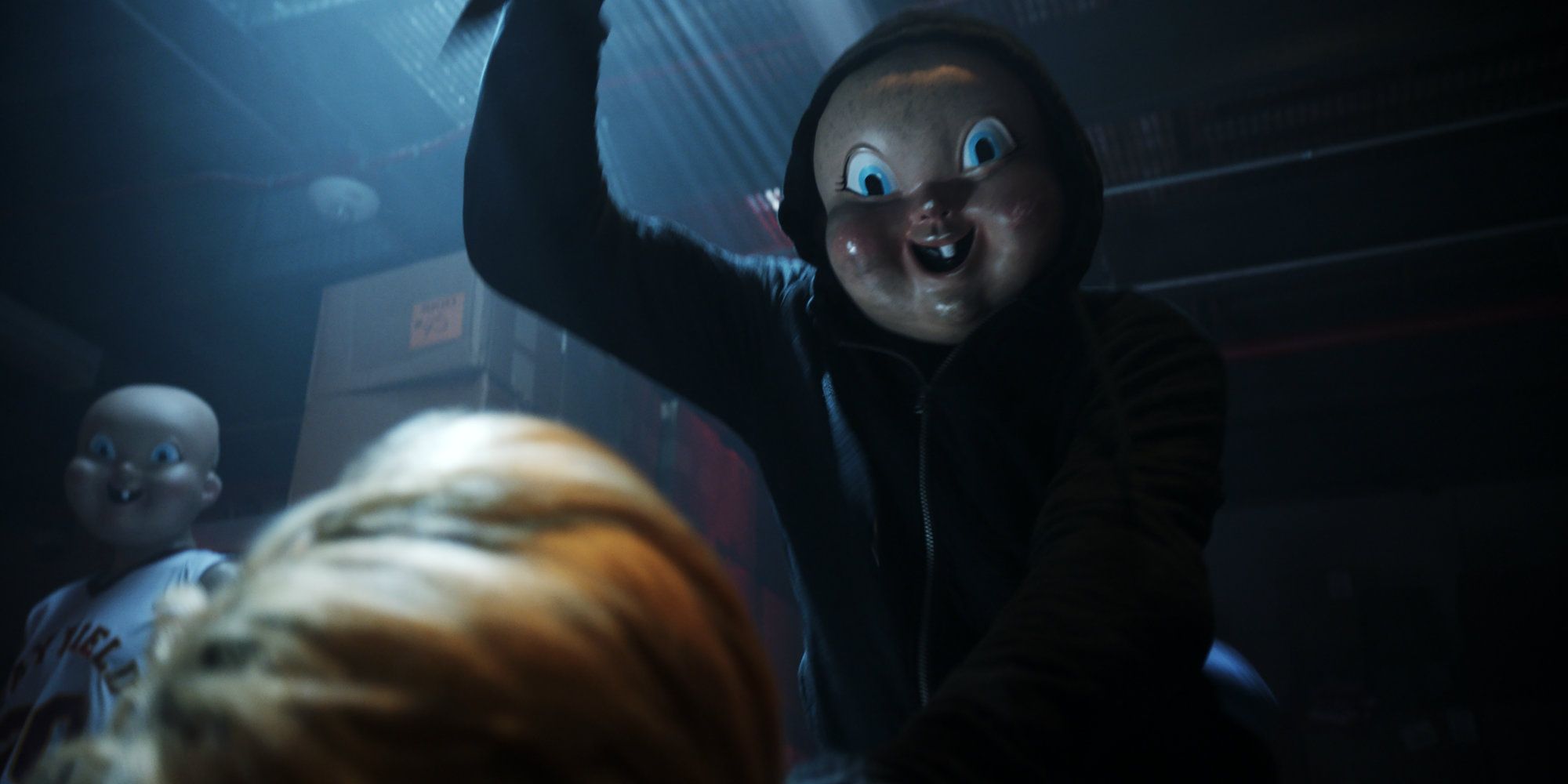 Universal Pictures and Blumhouse are ringing in the new year with a fresh trailer for Happy Death Day 2U. The original Happy Death Day hit theaters in 2017 and starred Jessica Rothe as Tree Gelbman, a college student who wakes up after a night of hard-partying to find herself trapped in a time loop where she's murdered by a mysterious person in a baby mask (the school's mascot), over and over again.
Happy Death Day was praised by critics for being a clever blend of sci-fi, slasher tropes, and horror-comedy anchored by Rothe's likable performance as the not-so-likeable Tree. The film was a success for Blumhouse - thanks largely to its $5 million budget - and a sequel was put into development shortly after its release. Production on the followup began this past May, ahead of the title being announced and marketing kicking off with the studio's Halloween in theaters.
Related: Us Trailer: Jordan Peele is Back With a Monster Movie
Now, with the aptly-named Happy Death Day 2U about six weeks out, a new trailer has arrived. After only directing the first Happy Death Day, Christopher Landon returned to both write and direct Happy Death Day 2U. The sequel brings back most of the main actors from the original movie, including Israel Broussard (To All the Boys I've Loved Before) as Tree's boyfriend Carter, and Ruby Modine (Shameless) as Tree's roommate Lori, who turned out to be the killer the previous time around.
Like the first Happy Death Day 2U trailer, this new promo confirms that Tree gets stuck in a time loop again - only, this time, the situation is much more convoluted and pits her against a new killer who's after several targets. Rothe previously described the sequel as a "Back to the Future type of genre film" and promised it would explain things about the first movie, like how Tree got stuck in a time loop to begin with. The trailers suggest that was an accurate summation, and show Tree (much like Marty McFly and "Doc" Brown before her) trying to fix the timeline without getting herself or anyone else close to her permanently killed. Well, except for Lori, maybe.
Happy Death Day 2U is going the usual Blumhouse sequel route by raising the body count - or, in this case, the number of times Tree and the others die - and enriching its predecessor's mythology. The studio has succeeded more often than not in turning its original projects into franchises, with brands like Paranormal Activity and The Purge now sustaining multiple films. Of course, some Blumhouse IPs peter out quicker than others (see also: Sinister), so it remains to be seen where Happy Death Day ultimately falls on that spectrum. For now, though, this "bigger and crazier" approach seems to be working for the franchise's second installment.
Source: Universal Pictures