Gotham Star Reveals Creepy New Close-Up Look at The Joker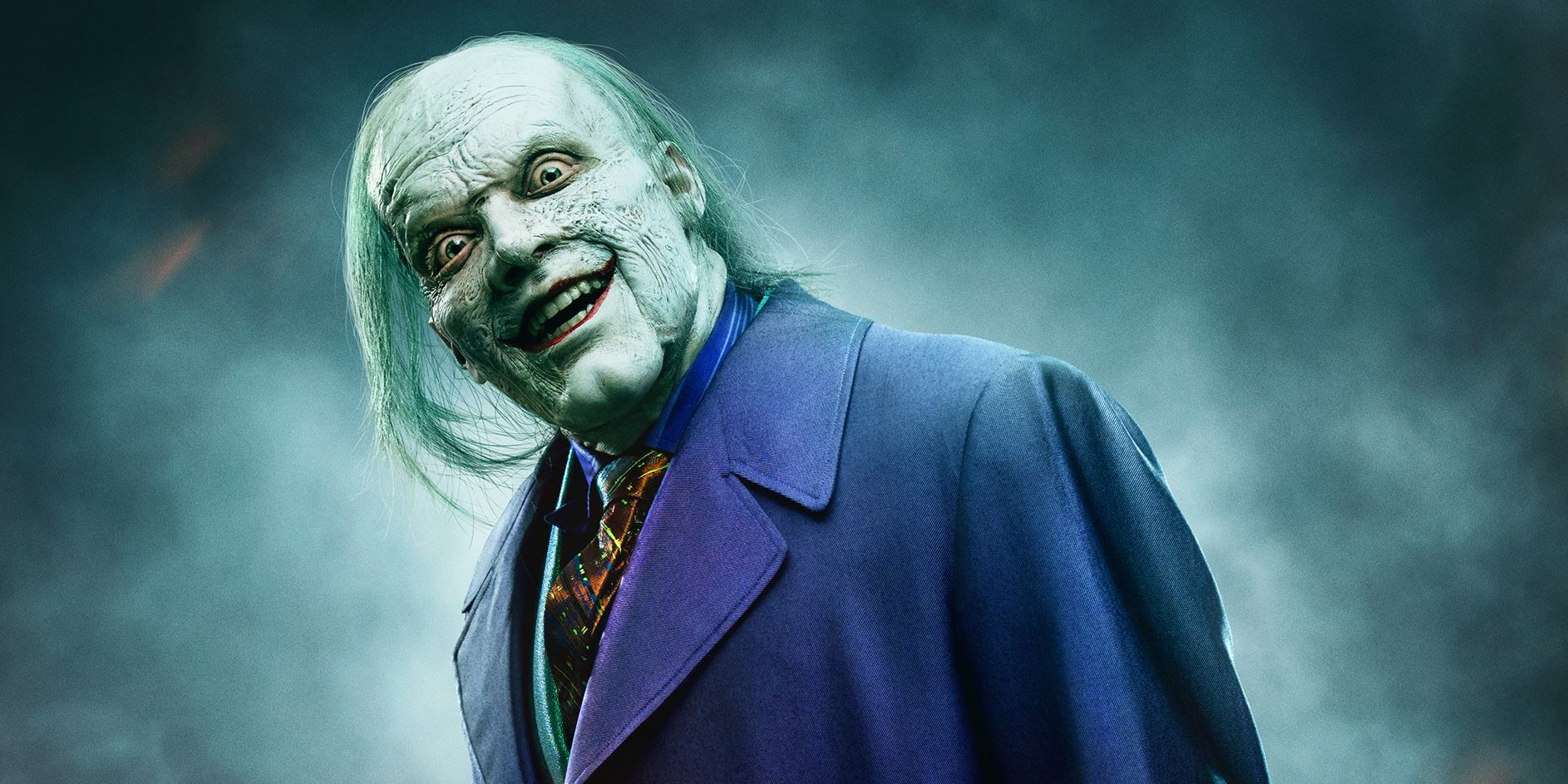 Gotham returns next week for its final two episodes, and star Cameron Monaghan celebrated by dropping a perfectly horrible close-up of himself as the Joker on social media. Fans have been very vocal about the Joker's look ever since it was first revealed, but as the finale approaches he's looking more and more like just what the Arkham Asylum doctors ordered.
After falling into a toxic pit in an episode appropriately titled "ACE Chemicals," the last time audiences saw Jeremiah Valeska was while he was lying in a hospital bed wrapped in bandages. Now those bandages have unwrapped, and both the latest trailers and Monaghan himself have provided some impressive peeks into what Gotham's biggest nightmare looks like. Turns out the chemicals really did do a number on him, reinventing him once again despite his previously bleached skin and tortured grimace.
Related: Gotham's Batman Finally Rises
As evidenced by Monaghan's recent Instagram post, the makeup department is to be commended for this surprisingly comic accurate take on the Joker given the restraints placed on them from above. The burned skin makes it almost impossible to tell that it's the same actor taking his character to the next level, and no one can deny who he's meant to be even if the show remains barred from using the "Joker" moniker. And while it's not clear exactly what his story will be in the final two episodes, the trailer showcases his hand stabbed by a weapon suspiciously similar to a batarang, which suggests he'll factor into the flashforward heavily.
Monaghan's caption reads, "#Gotham. Two weeks." Since the show is actually returning in one week, we can assume he won't make his appearance until the finale itself. This means that a lot could go down for Jeremiah in the interim, which would only add to his history of twists and turns before ultimately becoming the Clown Prince of Gotham. After all, no one expected when Jerome first appeared on the show in the first season that it would be his twin brother who ultimately fell into the iconic chemical vat and came out forever changed.
Whether this Joker look hits the spot for longtime fans or not, there's no denying that a lot of detail and effort has gone into it. If the actor's consistent sharing of behind-the-scenes material is any indication, the cast and crew are anticipating the final reveal - and Batman showdown - as much as the audience is. In many ways, Gotham has been building up the Joker's rise to criminal power just as much as it has Gordon's career in law enforcement or Bruce's climb towards vigilantism. It's only fitting that the last hour of the show's lifespan should throw those entities into each other's paths once more, setting itself apart by telling its own version of the timeless tale while also paying homage to all the adaptations that have come before.
More: Why Gotham's Final Joker Look Works For The Show
Gotham penultimate episode,"They Did What?", airs April 18th on Fox.
Source: Cameron Monaghan/Instagram