Goosebumps 2: Haunted Halloween Review - A Pretty Slappy Sequel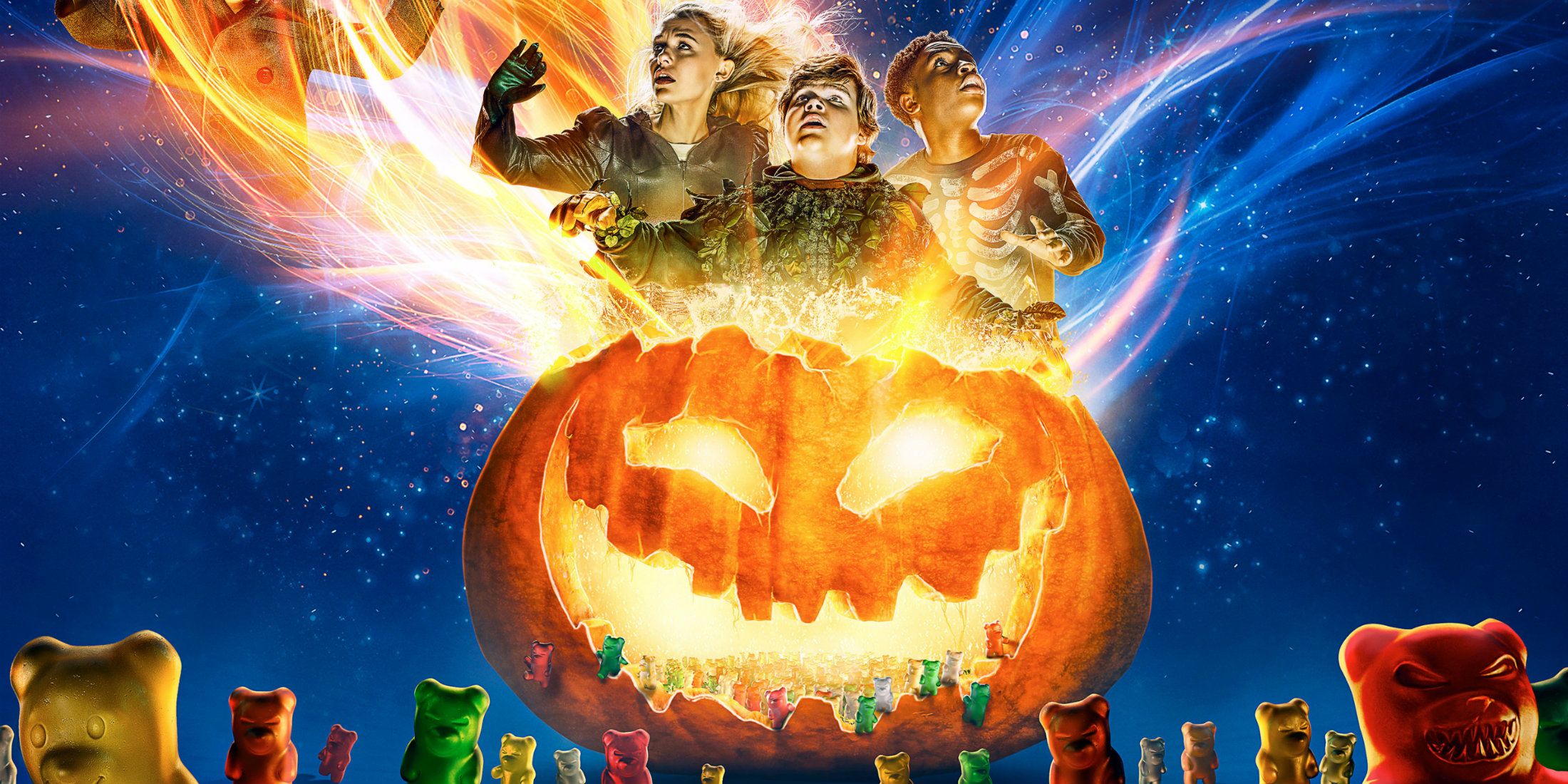 Goosebumps 2 lacks the charm and inventiveness of its predecessor, but still has a reasonable amount of spoopy entertainment value to offer.
R.L. Stine's beloved 1990s children's horror book series makes its way back to the big screen in Goosebumps 2: Haunted Halloween, a sequel to the live-action film adaptation of Stine's novels that came out in 2015. While Jack Black starred as a fictional version of Stine in that movie, Sony didn't even confirm the actor's return for the followup until a few weeks before its release. Similarly, neither the director, writer, nor supporting cast of the (generally well-received) first Goosebumps film worked on the second installment. While Haunted Halloween certainly suffers for it, the sequel isn't an entirely hollow continuation of the franchise either. Goosebumps 2 lacks the charm and inventiveness of its predecessor, but still has a reasonable amount of spoopy entertainment value to offer.
Goosebumps 2 picks up in the small town of Wardenclyffe, New York, as its residents prepare for the fast-approaching Halloween Night festivities. Meanwhile, in the Quinn household, high school senior Sarah (Madison Iseman) is trying to finish her college application and her younger brother Sonny (Jeremy Ray Taylor) is struggling with his science class project - a miniature replica of an experimental wireless transmission station in Wardenclyffe that was built and designed by Nikola Tesla, but never finished (aka. the Tesla Tower). The Quinns are joined by Sonny's best friend Sam Carter (Caleel Harris), who is staying over at their house while his parents are away for the Halloween holiday.
After some prodding from Sam, Sonny agrees to take a break from his project and clear out an abandoned local house, as part of the duo's ongoing efforts to launch a (successful) junk cleanup business. While there, however, the pair stumble upon an incomplete manuscript for a Goosebumps novel, unaware that the building was once owned by R.L. Stine himself. Not knowing any better, Sam and Sonny unlock the book and inadvertently unleash the Goosebumps villain Slappy the Dummy back into the real world. While the living ventriloquist dummy seems (sorta) friendly at first, it's not long before he reveals his true evil plan, with only Sam, Sonny and Sarah to stand in his way.
If the original Goosebumps movie was a throwback to the popular family-friendly spooky adventures of the 1990s (think Hocus Pocus), then Haunted Halloween is closer to being the 2018 equivalent of a direct-to cable scary movie for kids from the '90s - that is, noticeably cheaper and more generic, yet otherwise harmless and playful in its own right. The Goosebumps 2 script by Rob Lieber (Peter Rabbit) likewise carries over the first movie's imaginative premise and conceit (e.g. Stine's Goosebumps novel manuscripts are really enchanted objects which contain and prevent his "demons" from entering the real world) and includes references to its story, yet never really tries to build on its concepts, much less its themes and lore. Instead, Haunted Halloween offers helpful, if unchallenging, life lessons for kids and a serviceable narrative that doesn't exactly push the envelope for the larger Goosebumps brand.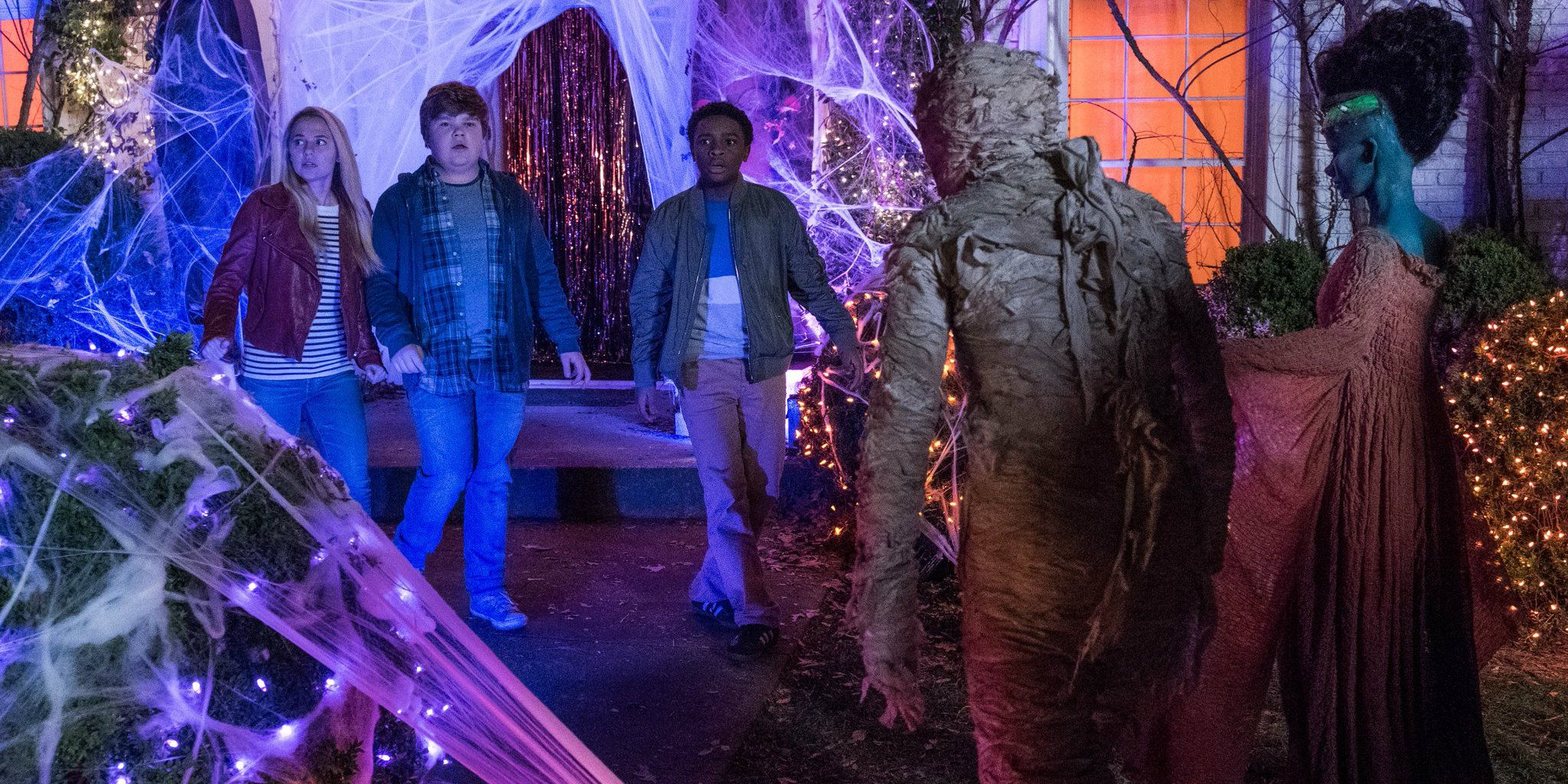 At the same time, Goosebumps 2 is perhaps more successful than its predecessor when it comes to being genuinely menacing and scary for the juice box crowd, yet still light-hearted enough to avoid traumatizing them (hence, "spoopy"). Much of the credit for that goes to director Ari Sandel (The DUFF), who does a commendable job of combining suspenseful and creepy storytelling with comedic moments here, much like Stine did so well in his original Goosebumps novels. Haunted Halloween, as indicated earlier, feels like a lower-budgeted affair than the first Goosebumps, yet Sandel and his creative team - including, DP Barry Peterson (Game Night) and production designer Rusty Smith (Get Out) - still manage to deliver a movie that's a proper cut above a comparable TV film, in terms of overall craftsmanship. That also goes for the CGI and creature effects in the sequel's first half (more on the second half later).
The actual setting of Haunted Halloween is mostly populated by stock types, be they the film's young heroes or the local bullies that Sonny and Sam have to deal with (not to mention, Sarah's dishonest would-be boyfriend). While their characters are fairly two-dimensional in the Goosebumps sequel, Harris, Iseman and Ray nevertheless have the same affable screen presence that's allowed them to stand out in films and TV shows past and, thus, make their protagonists all the easier to root for. That also goes for the adult supporting players here, as Wendi McLendon-Covey (The Goldbergs) and Ken Jeong (Community) mostly channel their famous small screen personas as Sarah and Sonny's adorkable mother Kathy and their eccentric neighbor Mr. Chu, respectively. As for Black as R.L. Stine: his own role in Goosebumps 2 is pretty superfluous, which is disappointing considering the energy that he brought to the proceedings as the first Goosebumps' co-protagonist (not to mention, his vocal performance as Slappy, which Black didn't reprise in the sequel).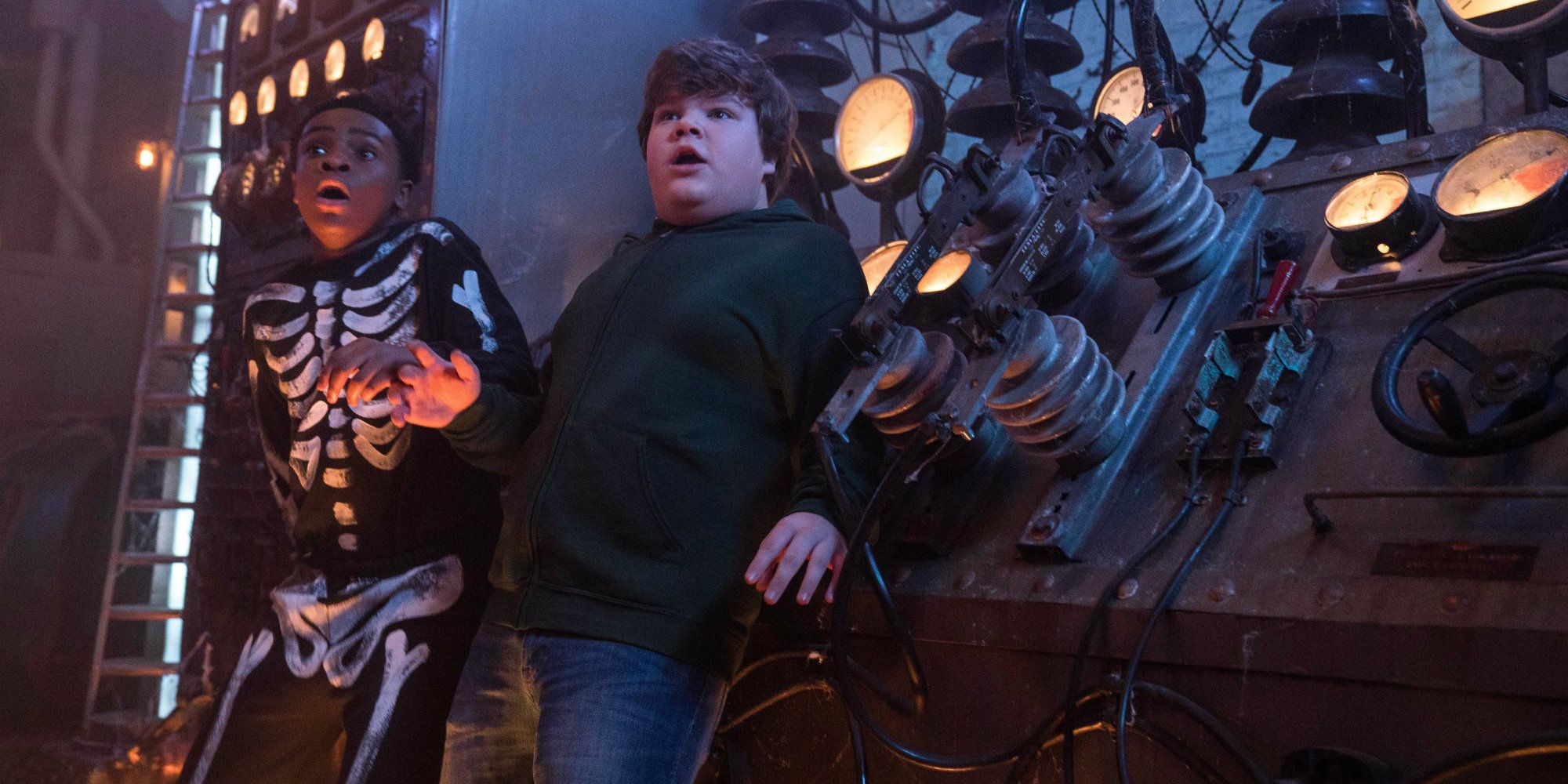 All in all, Haunted Halloween is a passable if derivative sequel - but not because the Goosebumps books themselves are incapable of sustaining multiple films. Rather, the problem is that the sequel recycles too much from the first movie and struggles to make creative use of the fresh elements (like the real-world Tesla Tower) that it brings into the mix here. It's too bad, seeing as Goosebumps 2 had a wealth of different monsters and horror genres in Stine's source novels to draw from, yet elected to continue simplifying the author's mythology by making Slappy the big bad (again) and skimping on giving the other creatures much in the way of personality. As a result, the second half of the movie plays out as a watered down version of what happened in the original Goosebumps, albeit with lower production values and emotional impact.
Still, Goosebumps 2 should go over best with its young target demographic and provide them with enough silly scares and fun adventure to keep them engaged for its brisk runtime. Moreover, much like your average comic book movie these days, Haunted Halloween delivers its fair share of Goosebumps easter eggs and nods to the real Stine's source material (right down to a Stan Lee-esque cameo from Stine himself), to further serve the property's youngest fans. As for those who prefer their family-friendly fantasies with Jack Black starring front and center - The House with a Clock in Its Walls is still playing in theaters and ought to fulfill your own needs for some spoopy entertainment this Halloween season.
TRAILER
Goosebumps 2: Haunted Halloween is now playing in U.S. theaters nationwide. It is 90 minutes long and is rated PG for scary creature action and images, some thematic elements, rude humor and language.
Let us know what you thought of the film in the comments section!