Goosebumps 2: Haunted Halloween Interview - R.L. Stine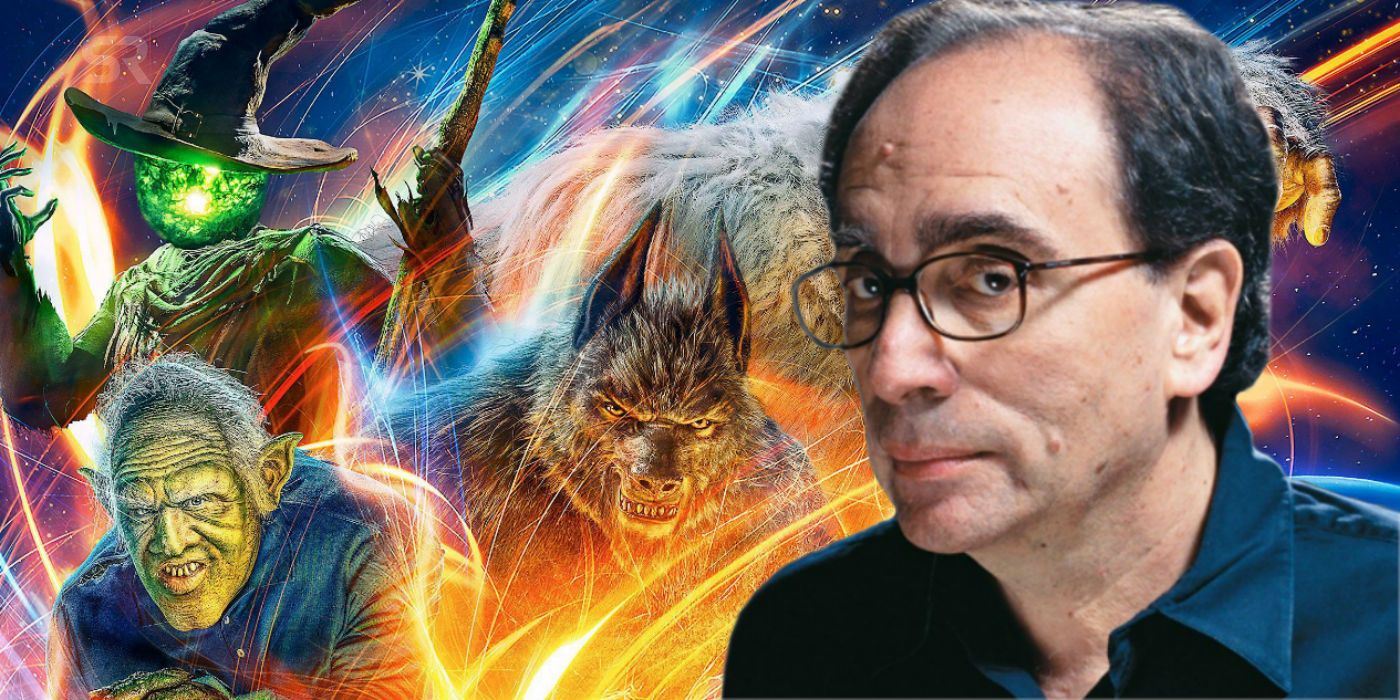 Halloween is just around the corner, and to celebrate the spookiest holiday of the year there's a new Goosebumps movie arriving in theaters - Goosebumps 2: Haunted Halloween. The movie features a new cast of kids - played by Jeremy Ray Taylor (IT), Caleel Harris (Castle Rock), and Madison Iseman (Jumanji: Welcome to the Jungle) - who discover a lost Goosebumps book in a hidden room and unwittingly unleash a new season of terror, as Slappy the Dummy brings Halloween costumes to life and wreaks havoc on the city.
Jack Black reprises his role as Goosebumps author R.L. Stine in Haunted Halloween , so to celebrate the movie's release, Screen Rant spoke to the real R.L. Stine to find out about the new monsters on parade, and ask whether Black's curmudgeonly portrayal of the author is accurate.
Related: Watch the Trailer For Goosebumps 2: Haunted Halloween
I have to ask, because the movie's about a secret Goosebumps book hidden in a box - is there actually a secret Goosebumps book somewhere out there?
R.L. Stine: No. I wish [laughs]. I wish there were some extra ones somewhere that I could pull out. No, no secret book... But it's kind of creepy, these two boys go into this house and knock over something and find this book and it's locked, and they unlock it. And that starts all the action. All the horrible action.
Are there any Goosebumps monsters in this movie that we didn't see in the last one?
Stine: Well, there are gummy bears [laughs]. They didn't have gummy bears. After the first one I said, "How will we ever do a sequel? You used every single monster in the first movie!" There was nothing left. But yes, there are some. There's an ogre, for one thing. We didn't have an ogre in the first one. And my very favorite scene is the one with the gummy bears. Cute little gummy bears and then they turn into monsters.
But they're so cute, what harm could they possibly do?
Stine: Well, they grow teeth for one thing. And then they all stick together and become a huge blob and attack people. It's a wonderful scene [laughs]. Very proud of that!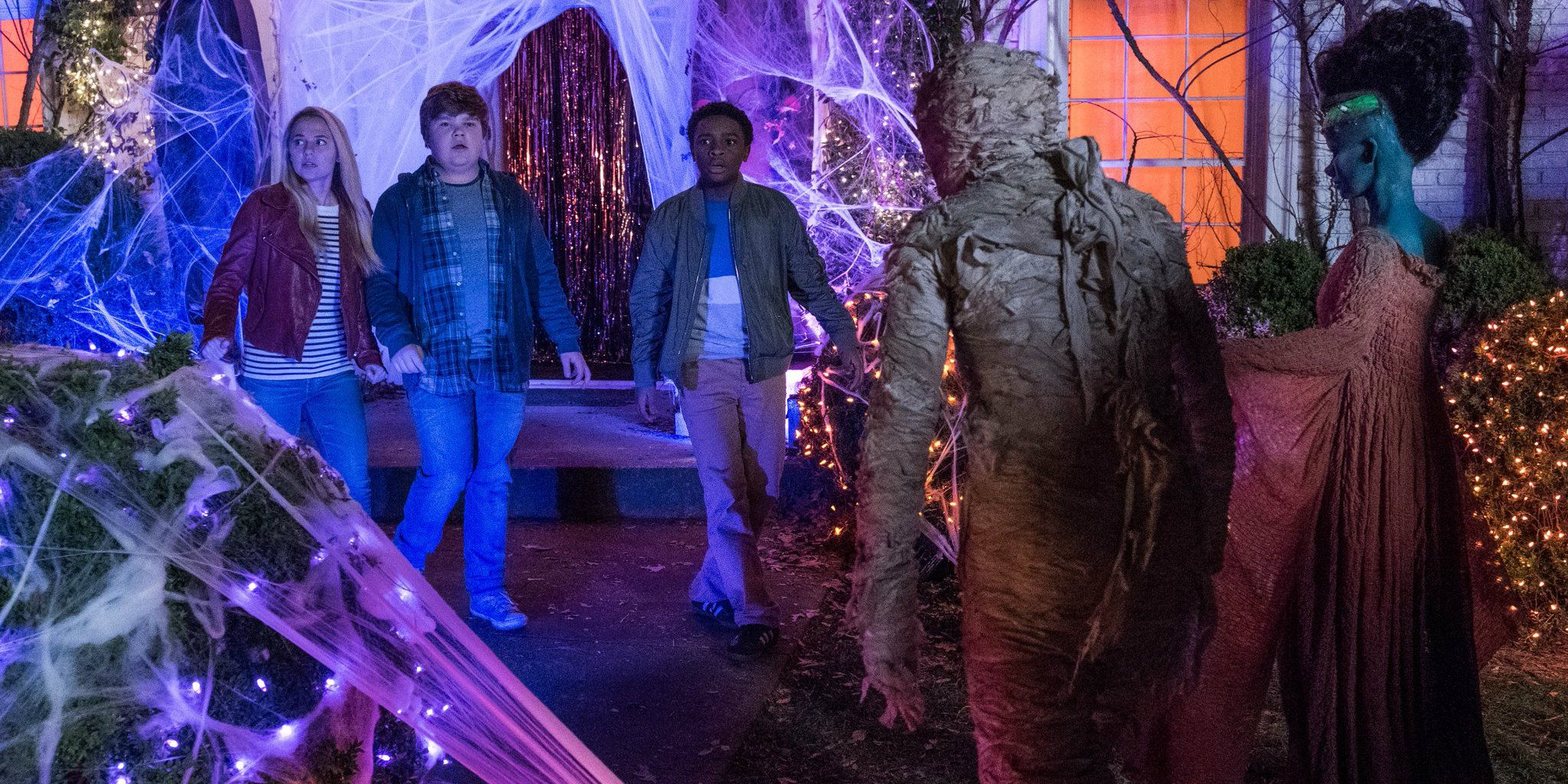 It seems like there aren't a lot of scary movies aimed at kids, since so many horror movies involve blood and gore. Is there a special trick to terrifying kids?
Stine: No, it's the same as for grown-ups, I think. I think it's surprise, it's travelling into the unknown where you don't really know what's next and you can't see what's coming up, and it's a lot of twists and turns. I think it's the same as doing horror for adults.
There's a whole new cast of kids in this movie. Can you tell us a bit about them?
Stine: Well, there's a delightful boy who's building a replicas of Tesla's lab, because Tesla's real lab is actually in their town. And he's fiddling with the electricity and he keeps blowing out all the electricity in the house, but he's determined to do it. And his doing this leads to an amazing scene near the end at Tesla's real lab. It's a real Frankenstein type lab. I went to Atlanta, where we filmed the film... and they showed me these sets. These guys are geniuses! They built this amazing Frankenstein's lab... I couldn't believe what these guys could build. It was incredible.
So Slappy the Dummy is the ringleader in this movie again. What is it about Slappy that people love so much?
Stine: I don't really get it [laughs]. I don't know why a dummy coming to life is so scary. But people are really frightened of him, and he's so popular now that every other Goosebumps book has to be a Slappy book. I think I've written about fourteen of them [laughs]. It doesn't get any easier to think of plots about a dummy coming to life.
Maybe it's also because he likes to insult people. People like comedy roasts, so maybe that's why they like Slappy.
Stine: Well that's why I like to write him - he's really an insult comedian. That's why I love writing him, because he's so rude!
Do you think kids are easier to scare than adults, or harder?
Stine: Probably easier. Probably don't have to work as hard to scare them. But you know, my audience - seven to twelve year-olds - I get them the last time in their lives they'll ever be enthusiastic. And then when they turn twelve, they have to be cool... and they're gone. But before then they love writing to an author, they love reading, they love hearing from you, they love going to things... it's just the best audience.
Was Jack Black's portrayal of you in the first movie accurate?
Stine: I love Jack. Not accurate at all! Nothing accurate. But he's a great guy, I thought he was wonderful. He flew to New York in a blizzard to meet me, to try to figure out how he was going to play the character. And we had lunch and he was like, looking at me, right? [Laughs] And then he said, "Bob... what about the script is true about you?" And I said, "Nothing, not one thing, none of it's true!" And he said, "I'm going to be a sinister version of you." And that's what he decided to do.. And then when it started filming he started talking like Orson Welles, right? He does, in that first film, and I said, "Jack, I'm from Ohio, I don't sound like that!" But I thought it was really fun. What a weird thing, to be a character in a movie.
Seeing as, unlike Jack's version of you, you don't hate kids - is there a favorite interaction with a young fan that you've had?
Stine: I've had way too many. I'm just so lucky. Because I go out, I really talk to kids, I go to schools, and I really do like kids. And you know, I have a son and I have a grandson, who's four and hilarious. And he's taking after my son, he won't read my books. That's my son's claim to fame, he never read one. Isn't that horrible?
Does he tell you that all the time?
Stine: He bragged about it, how he never read one!
You should write him into a book so that he has to read it.
Stine: I did! I made him the star of a Fear Street book, it was a vampire book, and he was the star and he didn't read that one either. In the very last paragraph of the book he gets bit in the neck. [Laughs] I got my revenge!
Goosebumps 2: Haunted Halloween arrives in theaters this weekend.