Every Game Coming Out in 2019 - A Complete List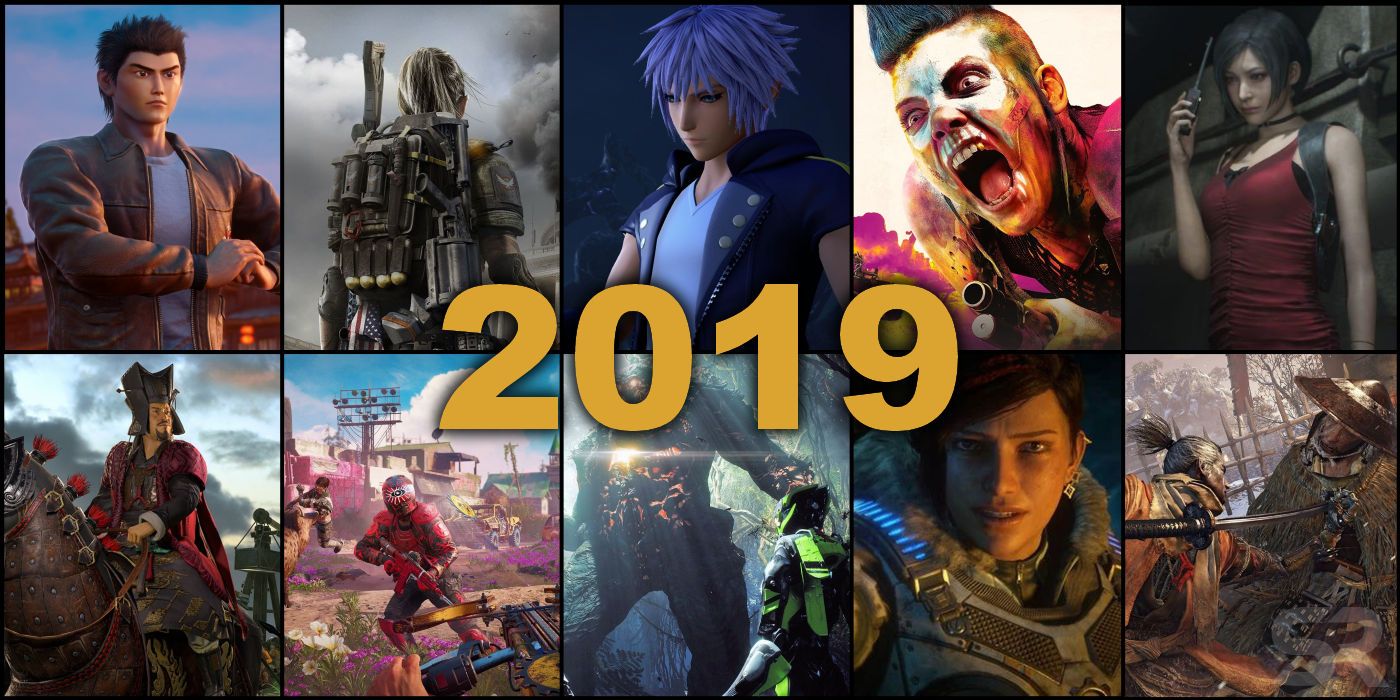 It's the end of 2018, which means it's time to start looking at 2019, especially when it comes to video games that people can expect to release next year. There are a lot of highly-anticipated titles landing on store shelves in 2019, including Kingdom Hearts III, Anthem, Days Gone, and more. And those are just the titles that have actual release dates. It's likely that 2019 could also bring gamers a few surprises, with even bigger releases such as Death Stranding and The Last of Us 2.
So what does the new year hold in store for gamers? There are a lot of console exclusives coming out, but PC gamers will have a lot to look forward to, as well. These 2019 titles hold a little something for everyone. These games also cover a variety of genres, including strategy, RPG, action-adventure, multiplayer, first-person shooters and more.
Related: Xbox One Exclusive Games Coming in 2019
The first few months of 2019 already have games with release dates set in stone, but there are plenty of titles that will probably get release dates for later in the year. Expect fall to bring in some heavy hitters, as it always does. But for now, here is the complete list of games coming out in 2019. (Note that the following release dates are for North America.)
This Page: January & February 2019 Video Games
January 2019 Video Game Releases
The start of 2019 is already going off with a bang, thanks to some pretty big releases, including Kingdom Hearts 3, a game that Square Enix and Disney fans have waited forever for. But that's not the only title gamers can get excited about after the holidays: the remake of Resident Evil 2 lands on PC, Xbox One, and PlayStation 4 at the beginning of the year, as well as a plethora of other titles:
Fitness Boxing - January 4
Pikuniku - January 7
Aftercharge - January 10
Bury Me, My Love - January 10
Double Cross - January 10
Mario & Luigi: Bowser's Inside Story and Bowser Jr's Journey - January 11
New Super Mario Bros. U Deluxe - January 11
Tales of Vesperia: Definitive Edition - January 11
Onimusha: Warlords - January 15
Smash Hit Plunder - January 15
Smoke and Sacrifice - January 15
Vane - January 15
Hell Warders - January 17
Octahedron - January 17
YIIK: A Post-Modern RPG - January 17
Ace Combat 7: Skies Unknown - January 18
Senran Kagura Burst Re:Newal - January 18
Travis Strikes Again: No More Heroes - January 18
A Fisherman's Tale - January 22
At the Gates - January 23
Slay the Spire - January 23
Battlefleet Gothic: Armada 2 - January 24
Life is Strange 2 – Episode 2: Rules - January 24
Resident Evil 2 Remake - January 25
Genesis: Alpha One - January 29
Kingdom Hearts 3 - January 29
Planetside Arena - January 29
Fission Superstar X - January 31
Sunless Skies - January 31
February 2019 Video Game Releases
In past years, February is usually a quiet month for video game releases, but 2019 will give gamers a February they won't ever forget. There aren't just a lot of titles arriving in the same month as Valentine's Day, but there are a lot of big titles hitting PC, Xbox One, Nintendo Switch, and PlayStation 4. Players will need to save up their dollars because they're going to want a lot of games on this list, including Far Cry: New Dawn, Crackdown 3, Anthem, and Dead or Alive 6.
Ace Combat 7: Skies Unknown - February 1
Animal Super Squad - February 1
8-Bit Hordes - February 1
Etrian Odyssey Nexus - February 5
The Occupation - February 5
Away: Journey to the Unexpected - February 5
Astroneer - February 6
Ape Out - February 7
BlazBlue: Central Fiction Special Edition - February 8
God Eater 3 - February 8
Arcade Spirits - February 12
Trials Rising - February 12
Outward - February 12
Civilization 6: Gathering Storm - February 14
Degrees of Separation - February 14
Tokyo School Life - February 14
Crackdown 3 - February 15
Dead or Alive 6 - February 15
Far Cry: New Dawn - February 15
Jump Force - February 15
Metro: Exodus - February 15
Anthem - February 22
Aragami: Shadow Edition - February 22
Anno 1800 - February 26
Dirt Rally 2.0 - February 26
PlanTechtor (Rift, Vive): February 27
March 2019 Video Game Releases
Although March 2019 isn't quite as exciting or as full of releases as January and February, the month does round out the last of the winter season with some pretty well-anticipated games. Not only will March bring Devil May Cry 5, but gamers can also look forward to diving into The Division 2, as well as revisit some of their favorite assassins with the remastered editions of Assassin's Creed 3 and Assassin's Creed Liberation. It is likely that a few more titles will drop in March, games that have not yet received official release dates.
ToeJam & Earl: Back in the Groove - March 1
Left Alive - March 5
Total War: Three Kingdoms - March 7
Devil May Cry 5 - March 8
The Caligula Effect - March 12
Willowbrooke Post - Steam Early Access - March 14
The Division 2 - March 15
One Piece World Seeker - March 15
The Sinking City - March 21
We. The Revolution - March 21
Sekiro: Shadows Die Twice - March 22
Nelke & the Legendary Alchemists: Ateliers of the New World - March 26
April - September 2019 Video Game Releases
Although most games set to release in 2019 don't have official release dates yet, there are still a few set in stone for the months of April through September. That's good news for gamers who want to make sure they have plenty of games to play in the summer going into the months of fall. It's likely that more of this list gets rounded out as 2019 progresses because game developers and publishers will start making some announcements about when certain games will actually drop. In the meantime, here are the titles that have definite release dates during that time.
Mortal Kombat 11 - April 23
Days Gone - April 26
Dauntless - April 26
Rage 2 - May 14
Team Sonic Racing - May 21
Crash Team Racing Nitro-Fueled - June 21
Shenmue III - August 27
Mechwarrior 5: Mercenaries - September 10
Above - Early 2019
Beyond Blue - Early 2019
Carried Away - Early 2019
Children of Morta - Early 2019
This Is Pool - Early 2019
Close to the Sun - Early 2019
Killer Queen Black - Early 2019
Rebel Galaxy Outlaw - Early 2019
Concrete Genie - Early 2019
Fire Emblem Three Houses - Early 2019
Songbird Symphony - Early 2019
Super Meat Boy Forever - Early 2019
Judgement - Late 2019
Phoenix Point - Late 2019
The Settlers - Late 2019
Other Video Game Releases in 2019
The problem with forecasting video game releases is that developers and publishers don't like to announce them too far out. So there are a lot of games that players can "expect" in 2019, but can't confirm; some have a general release date in that year, while others are those the industry believes will release sometime next year. It's hard to say if any of these titles might get pushed back to 2020, but for now, here is the massive list of titles players should, hopefully, get to play before the end of 2019.
39 Days to Mars
4Sight
9 Monkeys of Shaolin
A Fold Apart
Afterparty
Age of Wonders: Planetfall
Alchemic Cutie
Ancestors: The Humankind Odyssey
A Plague Tale: Innocence
Ary and the Secret of Seasons
Atelier Lulua: The Scion of Arland
Atone
Babylon's Fall
Backworlds
Batalj
Battletoads
Bear With Me
Bee Simulator
Blacksad: Under the Skin
Blazing Chrome
Bloodroots
Bloodstained: Ritual of the Night
Body of Evidence
Brief Battles
Bubsy: Paws on Fire
Cat Quest 2: The Lupus Empire
Catherine: Full Body
Cloudpunk
Code Vein
Conan Unconquered
Constructer Plus
Control
Creaks
Cuphead: The Delicious Last Course
Daemon X Machina
Dark Devotion
Death Stranding
Decay of Logos
Desperados 3
Devil's Hunt
Digimon Survive
Draugen
Dragon Quest Builders
Dreams
El Hijo
Eternity: The Last Unicorn
Fantasy Strike
Fate/Extella Link
Felix The Reaper
Flotsam
Fury Unleashed
Gato Roboto
Gears Pop
Generation Zero
Godhood
GreedFall
Grid Autosport
Harold Halibut
Hellbound
Indivisible
Infected Shelter
Inmost
Imperator Rome
In the Valley of Gods
Ion Maiden
Irony Curtain
Jenny LeClue
Journey to the Savage Planet
Jupiter & Mars
Kirby's Extra Epic Yarn
La Mulana 2
Later Alligator
Layers of Fear 2
Little Misfortune
Lost Ember
Lost Words: Beyond the Page
Luigi's Mansion 3
Lunacy: Saint Rhodes
Maid of Sker
Marz Rising
Mayonez
Metal Wolf Chaos XD
Minecraft: Dungeons
Mini-Mech Mayhem
Mount and Blade 2: Bannerlord
Moving Out
My Friend Pedro
Mythgard
Narcos: Rise of the Cartels
Necrobarista
Necromunda: Underhive Wars
Night Call
Nioh 2
Notmycar
Observation
One Finger Death Punch 2
Operencia: The Stolen Sun
Ori and the Will of the Wisps
Our World is Ended
Pagan Online
Prodeus
Project Hardcore
Railroad Corporation
Raji: An Ancient Epic
Record of Agarest War: Marriage
Redout: Space Assault
Re-Legion
Relicta
Remnant: From the Ashes
RICO
Riverbond
Saints Row: The Third
Samurai Shodown
Sea of Solitude
Skull and Bones
Slay the Spire
Sniper Ghost Warrior Contracts
Soundfall
Space Junkies
Sparklite
Speaking Simulator
Sphinx and the Cursed Mummy
Star Wars Jedi: Fallen Order
Steel Division 2
Stellaris: Console Edition
Stormdivers
Stranger Things: The Game
Stygian: Reign of the Old Ones
Subdivision Infinity
Summer in Mara
Terraria
The Book of Unwritten Tales 2
The Church in the Darkness
The Dark Pictures - Man Of Medan
The End of the Sun
The Forgotten City
The Last Campfire
The Last of Us Part 2
The Liar Princess and the Blind Prince
The Pathless
The Sojourn
The Surge 2
The Textorcist
Those Who Remain
Through the Darkest of Times
Tick Tock: A Tale for Two
Town
Trine 4
Trover Saves the Universe
Tunche
Tunic
Twin Mirror
Unheard
Unruly Heroes
Unto the End
Valfaris
Vanguard: Fight for Rudiarius
Void Bastards
Warhammer: Chaosbane
Warlocks 2: God Slayers
Wasteland 3
Weedcraft Inc.
What the Golf?
Windjammers 2
Wreckfest
Xenon Racer
Yoshi's Crafted World