Discless Xbox One S All-Digital Edition Officially Unveiled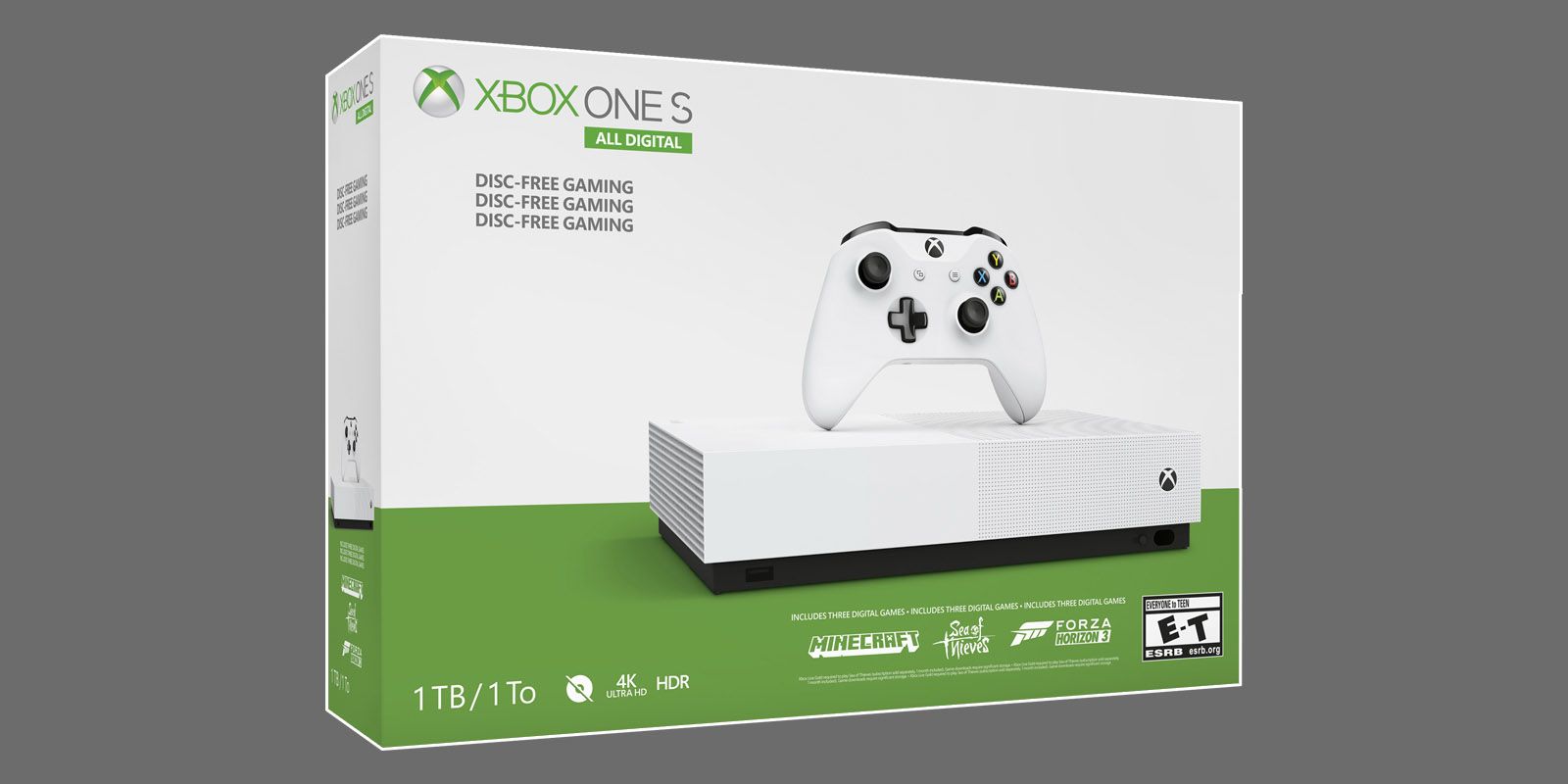 The Xbox One S All-Digital Edition has been announced officially by Microsoft as the latest entry into the family of Xbox One consoles. With a focus strictly on digital content the Xbox One S All-Digital Edition is priced $50 cheaper than the standard Xbox One S but is otherwise identical in size and specs, designed to cater towards users who do not consume physical disc-based media and who are looking for the most affordable way to experience Xbox games.
The Xbox team explains that games, entertainment, and technology have evolved drastically since the original Xbox console released in 2001, and now with the company doubling down on service offerings like the successful Game Pass package - it now being bundled with Xbox Live Gold - and of course the future of cloud-streaming with Microsoft's own Project xCloud.
Related: Why The Future Of Gaming Will See The Death Of Traditional Consoles
The Xbox One S All-Digital Edition was revealed earlier this year thanks to confirmed leaks and reports and included release date details, the name, even imagery of the hardware sans the disc drive and all of it was accurate. The Xbox One S All-Digital Edition is priced at $249.99 USD, $50 USD less than Xbox One S and comes bundled with Minecraft, Forza Horizon 3, and Sea of Thieves - the latter of which just celebrated its one-year anniversary with additional content. Microsoft promises to maintain this price difference going forward so the $50 buys consumers the ability to play old and current-gen disc-based Xbox games, and DVDs, Blu-rays, and 4K UHD discs.
Xbox One S All-Digital Edition vs. Xbox One S vs. Xbox One X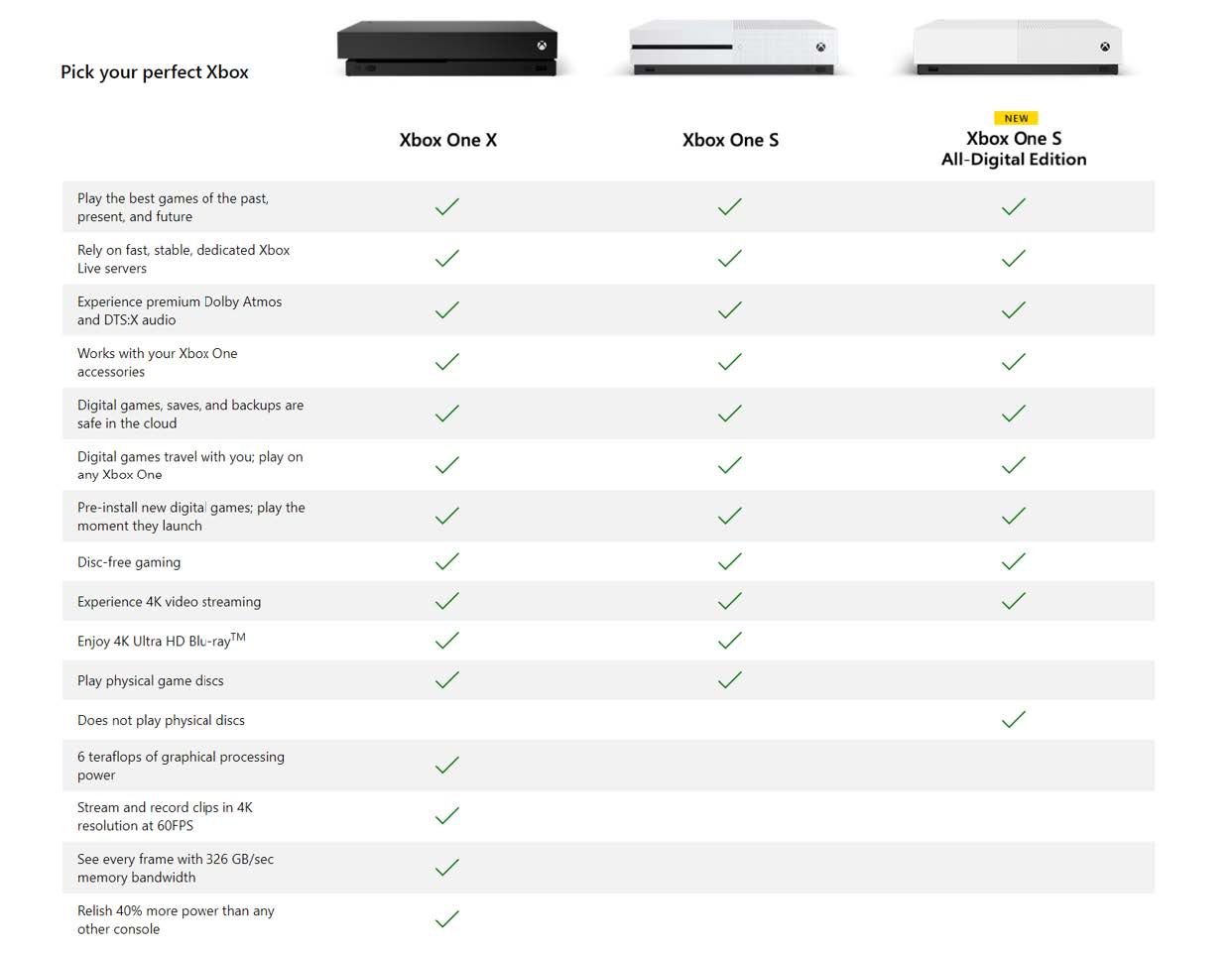 Oddly, there's no talk (yet) of a discless, all-digital version of the flagship and more powerful Xbox One X and there are still rumors that Microsoft is preparing to unveil the "next-gen" Xbox One successor (whatever that means these days) at E3 2019. With all content and services pushing towards digital, whatever the next iteration of Xbox console hardware is, the goal is that all Xbox One offerings will be available on it and all Xbox first-party software will still come to PC (and perhaps mobile, and Nintendo Switch depending on how much the cloud is used and how soon). With Google Stadia promising the highest power possible for video games strictly through cloud-gaming virtually anywhere (bandwidth notwithstanding), expect more digital-only services and hardware option from all the major players.
Related: The PlayStation 5's First Details Have Been Revealed
When Does The Xbox One S All-Digital Edition Release?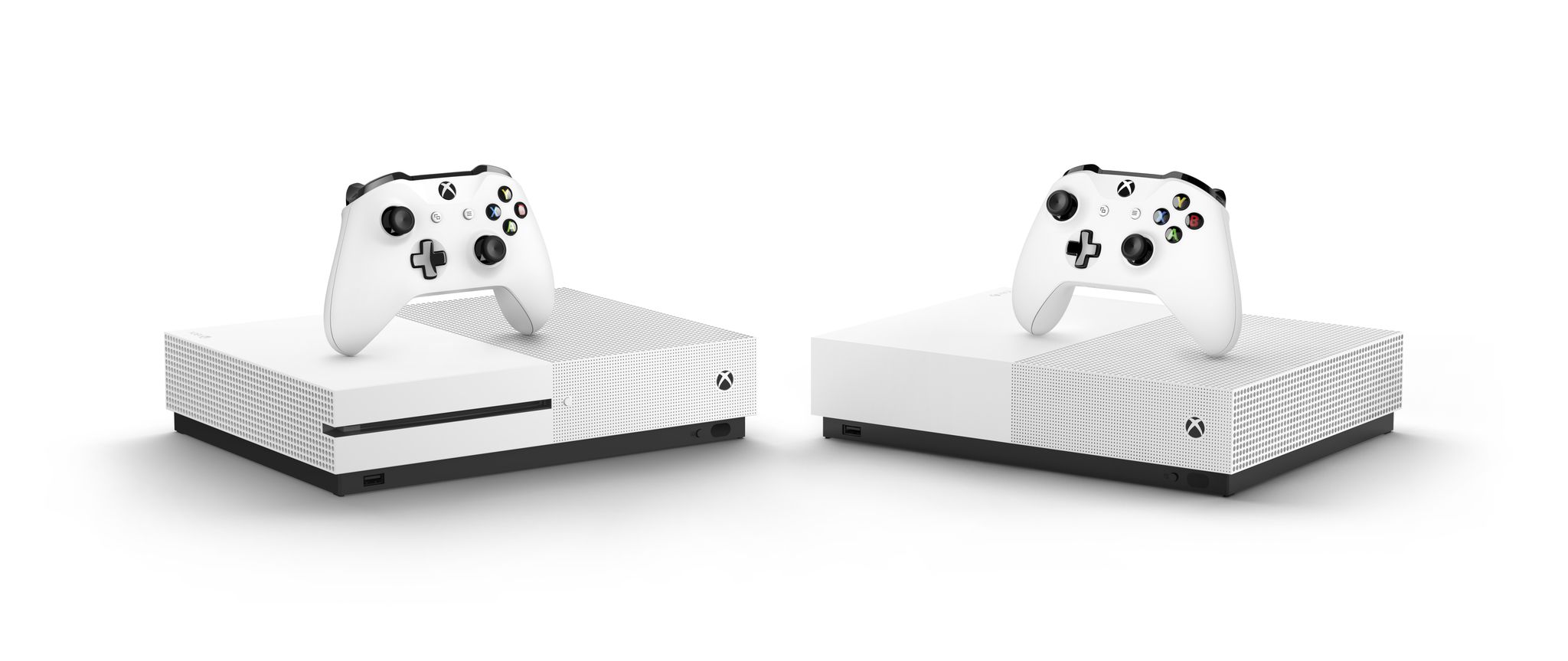 The Xbox One S All-Digital Edition will launch at local Microsoft Store or online, as well as select retailers worldwide including Walmart, Best Buy and Amazon.com beginning May 7, 2019.
Why Microsoft decided to make the Xbox One S All-Digital Edition
Jeff Gattis, General Manager of Platform and Devices Marketing at Microsoft:
"The Xbox One S All-Digital Edition is about providing choice. As with anything we work on, our customers are at the center of our product development process and general consumer behavior suggests there's a strong appetite for digital experiences today. We think of the Xbox One S All-Digital Edition as an option that caters to audiences who prefer to find and play their games digitally. We're not looking to push customers toward digital; it's about meeting the needs of customers that are digital natives that prefer digital-based media and providing value with the most affordable Xbox One console."