Deleted Bird Box Monster Recreated As Custom Toy By Fan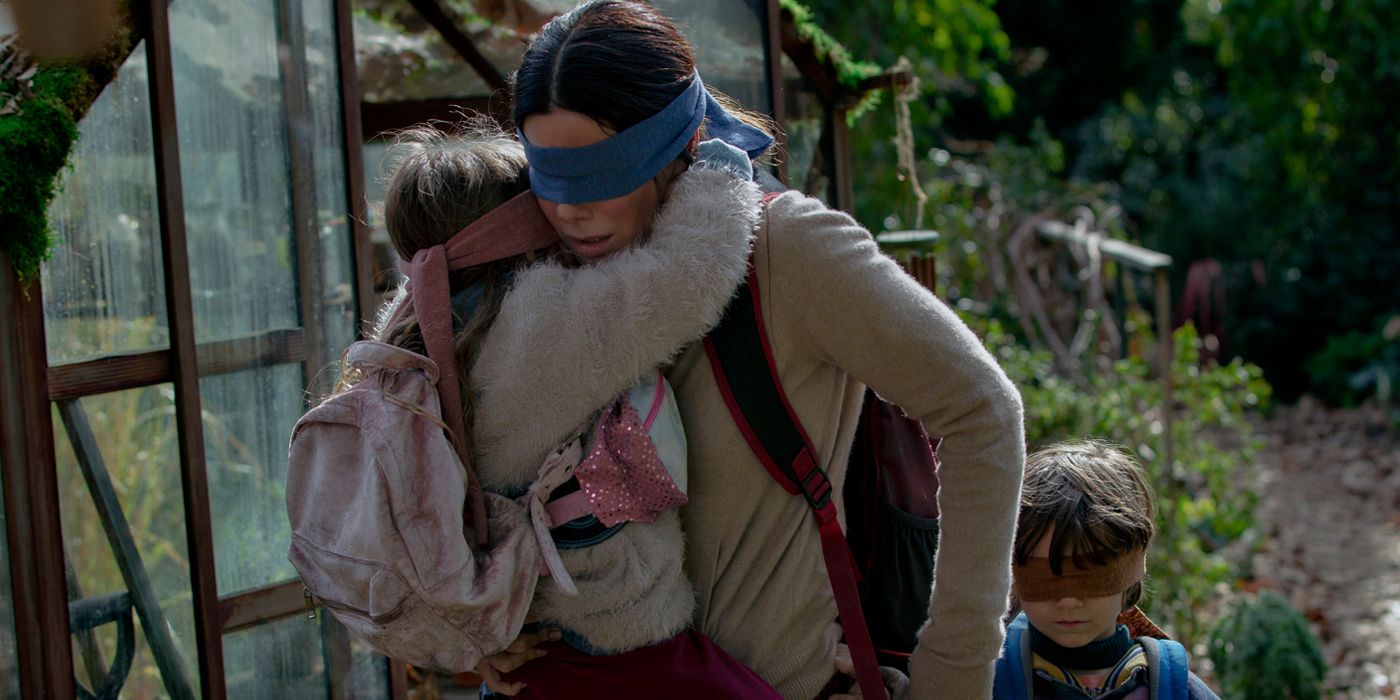 The monster deleted from Bird Box has been recreated as a custom toy by fans. Last year proved to be another solid one for horror movies, with the success of Hereditary, Halloween and many others continuing the genre's winning streak. Bird Box was a last-minute treat for fans from Netflix in December 2018, with the story following a group of people struggling to survive against creatures that induce suicide if seen. Bird Box takes the old cliché that the less a monster is shown, the scarier it is to extremes, by never once revealing what they look like.
The movie proved to be a word of mouth smash, with Netflix revealing 45 million accounts watched Bird Box in its first week, making it their most successful film debut ever. The film also drew comparisons to this year's other, sense-based horror hit A Quiet Place, where a family has to survive in a post-apocalyptic world populated by monsters that hunt by sound. Some fans expressed disappointment that - unlike A Quiet Place - the Bird Box monsters aren't even glimpsed, but Sandra Bullock recently revealed a nightmare scene was shot where a creature was shown, but it was cut because it looked kind of silly.
Related: Bird Box's Biggest "Mistake" Is Actually Why It's Great
Bullock has described the creature, saying "It was a green man with a horrific baby face. It was snake-like." The scene in question hasn't been released and likely never will, since the filmmakers feel the monster's look is best left to the imagination. Now a custom toy based on Bullock's description has been created over at Readful Things (via Bloody Disgusting), imagining what Bird Box's cut monster may have looked like.
While this recreation is creepy in its own right, it's not hard to understand why the creature was deleted. What the monsters look like is unique to each victim, revealing to them their biggest fear or regret. Bullock's character is terrified of her impending motherhood, so understandably that fear played a part in the monster's appearance. It feels like the deleted scene in question was shot for safety, with the filmmakers feeling viewers had to see something during Bird Box to satisfy them.
That said, it would have been near impossible for them to create a monster that lived up to expectations, so it was a wise deletion. While a sequel has yet to be confirmed, the huge success of Bird Box means one will likely be greenlit. The producers may have trouble convincing Bullock to return, however, as the actress is sequel allergic following bad experiences on Speed 2 and Miss Congeniality 2. She refused to consider a follow-up to The Heat for that reason, so her involvement is a Bird Box sequel isn't a given.
Source: Readful Things (via Bloody Disgusting)