DC's Titans: Cast, Character & Powers Guide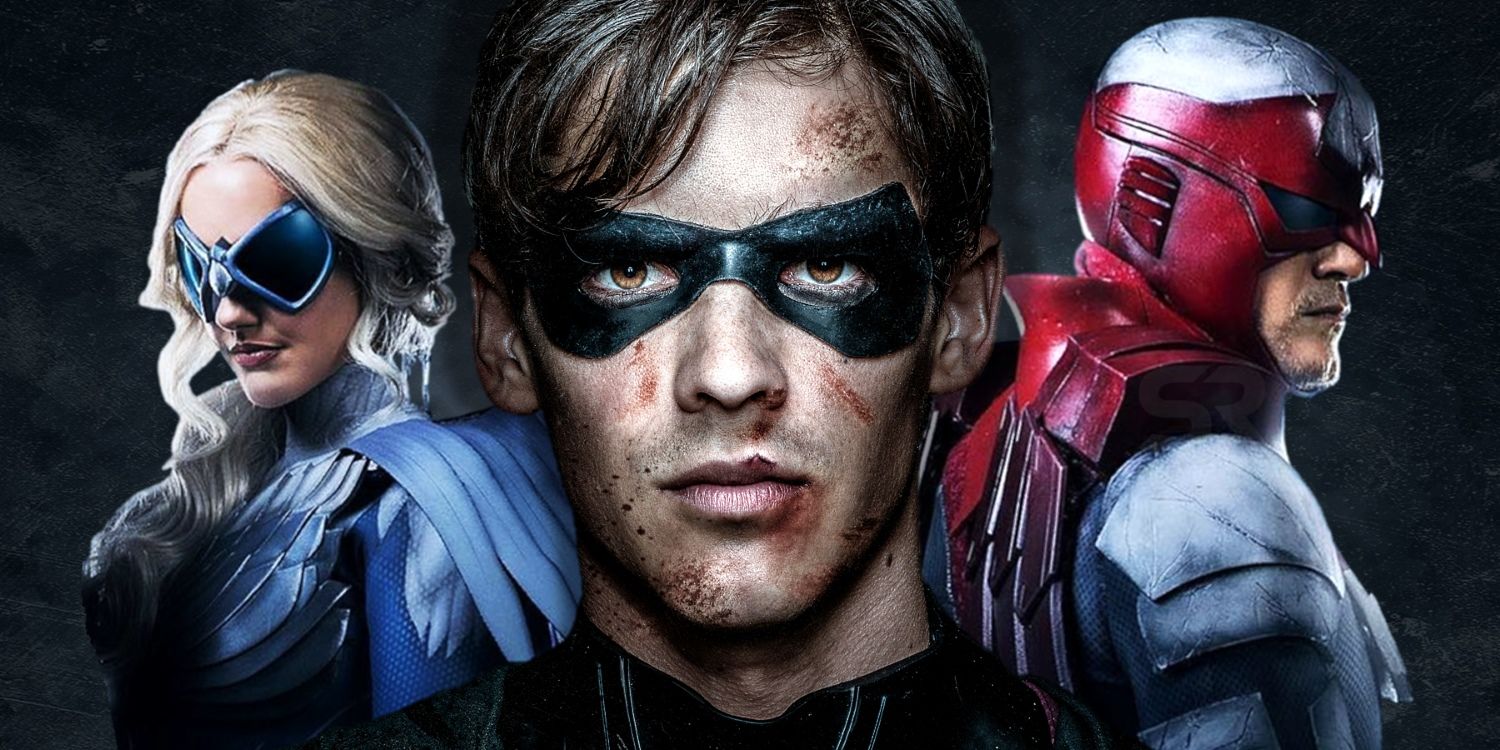 Warning: Minor SPOILERS for Titans
At long last the Titans have arrived, bringing one of the most beloved superhero teams to live-action through DC's own exclusive streaming platform, DC Universe. And from Robin to Beast Boy, and back to the duo of Hawk and Dove, the show drops audiences into Teen Titans history faster than many will expect.
To make sure that newcomers and seasoned DC TV fans know what they're in for, we're breaking down all of the main and supporting characters. The heroes who will make up the titular Titans (even if they have a long way to go before officially superheroes). The mysterious villains who unite the Titans around the shadowy Raven. And of course, the more surprising DC cameos fans can look forward to.
RELATED: Titans' Version of Robin is More Violent Than DCEU Batman
With the first two episodes of Titans screened for fans during New York Comic Con, and multiple promotional photos and surprise cameos being confirmed left and right, fans should expect some minor SPOILERS. So to keep the biggest twists and the coming villains under wraps, we're starting with the main cast of Titans only. Those who want to find out what role Batman will play in Titans can click through to the second page:
This Page: Meet The Titans Heroes
Brenton Thwaites as Dick Grayson/Robin
The leader of the Titans is obviously Dick Grayson, also known as Robin, the famed sidekick to the Batman of Gotham. But this series made no qualms about Dick's current feelings toward the Dark Knight, having branched out on his own enough to famously utter "F*** Batman" in his very first trailer. More recent clips from the show confirm that Dick Grayson has reasons for leaving Batman that most fans will actually agree with, but that doesn't change the fact that his pent-up aggression and frustration is being doled out in surprisingly violent ways. Before he begins to meet the other Titans, at least.
When the show begins, Dick is spending his time fighting crime on the streets of Detroit as a detective (a real one), and not in his iconic Robin costume. How successful he may be in helping other kids with as troubled a past as his own remains to be seen. But when  a young girl named Rachel crosses his past in need of some serious help, Dick may wind up wishing that Batman was still around to give him some advice.
Anna Diop as Kory Anders/Starfire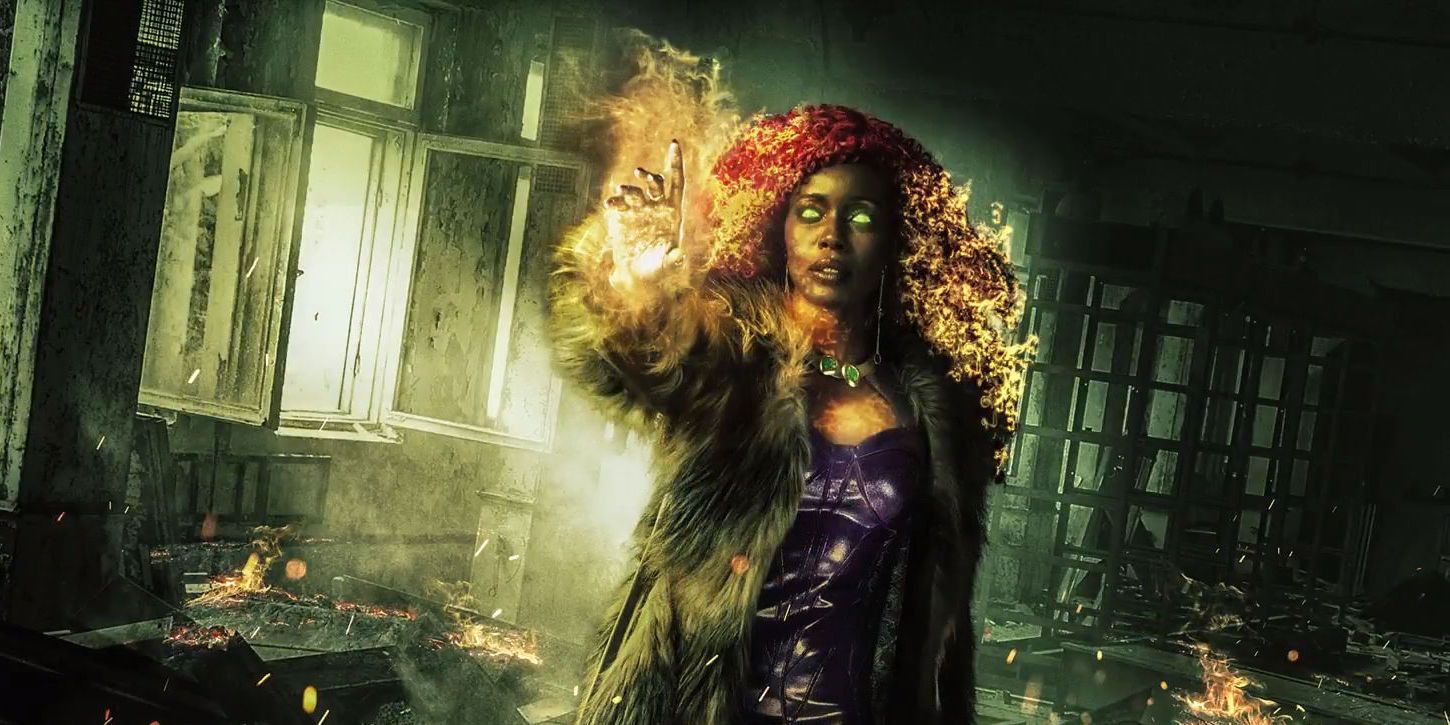 The comic book member of the Titans guaranteed to be the most different in this adaptation is Starfire, otherwise known as the cosmic Princess Koriand'r. And with good reason, since adapting an orange-skinned, green-eyed, red-haired alien woman who prances around in a bathing suit is no easy task. But the makers of Titans have come up with a new origin story for Kory through the early parts of the show, beginning with a blanker slate than any of her superpowered co-stars. Her character is more cloaked in mystery than any other, so the less we say about her circumstances the better. In the comics her powers ranged from super-strength to energy projection, making her the most powerful of this group of Titans. From her first scene, though, it's Kory's attitude that may be her deadliest weapon. And yes, Starfire will get her comic costume in Titans' first season.
Teagan Croft as Rachel/Raven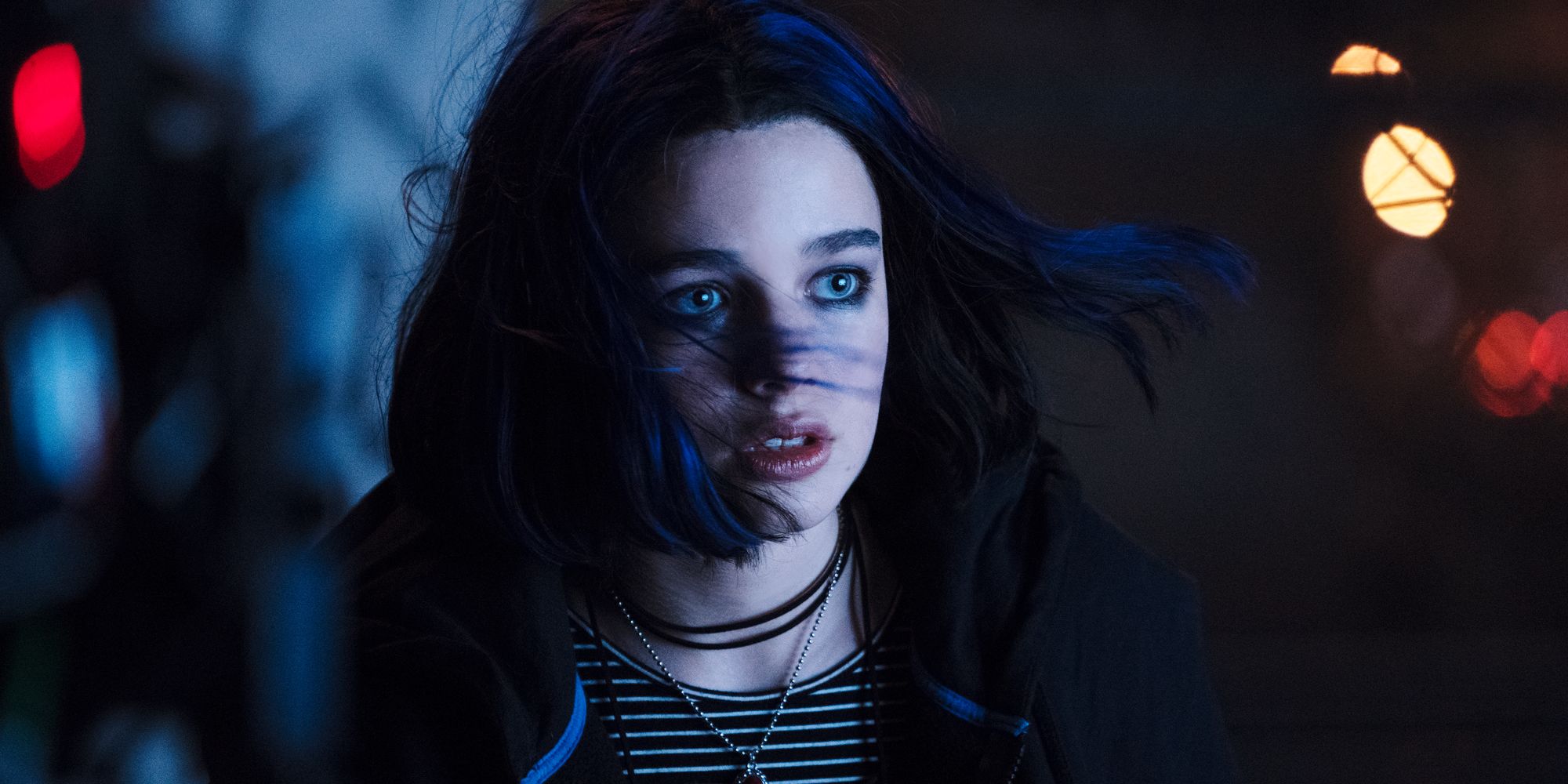 The premiere episode establishes both Dick and Kory as grown adults walking their own paths, but it's Rachel who kicks the plot of the show into action for them both. As she is usually depicted in the comics, Rachel's grasp on the real world and the dark, tormented, mystical one existing beyond is being strained when we meet her. What powers she wields over that darkness creeping in isn't clear, and diving any deeper into the comic book lore of it would likely spoil at least some of Titans' twists. But Rachel-- or Raven as she comes to be called is the first sign of how the supernatural will be woven into this story of vigilantes and alien superheroes. Bringing threats that Dick isn't prepared for... and leading him to question whether Rachel is being threatened, or the one posing the threat.
Alan Ritchson & Minka Kelly as Hawk & Dove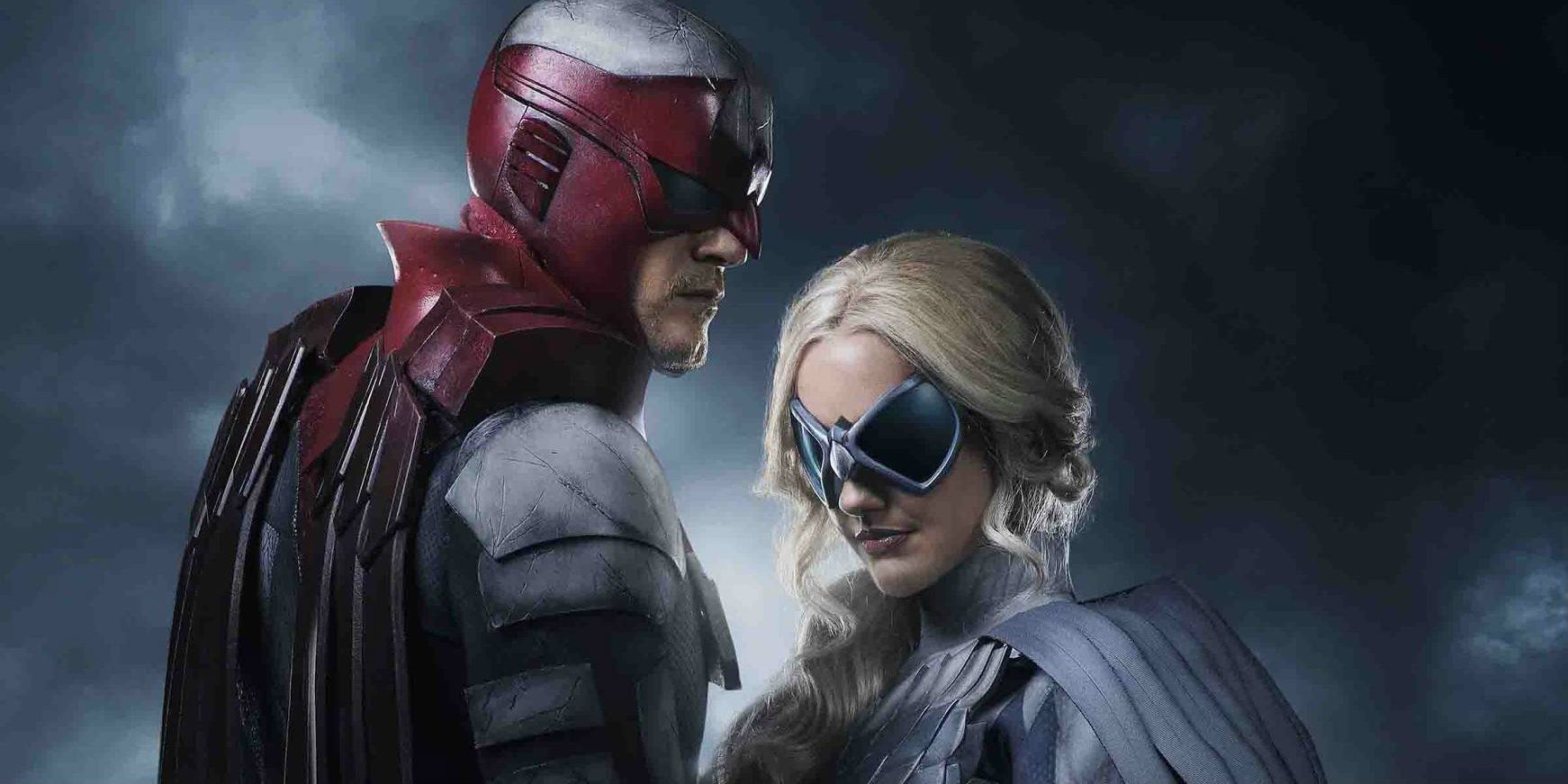 They may not pack the same name recognition punch as the other Titans given the spotlight in the comic series and animated DC shows, but the duo of Hawk and Dove is assumed to be a leading one in the show, if only going by the ages of the actors cast. Outside of the costumes, Hank Hall and Dawn Granger are the kind of couple that DC TV shows haven't gotten to explore as much as they may have liked, and from their first scenes, it's clear that Hank is as "mature" on film as he is in the comics.
RELATED: Will Titans Also Reveal Hawk's Brother, The First Dove?
Fans may want to hold their breath when it comes to their powers, though, since we don't expect Titans to fully embrace the supernatural forces behind their monikers and costumes. In the comics, Hawk was literally fueled by the mystical Lord of Chaos and War, where Dove was empowered by the Lord of Order and Peace. That's a lot to bite off when Rachel is already communing with demonic forces, so maybe that story is better left unexplored for the time being.
Ryan Potter as Beast Boy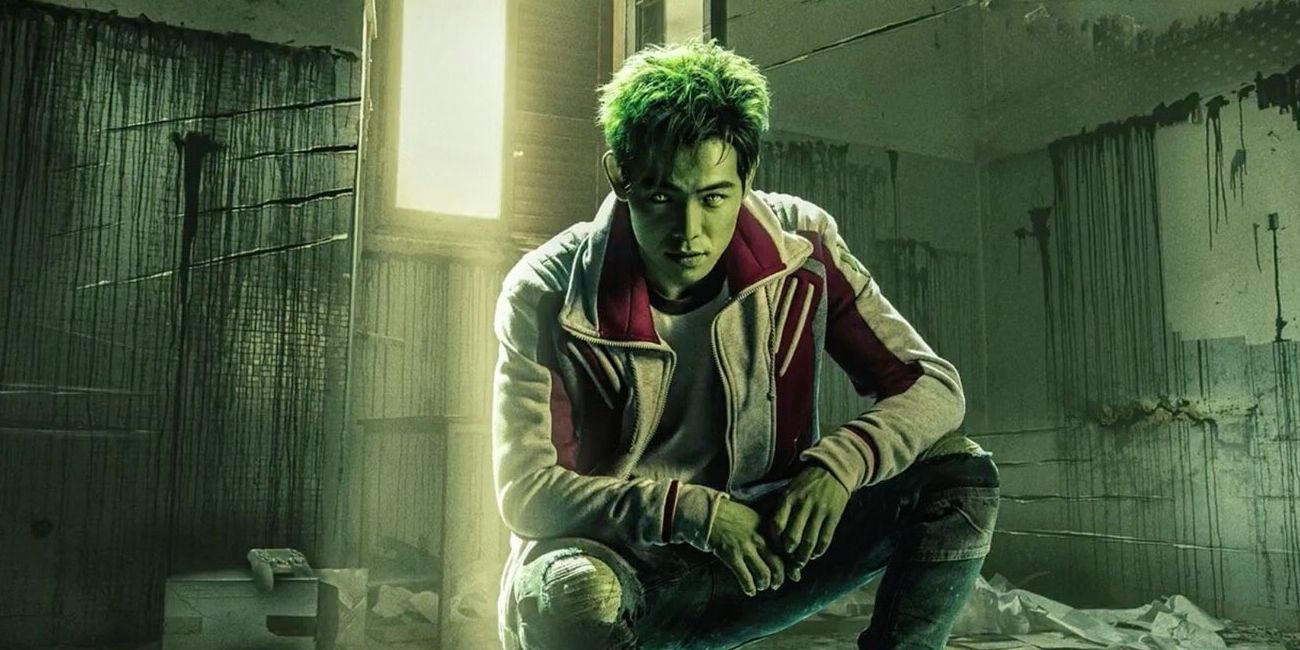 It just wouldn't be the Titans without their mascot, officially known as Beast Boy. Blessed with a superpowered sense of humor and personality - oh, and the ability to transform into any (green-tinged) animal - Garfield Logan is surely going to be the friendliest face to Rachel out of the hero team. Interestingly enough, promotional photos for the show have Garfield still possessing his natural skin tone, without the same green pigmentation seen in his animal forms. Is it simply a case of post-production, or will Gar face the trade-off of transforming into powerful beasts... but becoming permanently green as a result? Still, that's probably a compromise plenty of fans would be willing to make.
That does it for the Titans heroes, so beware SPOILERS incoming...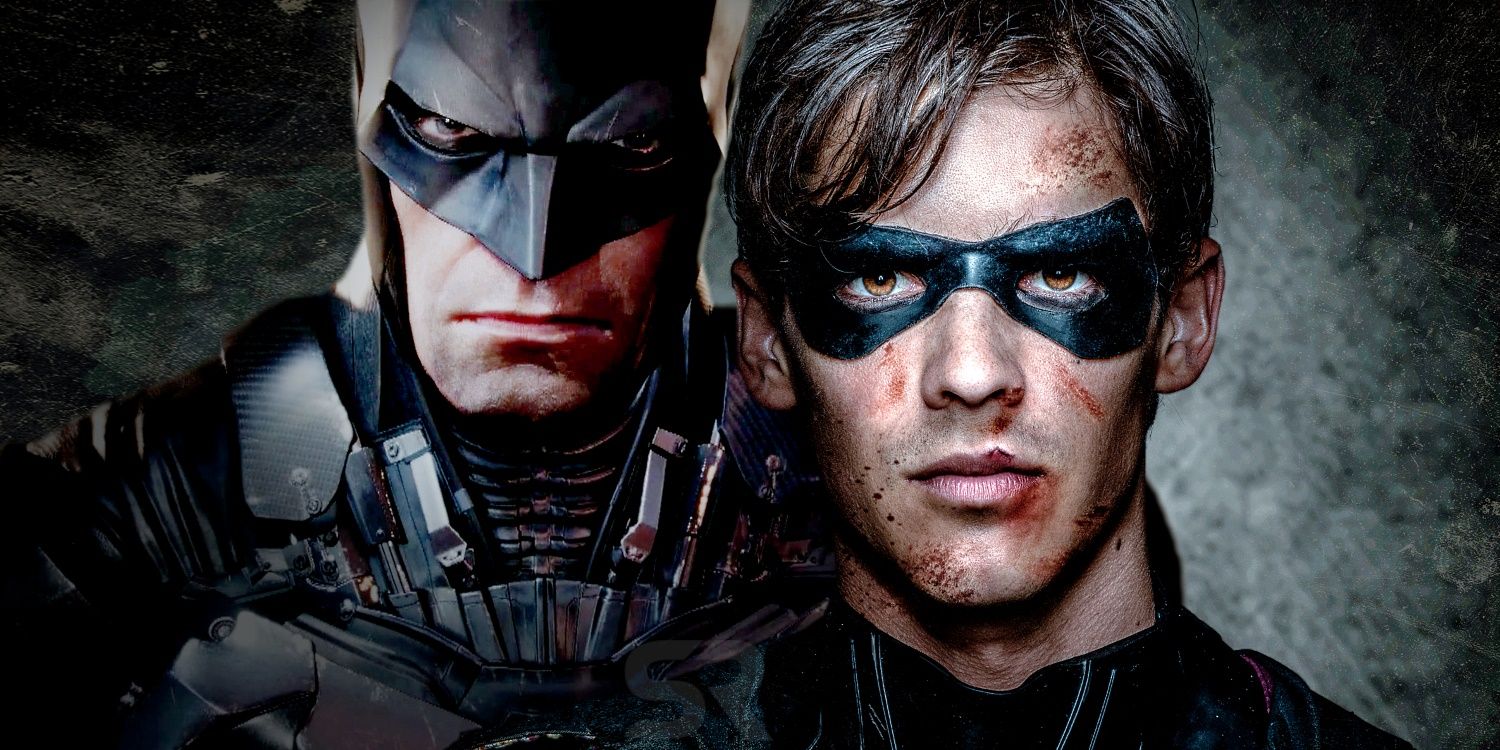 ??? as Bruce Wayne/Batman
It was certainly the most pleasant surprise coming out of the NYCC screenings to have confirmation that Batman or Bruce Wayne wouldn't be danced around, ignored, or just playfully alluded to. This version of Dick Grayson is the original, which means there's just no cutting Bruce Wayne out of his origin story. But even if Bruce is a part of Dick's journey, that doesn't mean he'll be stealing any of the spotlight for himself. In the premiere of Titans, it's only a hand that falls on Dick's shoulder after the death of his parents, paired with a man's voice saying that he "wants to help" that gives him away. Other flashes of memory soon follow, but for the time being, expect Batman's presence to be felt - but his physical form only seen in shadow, or just off-screen. For now, anyway...
Curran Walters as Jason Todd/Robin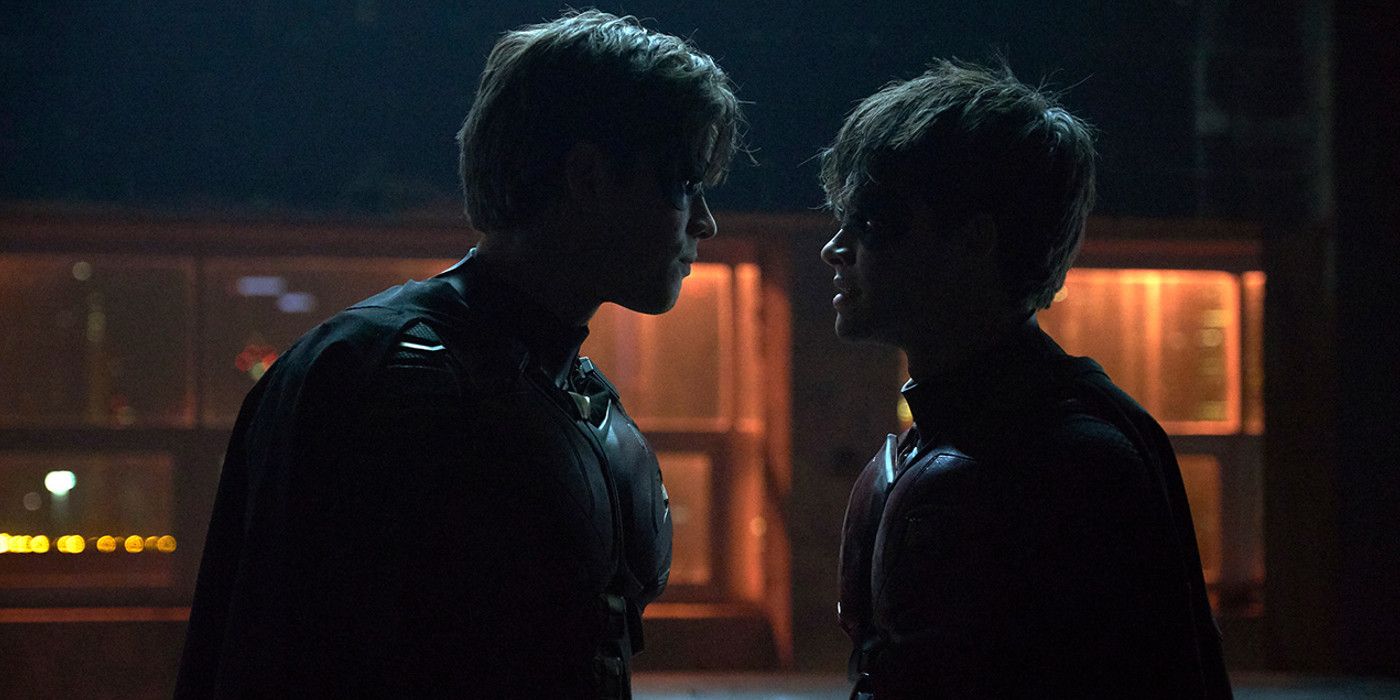 Yes, Titans will boast not just one, but TWO different versions of Robin, thanks to Curran Walters and Brenton Thwaites sharing the screen as Jason Todd and Dick Grayson, respectively. Before Bruce Wayne's split-second cameos were confirmed, it was assumed that Jason Todd would keep Batman in the story, and that may still be the biggest and best result. For those who don't know the comics, Jason was the second Gotham youth in need who stumbled across Bruce Wayne's path, with the caped crusader taking it as a sign that Jason could also be molded into a hero. His story eventually went to some dark places before becoming the borderline hero known as Red Hood, but at the age he appears to be in Titans, he's still fighting at Batman's side as Robin.
Exactly why Jason Todd seeks Dick out now isn't clear, but it does do one other thing for the audience. Since Dick leaving Batman to begin his rise to Nightwing, and Jason Todd taking his place are both key points in the comics, the second sidekick helps confirm where Titans is set in Batman's timeline. Here's hoping the show doesn't run long enough to deal with the (first) ending of Jason Todd's story...
Conor Leslie as Donna Troy/Wonder Girl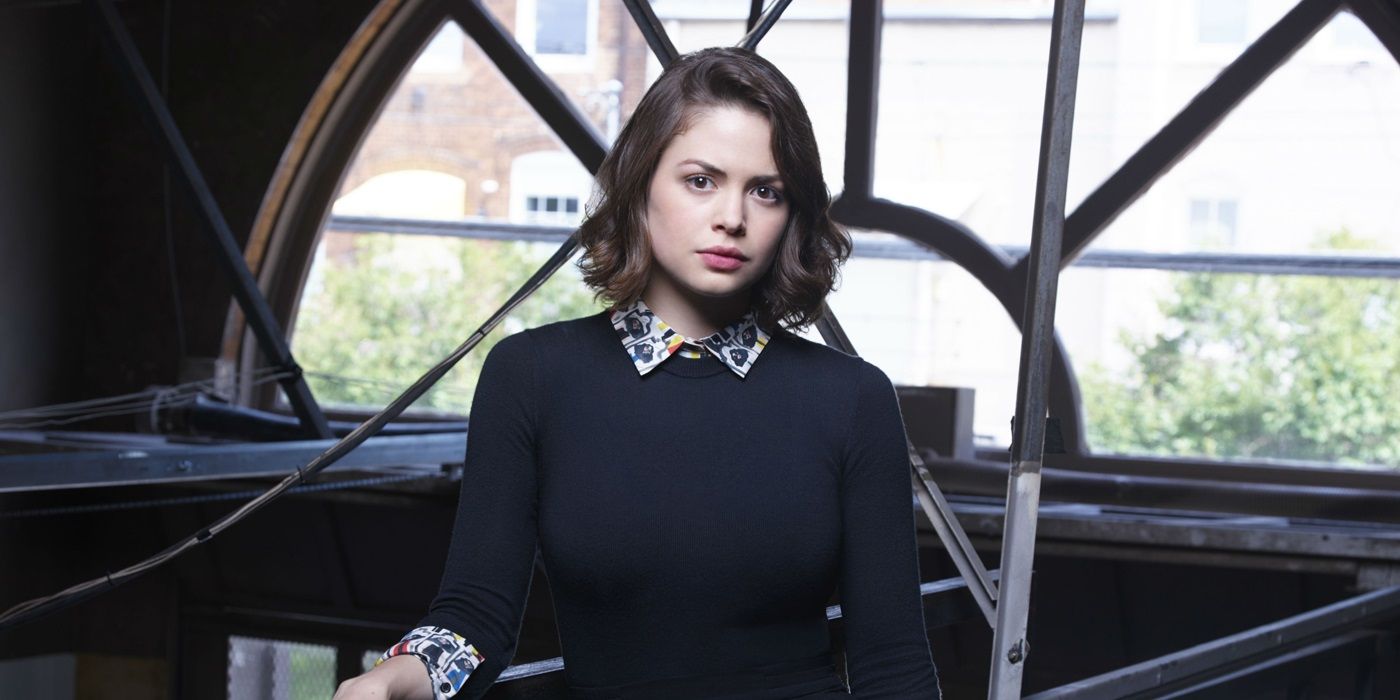 The most intriguing casting of Titans isn't due to the actress in question, but the role itself. When word first broke that Conor Leslie would play Donna Troy in Titans, even the most devoted fans were left scratching their heads. Not because Donna, or Wonder Girl has been re-imagined and retconned several times to change the origin of her powers and identity, but because she was a founding member of the original Teen Titans. To have her added to the show as a secondary character, and not right alongside Dick Grayson where she began is a mystery. One that suggests the real story of Titans may extend years before the show actually takes place.
Donna and Dick have had a complicated past, to say the least, but where Wonder Girl even fits into this version of a DC Universe is going to be fuel for fans in the coming weeks. Will she confirm the presence of Wonder Woman alongside Batman? Or will her own origins be left intentionally vague - perhaps to be explored when she takes a larger role in the future?
??? as Alfred Pennyworth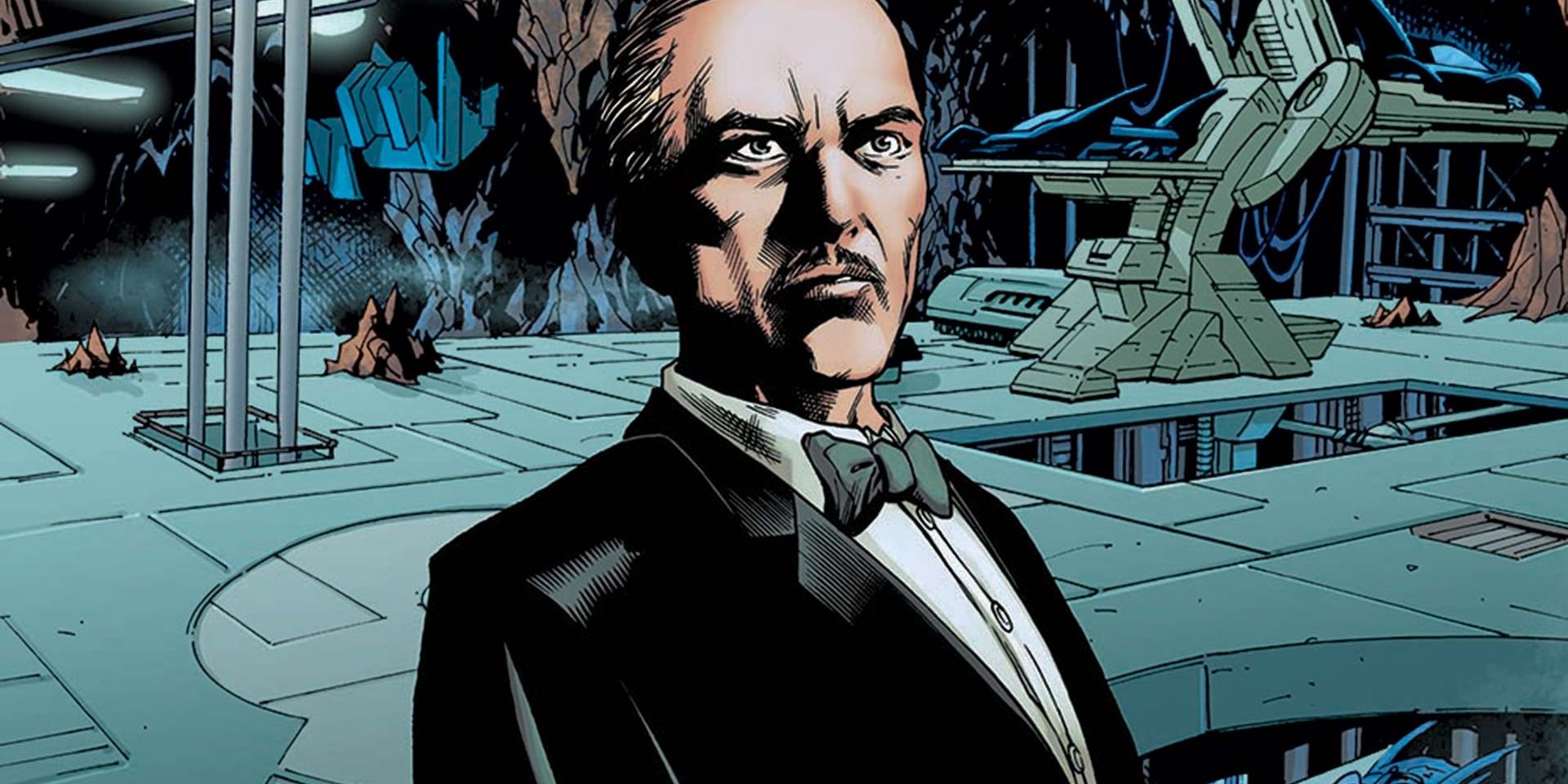 Yes, even Bruce Wayne's trusted butler and ally Alfred Pennyworth joins in on the Titans action, but with even less of a physical presence than the brief glimpses of Batman. In another twist completely faithful to the comics, no matter how strained or distant Dick and Bruce may have grown when Titans begins... Dick can always turn to his other father figure, Alfred, for counsel. We can't say that Alfred will continue to play a massive role in the show's future, and from the first episode, appears only as a voice cameo (predictably British, and pitch perfect). But from the sound of it, we're just happy to hear that Dick feels comfortable reaching out to somebody in the Batman family for advice.
Lindsey Gort as Detective Amy Rohrbach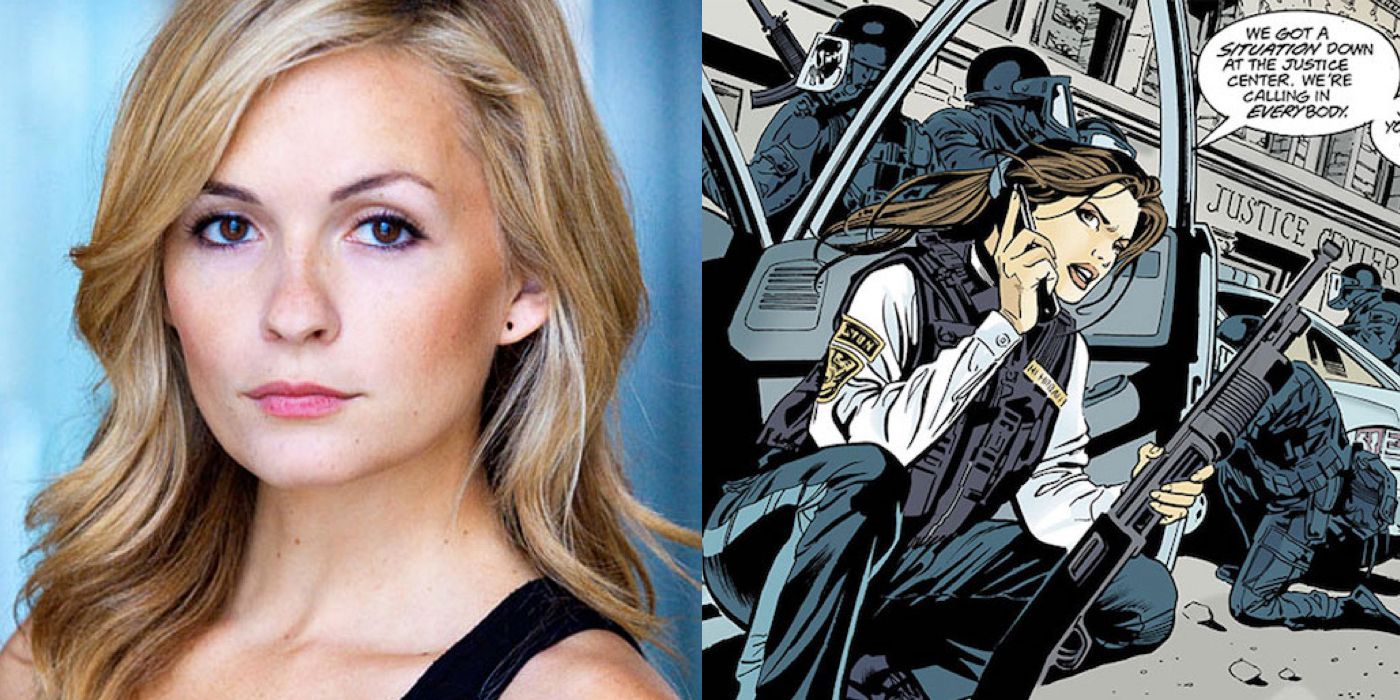 In another adaptation straight from the comics, Dick Grayson's preference of working alone is put to the test with the arrival of Detective Amy Rohrbach, his new partner. In the comics Rohrbach stood out as a good cop in Bludhaven, a town so dirty it made Gotham seem upscale, so fans can assume the same approach will be taken even if it isn't Bludhaven acting as the backdrop to Dick's police career. The early Titans casting calls didn't offer too many details about Amy's role in the series, so she and Dick might work out a deal to stay out of eachother's way sooner than later.
Sherilyn Fenn as Angela, Raven's Mother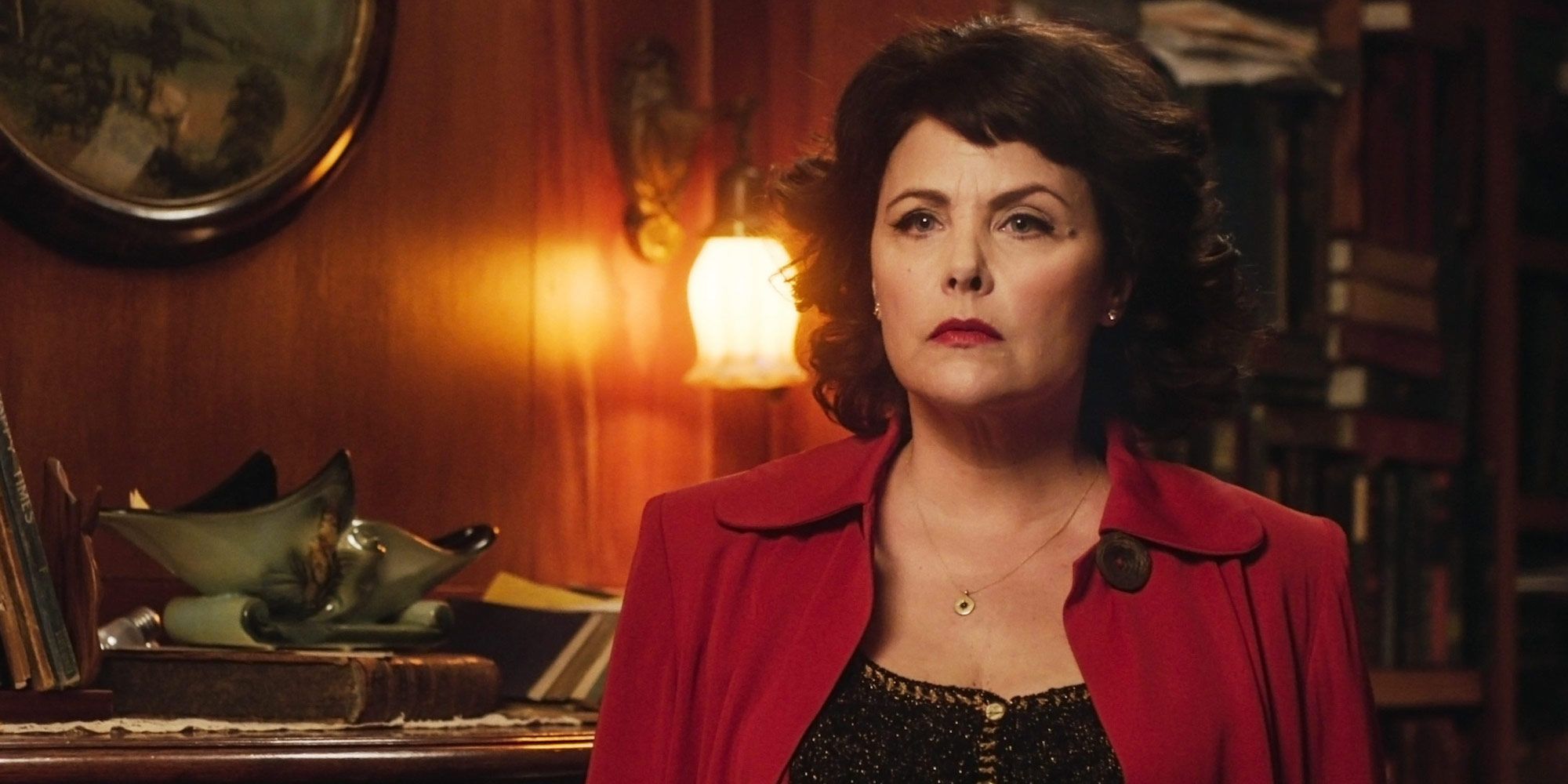 Obviously with Raven/Rachel being sent on the run to begin the series, things aren't going to go particularly well for her mother, Angela. Still, it's nice to see that Titans, got as prolific an actress as Sherilyn Fenn (Twin Peaks) for the part. In the comics Angela was actually Raven's biological mother who tried to protect her from the forces coming to dictate her fate, but the TV show seems to put a twist on that telling. Angela is posing as Raven's mother to protect her, but that plan is blown to pieces almost immediately in the first episode of Titans by a man known only as... 'The Acolyte.'
Jarreth J. Merz as The Acolyte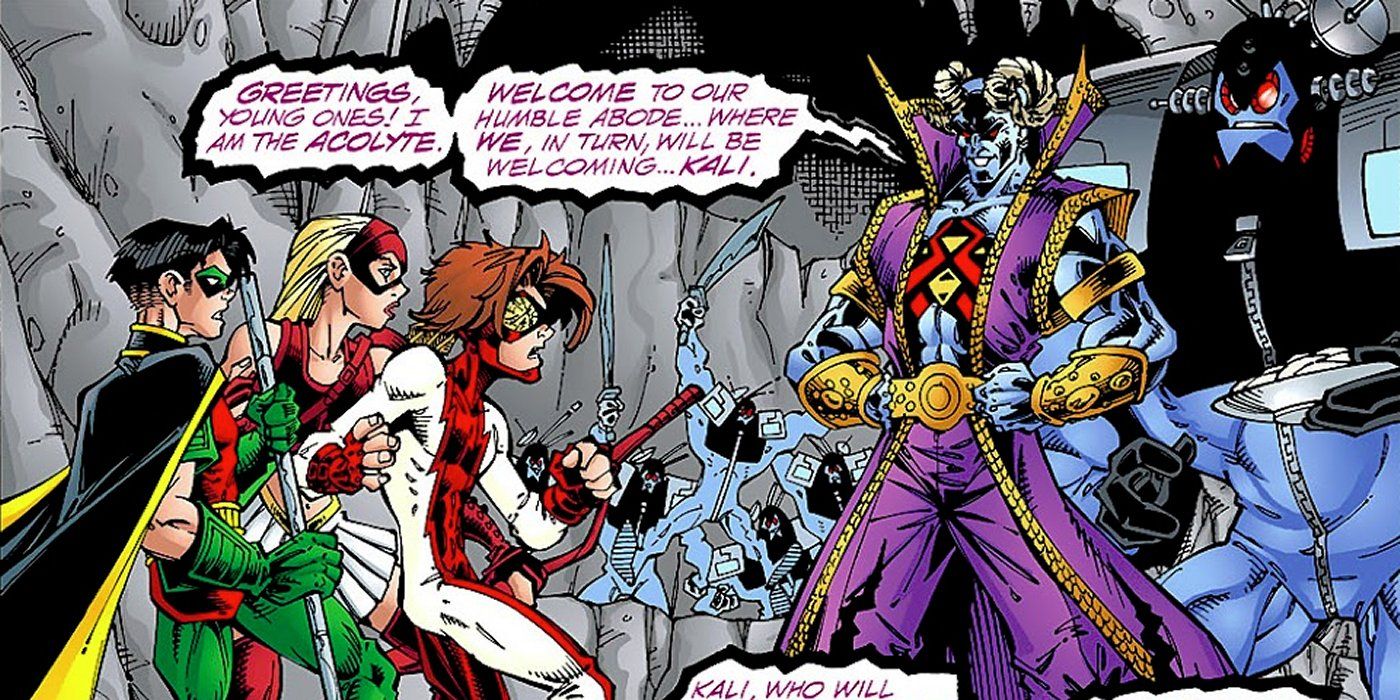 It just wouldn't be a superhero TV show without a supervillain to face off against, and it took quite a while for the first Titans villain to b revealed as The Acolyte. DC fans don't need to feel any shame if the name doesn't ring any bells, since The Acolyte was a bit part to say the least. Posing as a mystical entity looking to conjure a Hindu deity (in a storyline right at home for fans of Temple of Doom), this villain ended up being a scam artist dressed in fancy clothes and wearing makeup and horns. In other words, expect major changes to the character for Titans.
The version seen in the show (played by Jarreth J. Merz) appears to be a human from the outset, but while his pursuit of Raven seems to be inevitable, it isn't just him who is pulling the strings. Fans find out quickly that the forces and alliances formed to wait, protect, and eventually deal with Raven are bigger than any one man. Especially since the comic book fans out there know exactly who is coming for Raven... and ow hard it will be to keep her from - SPOILERS - her Father.
Seamus Dever as... Trigon?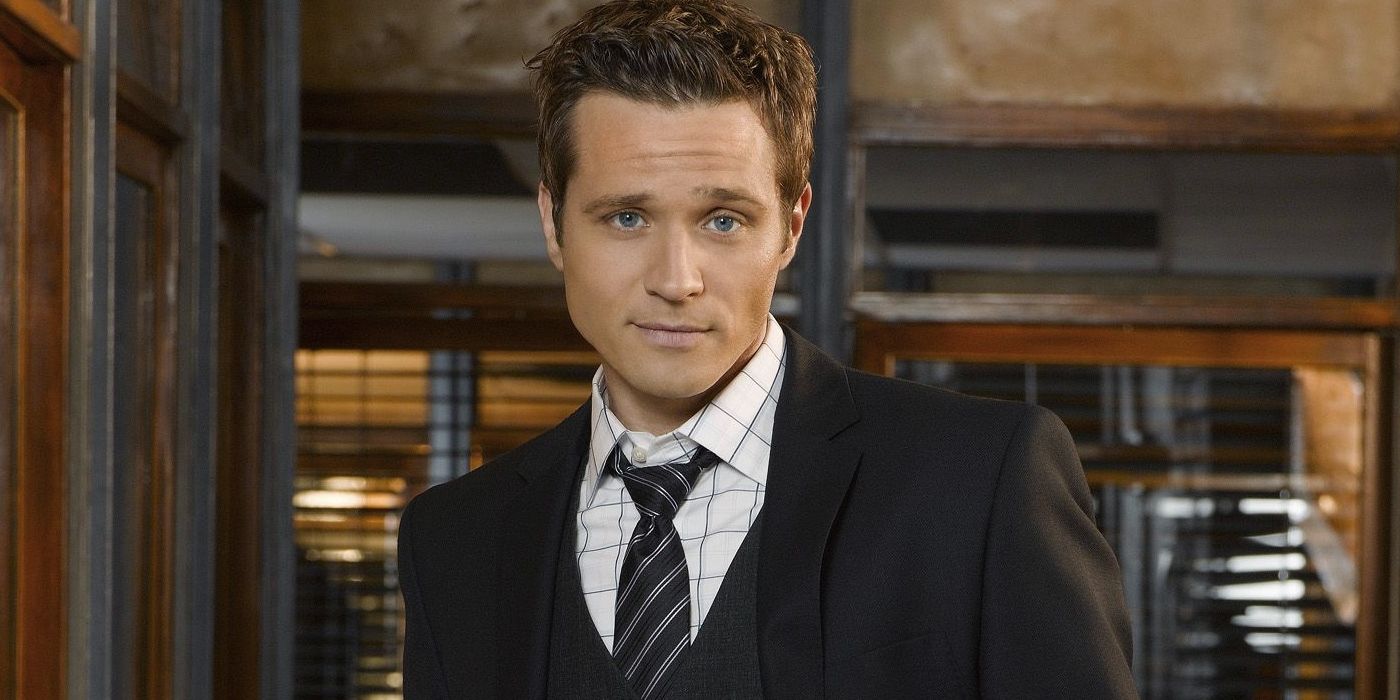 To be fair, that's only a presumed spoiler, since Raven's demonic parentage is one of the key elements of her character in every incarnation. Born to be a force for evil, and a means to bring about the demon Trigon's victory, it falls to Raven and her Titan friends to foil that plan before it comes to fruition. It's assumed the same story will be adapted for Titans, and Seamus Dever (Castle) was rumored to have been cast for the part of Trigon. But with no updates or confirmation on that role whatsoever, it seems to be an end-of-season payoff. What form he will take, demonic or human, is anyone's guess for now.
--
DC's Titans premieres October 12th exclusively on DC Universe, and soon after on Netflix in international regions.