Chris Hemsworth Joins Jay and Silent Bob Reboot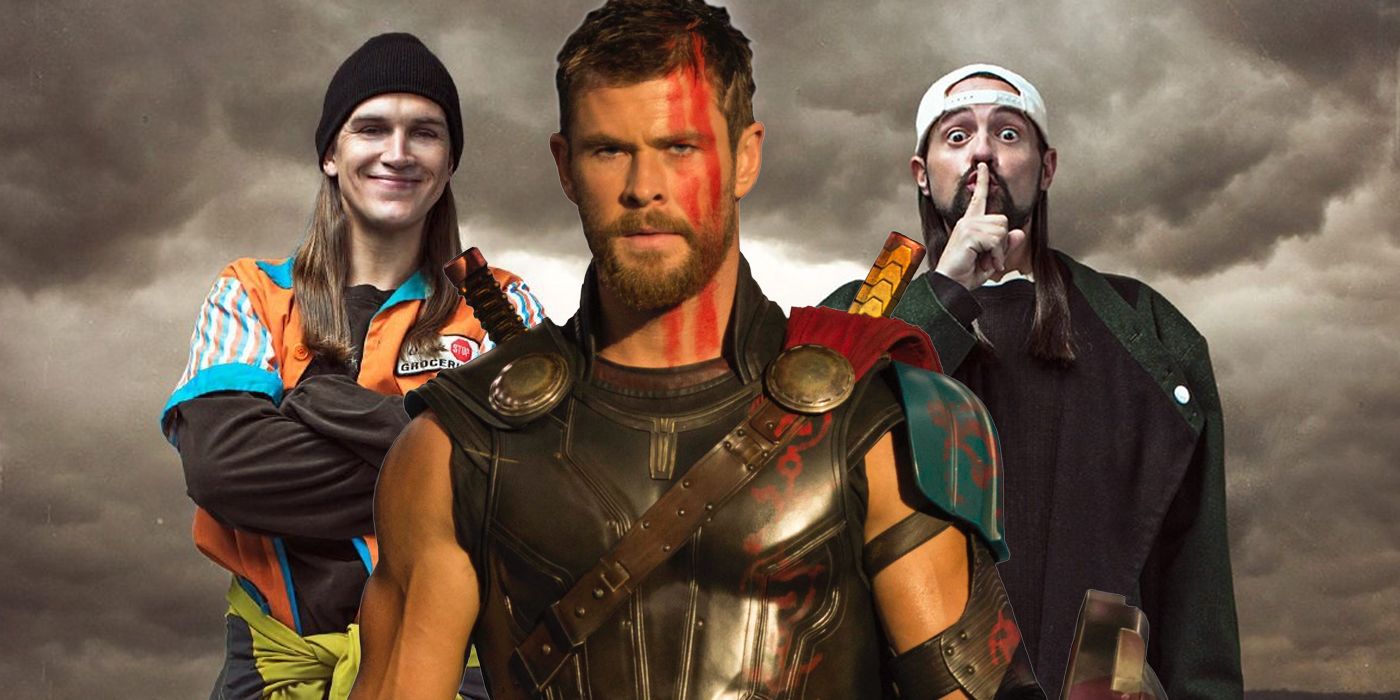 Chris Hemsworth is joining the cast of Kevin Smith's upcoming Jay and Silent Bob Reboot. The film is a sequel of 2001's Jay and Silent Bob Strike Back, which was the first standalone film for the titular duo played by Jason Mewes and Smith himself.
Smith's View Askewniverse started with the low-budget, black and white comedy Clerks in 1994, and later included everything from Mallrats to Dogma. Jay and Silent Bob appear in all of these films, and eventually starred in their own film, Jay and Silent Bob Strike Back. Now, Smith is bringing the stoner duo to a feature film yet again with Jay and Silent Bob Reboot, in which they attempt to stop Hollywood from rebooting Bluntman and Chronic, a comic book first introduced in Chasing Amy. With an already massive cast that includes Joe Manganiello, Rosario Dawson, and Jason Lee, yet another major talent is joining the film.
Related: Kevin Smith Pays Back Captain Marvel In Jay & Silent Bob Reboot
Chris Hemsworth announced on Instagram that he'll be joining Jay and Silent Bob Reboot. He posted a series of photos of himself and Smith in front of a green screen, with the caption: "The man, the myth, the legend. The one and only @thatkevinsmith !!! Stoked to be a part of his next film Jay and Silent Bob Reboot. What a pleasure it was hanging out mate." However, despite the handful of pictures, the extent of his involvement is so far unknown. Check out his Instagram post below:
Though most details surrounding Jay and Silent Bob Reboot may be under wraps, it's no mystery that the truly secret project with which Hemsworth is involved is Avengers: Endgame. Interestingly enough, it turns out that Smith's View Askewniverse actually exists within the MCU. The script for Mallrats gets a quick - and significant - cameo during a major action sequence in Captain Marvel. 
As for Hemsworth joining the View Askewniverse, the actor is no stranger to comedy. Even though he made a name for himself as an action star in the MCU, he proved his comedic chops in Thor: Ragnarok - including a short film titled Team Thor - and then he went full slapstick in the Ghostbusters remake before his brief appearance in Vacation. With Jay and Silent Bob Reboot, Hemsworth is showing audiences that he has no intention of taking himself too seriously, which looks to be the case yet again in Men in Black International. 
More: 8 Great Chris Hemsworth Roles Besides Thor (We All Forgot About)
Source: Chris Hemsworth