Camping Series Premiere Review: Funny And Exhausting At The Same Time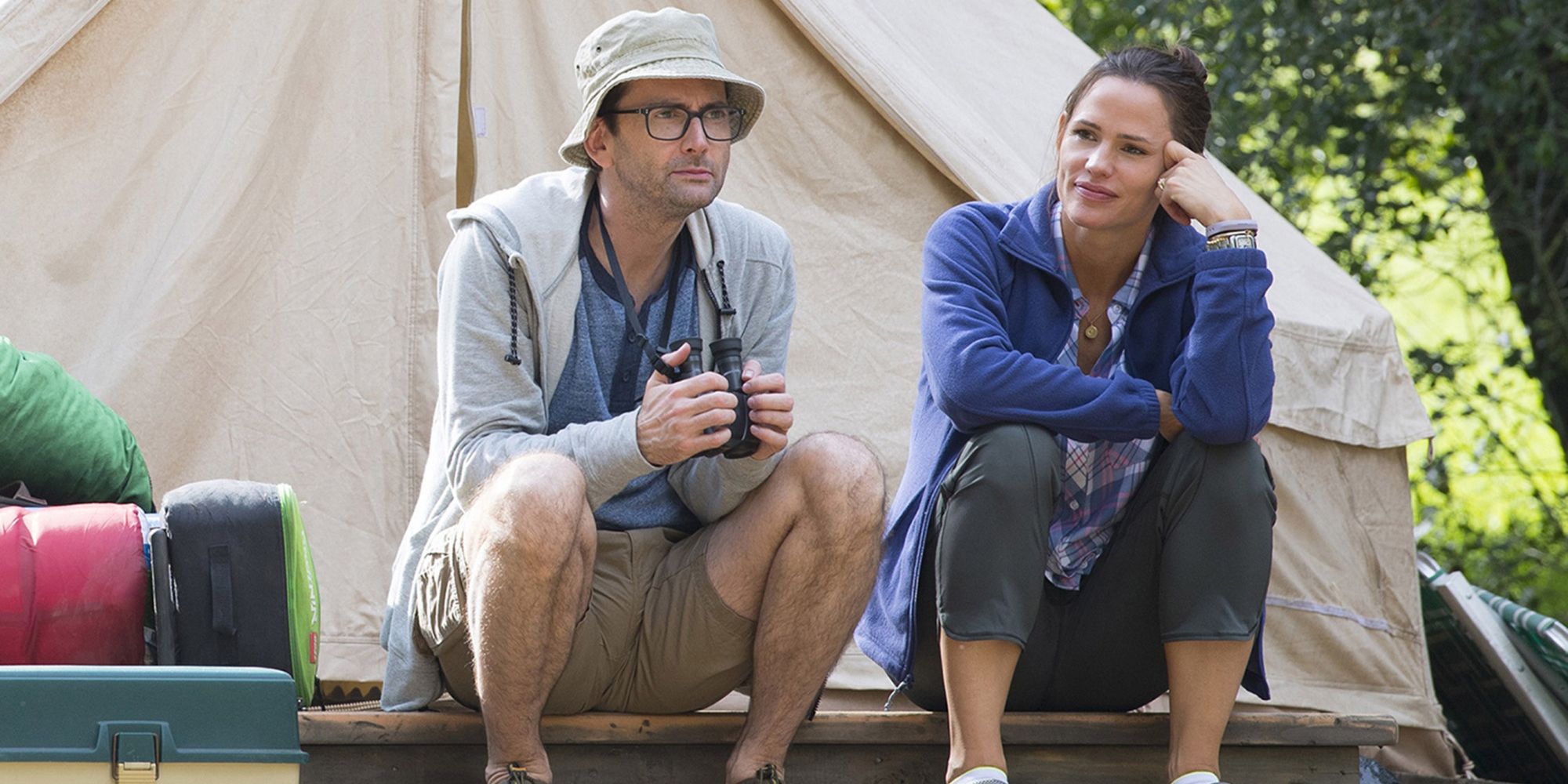 Lena Dunham and Jenni Konner, a pair whose last project for HBO was the successful six-season run of Girls. return to the premium cabler for the new comedy series Camping, a show that likely won't be dragged online after people take a joke about being the voice of its generation too seriously. An adaptation of the British comedy of the same name, Camping tells the story of a group of very high-maintenance people who gather for a weekend of — what else? — camping to celebrate the 45th birthday of one of their own. That individual is David Tennant's affable but meek Walt. Walt's married to Jennifer Garner's Kathryn, a woman who, in addition to being a wife and mother and aspiring Instagram influencer, is also in a prolonged recovery from a series of medical procedures (including a full hysterectomy), and has positioned herself as the ostensible ringleader of this particular gathering, with less-than-spectacular results. 
Despite the relatively small scope of the series, it offers up a sizable ensemble that includes Ione Skye as Kathryn's sister Carleen, as well as her boyfriend, Joe (Chris Sullivan, This Is Us), friends George (Brett Gelman) and his partner Nina-Joy (Janicza Bravo), and recently separated Miguel (Arturo Del Puerto), who has brought along his new girlfriend of two-weeks, Jandice (Juliette Lewis). Each character is funny and also exhausting in his or her own way, particularly Kathryn who, various medical misfortunes aside is just… a lot. Everything on this show is a lot. 
That's perhaps the best way to describe the angle Dunham and Konner have taken with their approach to the series' particular brand of situational comedy. It's constantly in search of ways to overload its character's circuits, to see how certain stimuli — like Kathryn's meticulous and highly regimented plans for "fun" during the weekend — creates disproportionate responses as the group's already tenuous connection begins to dissolve and create more conflict. This slow spiral out of control is exacerbated primarily by Kathryn and Jandice, whose attitudes toward the weekend (and life in general) seem to lean toward the extremes of control and chaos, respectively. The rest of the group is caught in the middle, or in the case of Walt, Carleen, and Orvis (Kathryn and Walt's son), they're caught in the wake of Kathryn's outsized and often taxing personality.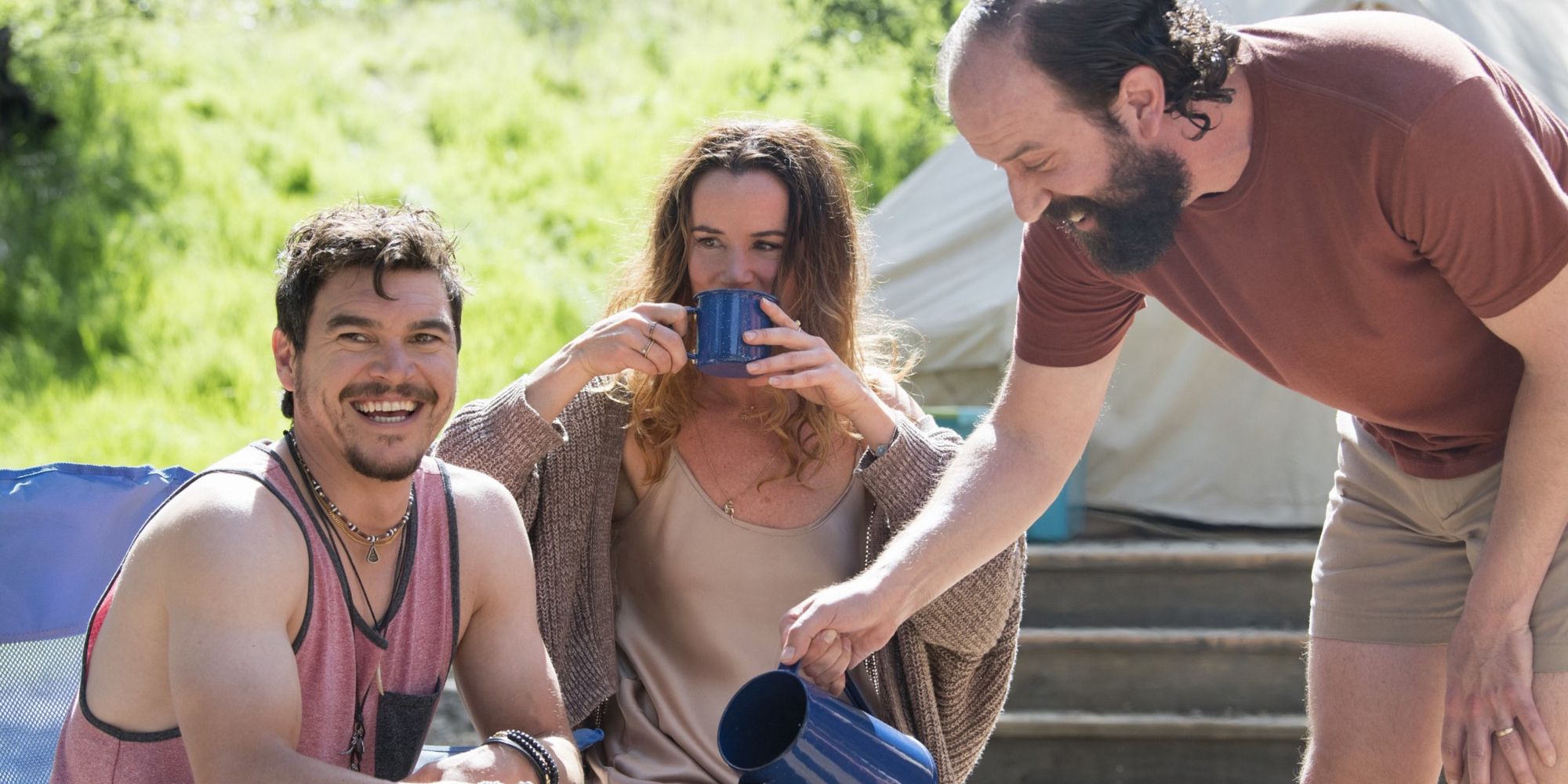 The cast is incredibly well suited to their roles. Gelman, in particular, has built a solid career playing seemingly normal guys who quickly reveal themselves to be holding on by the thinnest of threads. In other shows and movies, Gelman typically acts as the primary source of that brand of nervous energy, much like he did in FX's Married or Netflix's Love. Here, however, he's but one of several brittle personalities teaming with emotional baggage, and the result slightly dilutes the usual impact Gelman's presence typically has. 
Aside from the always hilarious Bridget Everett's Harry, who manages the campground, Camping's biggest laughs come primarily from Lewis's free-spirited but secretly wanting Jandice, a reiki healer, DJ, cheesemaker, and notary, who has zero qualms about stripping down and jumping in a lake in front of a group of people she just met. Jandice's role in the premiere is meant to be bring another layer of disorganization to Kathryn's plans, but as the season roles on, and Jandice begins to reveal her wants — especially with regard to her relationship with Miguel — she becomes one of the most interesting and consistently entertaining characters the show has to offer. Her effort to connect with her fellow campers feels genuine, which is in stark contrast to nearly everyone else wallowing in the misery of an excruciatingly long weekend.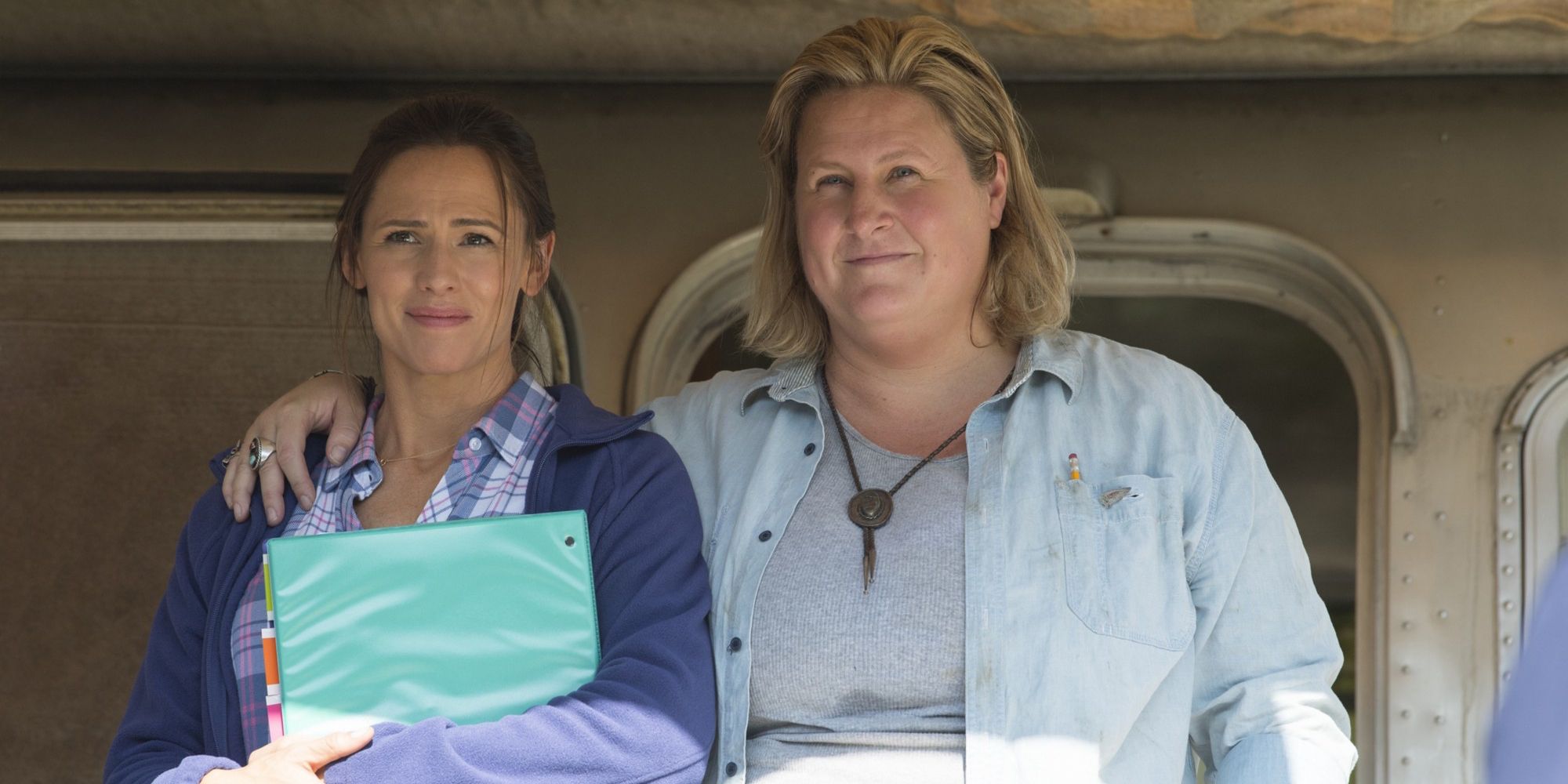 Jandice's rejection of conventional behavior makes her the perfect counterpoint to Kathryn's more rigid acceptance and adherence to certain norms. Like Jandice, though, Kathryn's behavior is a response to what's going on with her personally, and Garner is well suited to conveying that distinction to the audience. Kathryn is sad, afraid, and in pain, and her reaction is to seek out other areas in here life where she can regain a sense of control. The only problem is Kathryn's need for control has, well, gotten out of control, and it's distancing her from her husband and those closest to her. And, unlike Jandice, who pretends to be unaffected to the point of being aloof, Kathryn compels others to acknowledge all she's gone through and all the effort she puts into making things great despite those hardships. Basically, she just wants to be heard and appreciated. 
That doesn't necessarily excuse her behavior, but Camping isn't interested in doing that anyway. It is interested in making Kathryn out to be someone more interesting than a two-dimensional "ball buster," as she's referred to in one of the later episodes. In that sense, Camping does what Girls often did so well. It constantly forces viewers to reevaluate how they feel about characters who are sympathetic and funny and relatable one moment, but then selfish and miserable and exhausting the next. The balance between those two sides of the characters and, as a result, the series itself, can be tricky. And try as it might, Camping sometimes tips too far in the direction of the latter. Kathryn and her fellow campers are a lot to take by design, and that can lead to some pretty big laughs. Other times it leads to tension headaches and the need to take a nap. 
Camping continues next Sunday with 'Going to Town' @10pm on HBO.