Call of Duty: Black Ops 4 Review - A Lot of Familiar Fun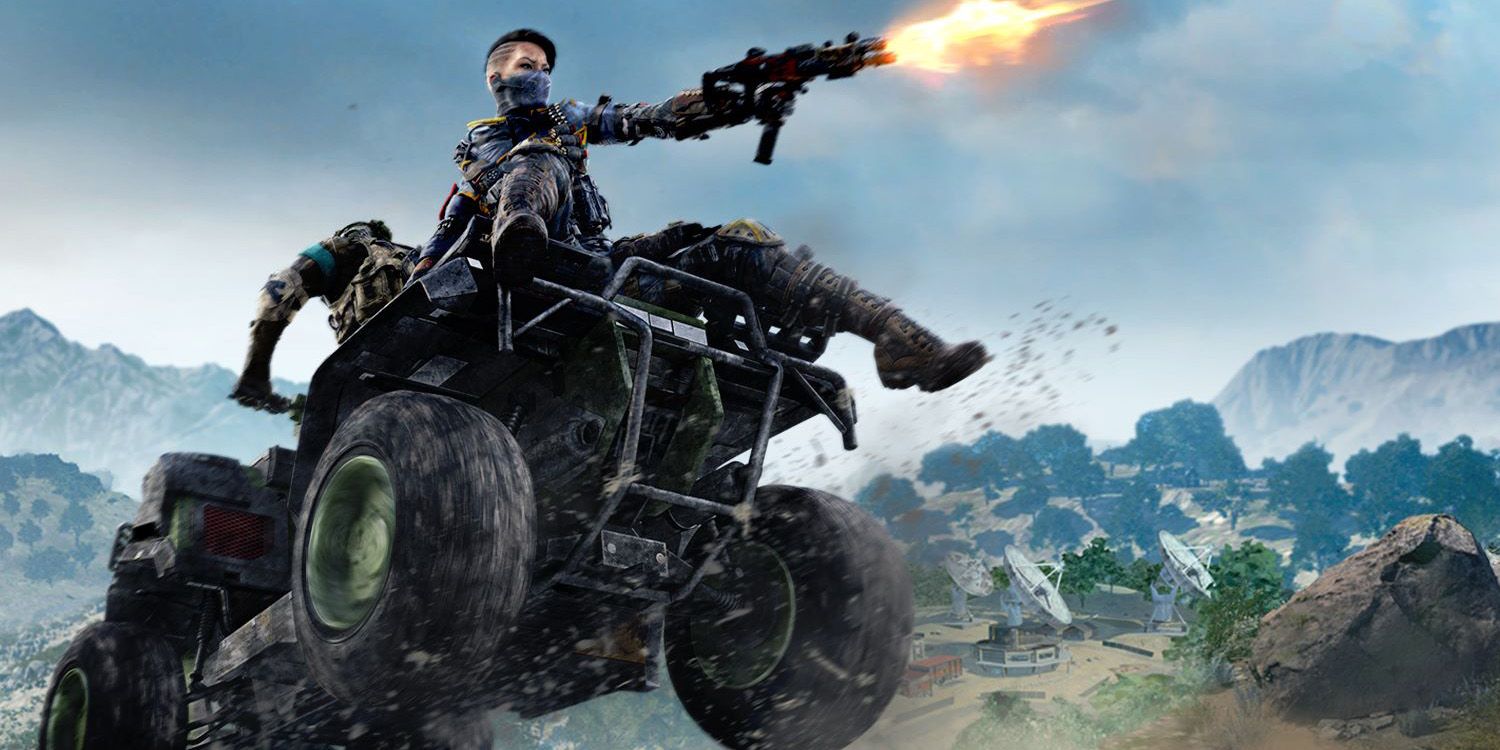 2018 is the year where skeptics can't deny Activision took a risk and did something different with the annualized Call of Duty series. They let developer Treyarch throw away the single player story campaign planned for Call of Duty: Black Ops 4 during development, and replace it with another type of the multiplayer mode - the biggest the series has ever seen.
You'd be forgiven for referring to Call of Duty: Black Ops 4 as simply, "Blackout," since there are most certainly a contingent of players only jumping into Black Ops 4 for the all-new and heavily publicized Blackout mode, the Activision's first ever take on the mighty popular battle royale genre that's stolen attention away from games like Call of Duty.
Related: Here's The Complete Black Ops 4 Trophy List
With Black Ops 4, Call of Duty now competes with modern gaming juggernauts PlayerUnknown's Battlegrounds and Fortnite directly, and hopes to earn similar attention and online popularity among influencers, streamers, and YouTubers. Blackout mode, representing one of the three core pillars of Black Ops 4 alongside its regular multiplayer suite and zombies co-op missions, is much more polished than PUBG and the countless "early access" battle royale games on the market. It's especially impressive given that Blackout was a relatively last minute addition to a franchise and game engine that has never supported large player counts and maps. The devs told us directly that Blackout didn't really being active development until earlier this year, and as a rushed project and a major pivot for the game, the decision to go for it totally paid off.
Black Ops 4's Blackout Battle Royale Mode is Familiar But Addictive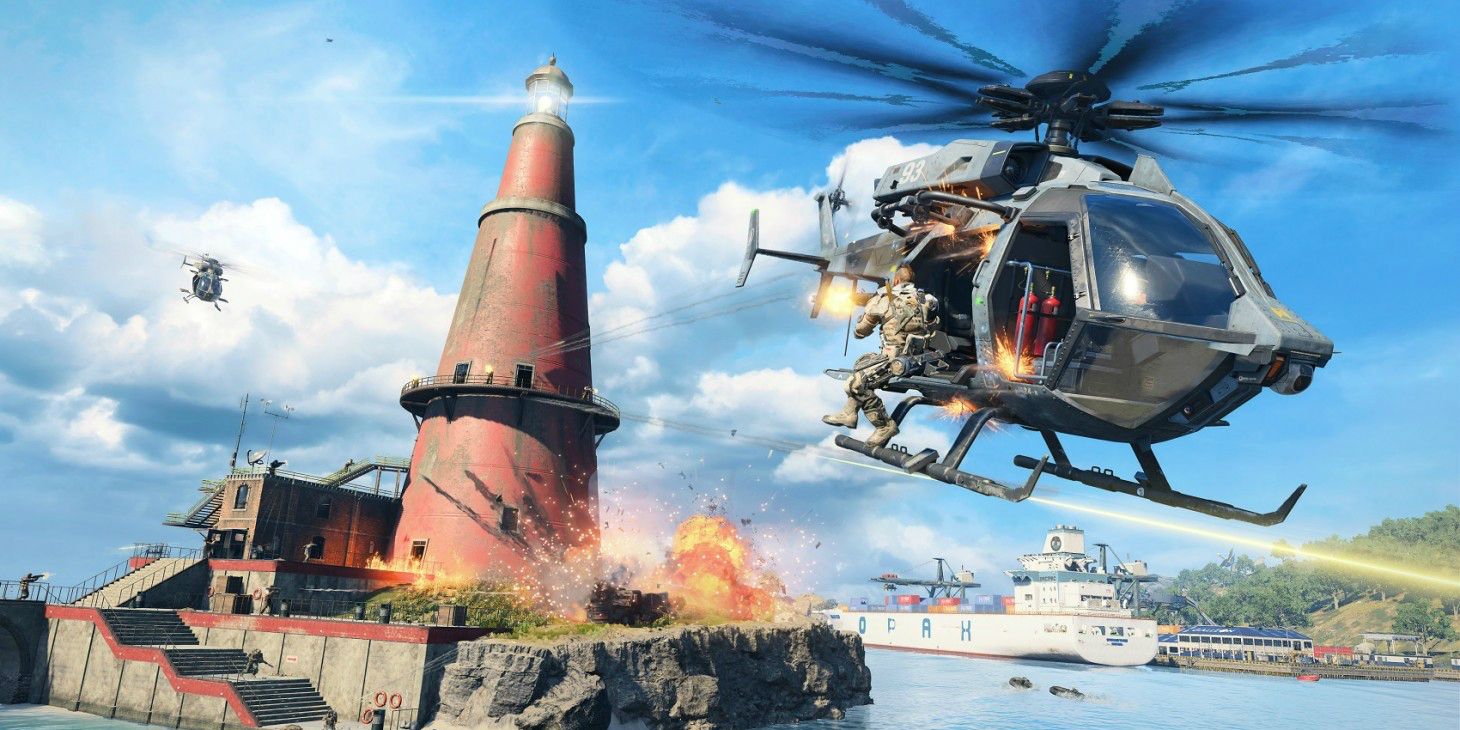 Blackout sees up to 100 players drop onto the largest ever Call of Duty map - comprised of familiar locations, assets, and scenery from all of Treyarch's Black Ops games - without any gear or weapons. Players, either playing solo or in duos/quads, must rush to gear up with weapons, equipment, perks, armor, first aid, and modifications for their weapons and take out other players with the goal of being the last alive. There are vehicles and random air supply drops too. Once you die, you're out of the game and can spectate or head back to the menu. Blackout does the same stuff PUBG does but adds in certain Call of Duty staples, like a version of perks that can be picked up and used as temporary buffs, scorestreak pickups, or certain map locations which feature AI zombies and mystery boxes (with rare weapons).
Where the traditional story campaigns gave Activision the chance to include celebrities in Call of Duty games and marketing materials, and blockbuster gameplay clips to showcase, the missions themselves never totaled more than a few hours. And from a business perspective these campaigns weren't monetized beyond the retail value of the base product every year. With Blackout, Activision has the chance to bring in a new base of fans, bring back some old fans, and it positions Call of Duty among the most talked about shooters on the market - where it used to reign supreme in the franchise's prime. It also gives them a whole new esports segment to explore, a new pillar of the game that can be monetized and evolved as a live service over time, and most interestingly, it makes Call of Duty a real player for the PC crowd again.
For that reason, while we spent countless hours on the PlayStation 4 and Xbox One versions of the game, it's Call of Duty: Black Ops 4 on PC where we're basing our review. Call of Duty has always been a shooter designed for consoles first, and it showed over the years. Compared to most shooters, we'd argue previous Call of Duty entries actually played better on a controller and on the console ecosystems - a stark contrast to games like Battlefield and Rainbow Six which absolutely should be played on PC.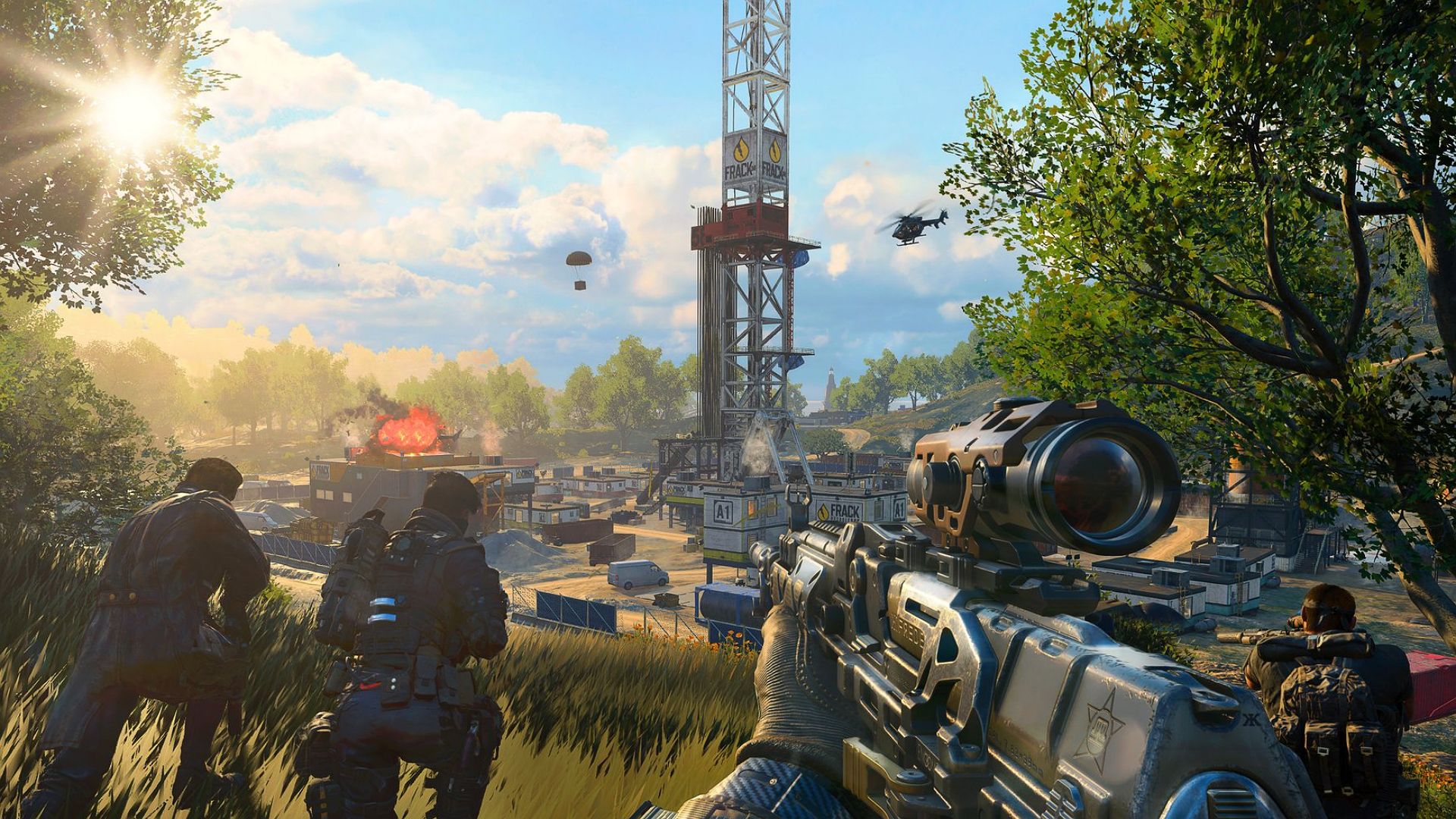 Call of Duty: Black Ops 4, thanks in part due to inclusion of the 100-player Blackout mode, was given its fair shake on PC - more than most Call of Duty games. Developer Beenox, with support from Raven Software, was tasked with making a PC version of Black Ops 4 that PC gamers could love, and they nailed it.
The in-game controls and interfaces, the amount of options, and the overall performance and presentation is top notch with Black Ops 4 even if a few things are hard to find at first without exploring the menus. The more intimate and tactical competitive multiplayer suite featured in Black Ops 4 runs well on PC, and the polish of Blackout mode raises the bar of what gamers should expect from triple-A battle royale experiences going forward.
We should note that, Blackout runs amazingly well on PlayStation 4 (and not just the Pro model, but on the launch version of the console). On consoles, you can see where sacrifices were made however, on texture pop-in and on the general lack of environmental destructibility. In that respect, Black Ops 4 is miles behind what we saw from visuals, animations, and physics compared to what we've played from the Battlefield V alpha and beta sessions. But for Call of Duty, Blackout is an achievement given its development period and the game engine and now we suspect this mode will become a necessary staple for all future Call of Duty installments. Fans will demand it.
Our only gripe with Blackout is that it lacks meaningful rewards and progression. Players earn merits through victories and other accomplishments, but unlocking characters - currently the only way players can change their appearance - is tedious and there's not much else to strive for at the moment. With in-game events, more unlockable content and goals, Blackout could have legs, but at the moment, it's basically another PUBG that's smoother and faster, and it may not have the legs for battle royale enthusiasts who got a year or two from the latter.
Black Ops 4 Multiplayer Tries New Things, Still Has Old Issues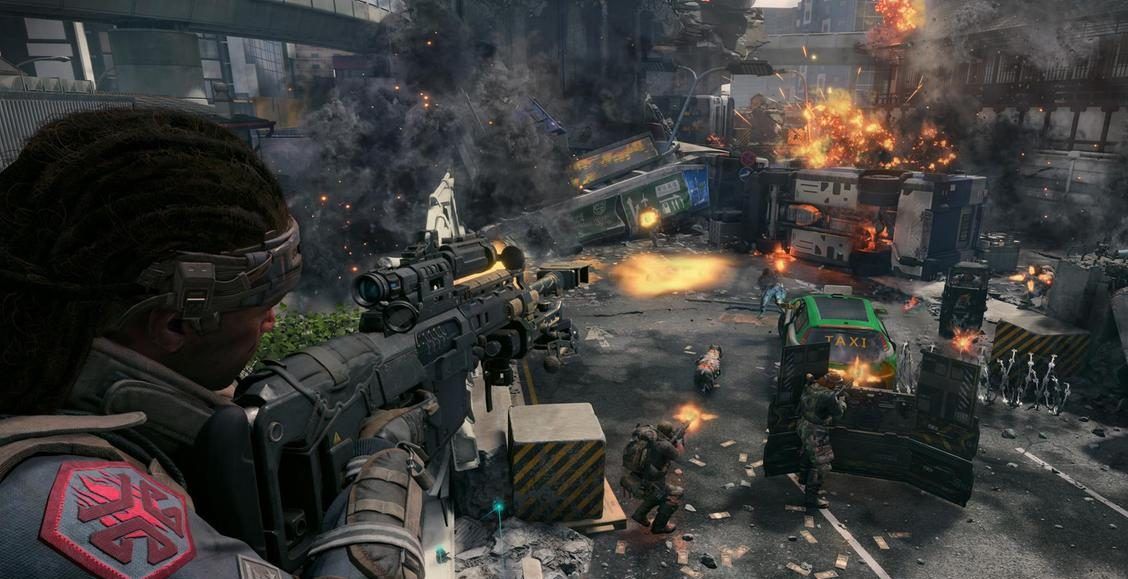 On the main multiplayer side of things, Call of Duty: Black Ops 4 leans further into the character-based, more tactical approach of competitive first-person shooter gameplay. Black Ops 4's multiplayer modes are more intimate in that they're mostly 5 vs. 5 or 6 vs. 6 - nothing larger - and all require players choosing different operators, each with their own unique ability and equipment. There are ten of these characters to choose from, giving players a chance to really find a few that match their playstyle based on the mode. And there are a good number of maps to play at launch, with 10 originals plus four returning Black Ops classics at launch (and a free new Nuketown map releasing in November).
Where Blackout aims to copy and improve the PUBG formula, the regular multiplayer draws inspiration from Overwatch and Tom Clancy's Rainbow Six Siege but doesn't fully lean into that formula. Black Ops 4 multiplayer still plays like a boots-on-the-ground Call of Duty with the familiar gunplay and movement, so at times, the heavy focus on operators and special abilities can feel out of place, but for the most part it works well.
What doesn't work in our experience however, are the score streaks that Black Ops 4 still employs from previous games. When a team is performing well, even dominating the opposition, the last thing the game should do is ensure the winning team's victory by giving them (and the already presumably better players) over-powered buffs and auto-killing air support. This old mechanic, a staple of COD games that should be pushed to its own mode instead of being the default, has never felt more out of place and is a big turnoff. As much as I enjoy guiding a hellstorm missile and calling in an attack chopper to pad my stats, this system places an even bigger spotlight on matchmaking and spawnkilling issues that shouldn't exist in a 2018 Call of Duty but they do in Black Ops 4. On several maps, during objective based modes, there are situations where players will endlessly spawn into gunfire with no option to spawn elsewhere.
Even while streaming Black Ops 4 throughout launch weekend, nearly half of our matches on PC and PlayStation 4 had uneven teams and players cycling in and out of games they know they cannot win. The scorestreaks on winning teams made this problem worse and we imagine it makes for poor first impressions for players jumping into games only to face impossible odds and be punished for trying. The game basically encourages quitting and trying to matchmake again in these all to common scenarios. There's no fun for players fighting 3 vs. 5 when already so far behind in the points tally, and they can't step outside because there's a helicopter above ready to instantly end them.
When you can get a fair fight, with full teams, Black Ops 4 can compete with the best of them even with some of its dated design choices. More then ever though, Black Ops 4 emphasizes team play and coordination so group with friends as much as possible!
Black Ops 4 Doesn't Deliver on Its "Narrative"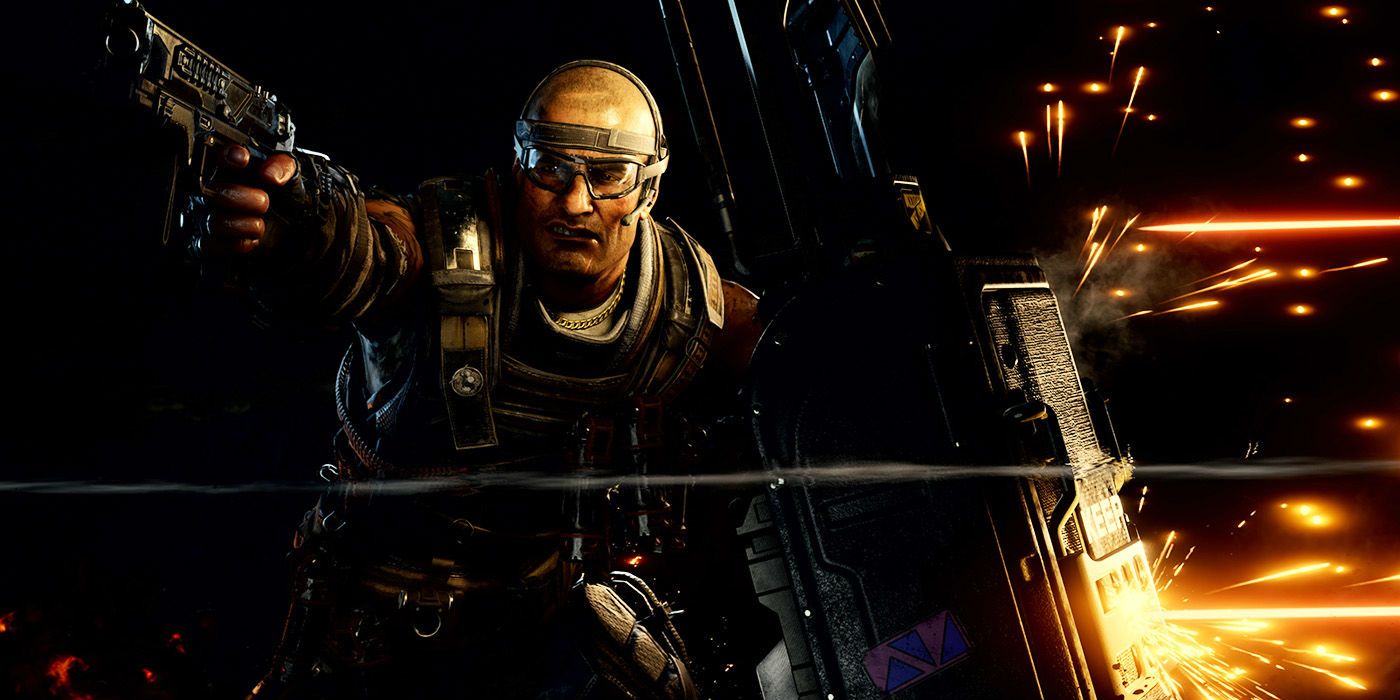 Black Ops 4, for what it's worth, is set earlier in the Black Ops timeline. Specifically, this one's set between the second and third entries for the purposes of toning back the future tech. That means no more robot soldiers, and certainly no more wall-running and double-jumping. That's the positive.
The negative is that Treyarch tries to fit in whatever narrative pieces they had leftover from the canned campaign into its tutorial mode, Specialist Headquarters, and it doesn't quite work if you're looking for that "narrative." Here, the game's 10 operators each have a training mission for players to learn their specialties, and a match against AI bots to learn a new mode. The training element is great, and so are the cinematic teasers of each character's origin story. There's some sort of weird, incomplete connective thread weaving them all together but it feels incomplete and doesn't go anywhere though.
What's interesting about the earlier near-future time period of Black Ops 4, and how it's used to bring gameplay back to what fans want, is that it let Treyarch play with a few other systems as well - especially when it comes to Blackout. Players can still power slide, but health regeneration is put in the players' hands. In regular multiplayer, one of the new tactical layers forces players to manually decide when to heal - offering the choice of whether to keep fighting, or back off to heal up. In Blackout, the difference is that players must first pick up the various first aid types in order to manually heal. When combined with equipment, the manual heal addition is a neat one in multiplayer.
The Unanswered Questions of Black Ops 4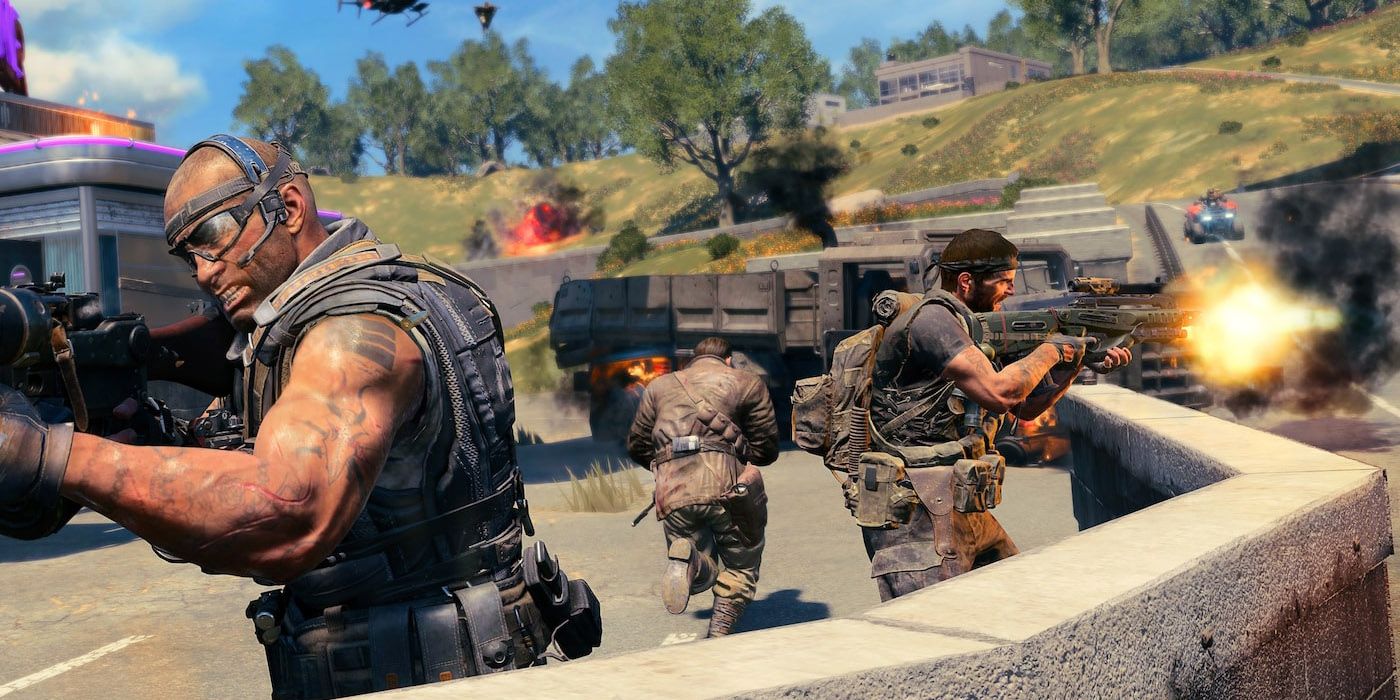 Call of Duty: Black Ops 4 is expensive, for players who want the "full" experience post-launch since it requires an antiquated DLC season pass to get all the currently announced additional multiplayer and zombies content, although Activision and Treyarch for months haven't clarified exactly what this all entails.
And given the inevitable additions of in-game microtransactions, this all hurts the value of Black Ops 4 as a long-term product versus other shooters. Depending on how Treyarch handles progression, rewards, and monetization in Blackout - something they're very intentionally keeping mum about for the moment - the longevity of Blackout and PvP remains a question mark.
That's not to knock the base product, however. What Call of Duty: Black Ops 4 comes with is an easily recommendable launch package. The Zombies offering is bigger than ever, multiplayer feels fresh and fun when it works as intended, and Blackout is just what the franchise (and battle royale genre) needed. This game may not innovate, but it aims to improve and lay foundation for an exciting future for all sorts of players.
Call of Duty: Black Ops 4 is now available on PC, PlayStation 4, and Xbox One. Activision provided a PC copy for review.