Black Mirror: Bandersnatch Has Scenes That May Never Be Unlocked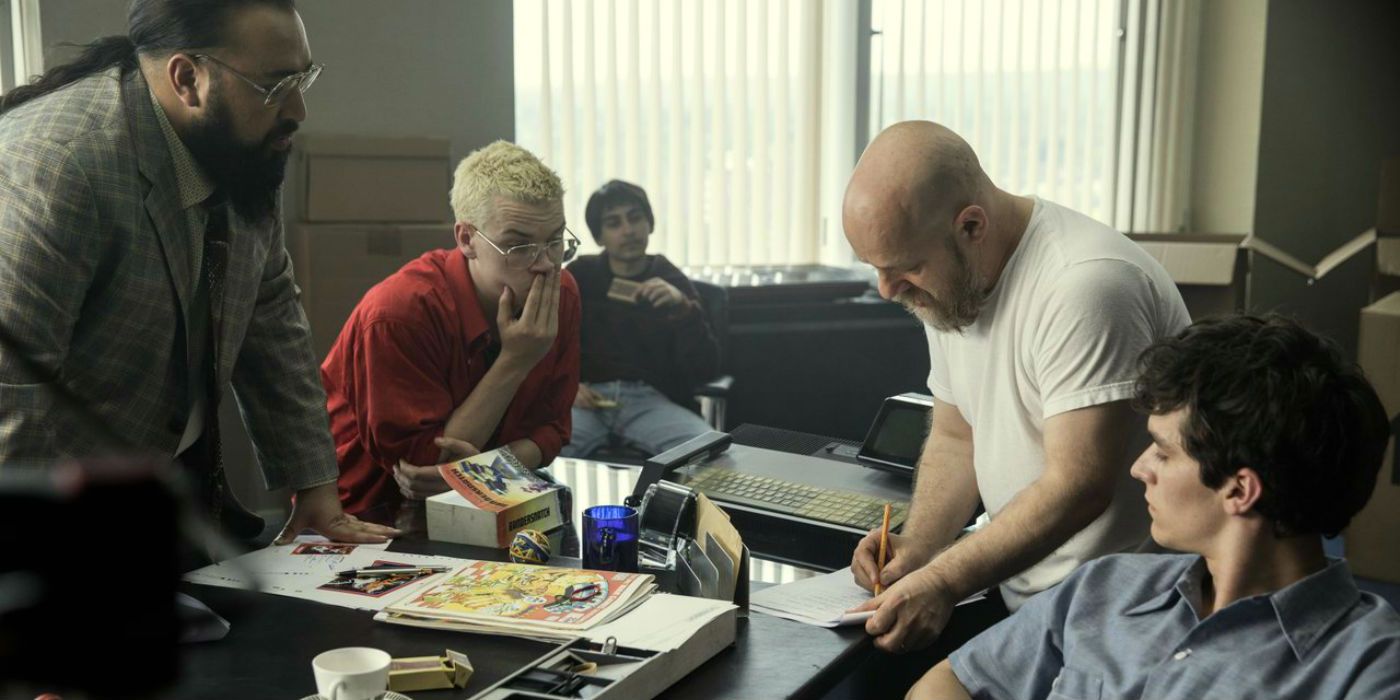 Netflix's new interactive story experience Black Mirror: Bandersnatch is so complex that it has some scenes that may never be accessed, and one that's completely inaccessible. The episode uses Netflix's interactive storytelling technology to allow viewers to decide the direction that the narrative takes - from small decisions like what kind of cereal to have for breakfast, to major decisions like deciding which of two characters will jump to their death from a balcony.
At the center of this maze is Stefan, a young programmer who is adapting his favorite choose-your-own-adventure novel into a video game. Bandersnatch is set in 1984, at the dawn of the video game industry, and Stefan's game grabs the attention of up-and-coming publisher TuckerSoft. Fundamentally, the aim of the episode is to help Stefan finish making his game and get a good review, but things quickly start to unravel and Bandersnatch's ending can vary wildly depending on what choices the player makes.
Related: Black Mirror: Bandersnatch Cast & Character Guide
Black Mirror fans have already managed to piece together a fairly comprehensive map of possible choices and their outcomes, but according to the show's creators, there were some scenes filmed that might never actually be seen because the path to reaching them is so narrow. Speaking to The Hollywood Reporter, director David Slade said that Bandersnatch contains "golden eggs" that are so rare most people will never find them, adding, "We actually shot a scene that we can't access." In total there are about five hours of footage that comprise all the scenes available on Netflix, but unless someone somehow finds a way to hack into the files, some of that footage may forever remain hidden.
Because of the nature of Bandersnatch's "endings" - many of which cause the story to loop back so that viewers can explore different paths - the creatives behind the show seem unable to agree on how many endings there actually are. Producer Annabel Jones suggests in the interview that there are five definitive endings, while fellow producer and writer Charlie Brooker insists that there are more and producer Russell McLean estimates that there are 10 or 12.
There are more secrets hidden in Bandersnatch than just endings, however. A QR code embedded in the episode leads to TuckerSoft's website, and from there you can download the in-universe game Nohzdyve (a nod to the Black Mirror season 3 episode "Nosedive"), which can be played on a ZX Spectrum emulator.
Bandersnatch does encourage viewers to try and experience every ending, but it also comes with a natural stopping point. "Eventually, there is a point that you will arrive at just credits," Brooker explained. "But that means you've seen almost everything." Of course, that probably won't stop the more obsessive fans from continuing to dig into the maze of choices, and trying to find something that no one has seen before.
Source: The Hollywood Reporter