Ben is Back Trailer: Lucas Hedges is Julia Roberts' Troubled Son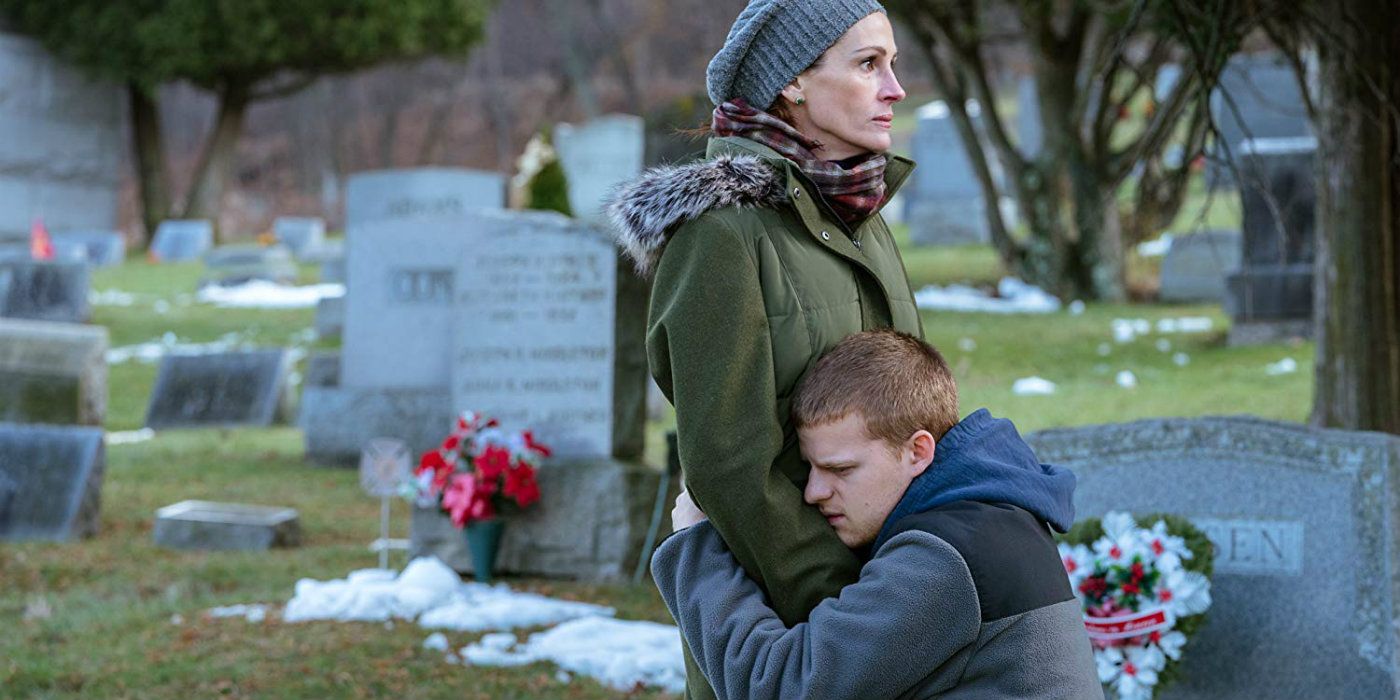 Julia Roberts and Lucas Hedges play a troubled mother-son duo in the full-length trailer for Peter Hedges' drama, Ben is Back. The film made its world premiere at the Toronto International Film Festival last month and has since begun to generate awards season buzz for the performances from Hedges and Roberts - the latter of whom is (of course) an Oscar-winner already, yet hasn't received any major movie acting nods since her turn in 2013's August: Osage County.
Directed by Hedges from his own script, Ben is Back stars Roberts as Holly Burns, a woman who is taken aback when - on Christmas Eve - her 19-year old son Ben (Hedges) returns sooner than expected from his stint in rehab for opioid addiction. While the other members of Holly's family are clearly worried about Ben coming back home earlier than he was supposed to, he nonetheless seems to be healthy, happy and clean... at first. However, it's not long before the unpleasant truth gets out and Holly is forced to find a way to not only keep her family from falling apart, but also protect her son over the day that follows.
Related: Clint Eastwood's Working For The Cartel in The Mule Trailer
The Ben is Back teaser trailer dropped online ahead of the film's TIFF premiere and focused specifically on the scene where Ben is reunited with an equal-parts delighted and disconcerted Holly. Roadside Attractions has now released a second and full-length trailer that gets into the actual meat of the film's plot, but at the same time continues to spotlight Hedges and Roberts' performances. You can check it out in the space below.
While the early reviews for Ben is Back are mostly positive, critics seem to have mixed feelings about the film's larger narrative. By the sound of it, the movie plays out as an emotionally raw, but honest and thoughtful familial drama in its first half, but then shifts into being more of a crime drama in its second half - something the new trailer partly calls attention to. So far, most critics appear to agree that Ben is Back's first half is definitely stronger than its second, but that the film still works as a whole in spite of that.
Likewise, both Hedges and Roberts are earning accolades for their efforts here. The former has been keeping especially busy of late and appears in no less than three buzzed-about awards season releases this year (Mid90s, Boy Erased and Ben is Back), after having costarred in three Best Picture Oscar nominees over the last two years alone (Manchester By the Sea, Lady Bird, Three Billboards Outside Ebbing, Missouri). Suffice to it say, Hedges' star ought to remain on the up and up for the foreseeable future, wherever Ben is Back falls quality-wise in his growing collection of movies about troubled families.
Source: Roadside Attractions