The Google Play Store will no longer show notifications for updated apps
Late last month we came across an issue with the Google Play Store which prevented some newly published apps from showing up in search. The bug only brought up related search results when searching for new apps, even though they were definitely live on the platform. Google addressed this issue shortly thereafter and users were once again able to look up new apps in the store. At the time, some users also reported another bug on the Play Store which stopped showing app update notifications in the notification shade. The bug was noticed shortly after Play Store version 17.4 rolled out to users and since then, more and more users have come up to share the issues on Reddit and Google's Support forums.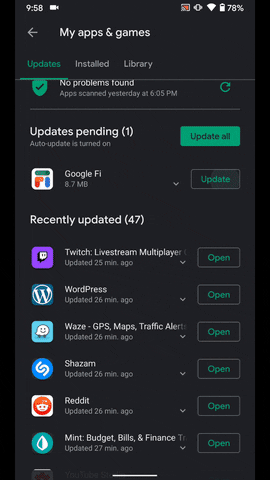 Now, as per a recent report from Android Police, it seems like the missing notifications in the Google Play store is intended behavior. A Google spokesperson reached out to the publication to provide further clarification on the issue and revealed that the missing update notifications were a feature and not a bug. Even though the issue was fixed briefly early in December last year, it remerged earlier this month. As of now, there's no further information from the company regarding its decision to remove Play Store notifications. Users who wish to check the app update status will now have to navigate to the My apps & games section in the Play Store and manually check for updates. Do note that Google won't push notifications after app updates are successful.
Via: Android Police
The post The Google Play Store will no longer show notifications for updated apps appeared first on xda-developers.