Nanny and Orphan-Maker Confirmed for Mystery Dysfunctional X-Team
As scheduled, Marvel has revealed another pair of blacked-out mystery characters on it's new X-book teaser for what the House of Ideas purports will feature the most dysfunctional team of X-Men ever. Marvel revealed Havok and Psylocke as team members yesterday, and today they've revealed Nanny and Orphan-Maker.
All mutants are welcome on Krakoa. Even the most murderous.

Nanny and Orphanmaker join Krakoa's newest team. #MarvelComics pic.twitter.com/lFzkUJWWkJ

— Marvel Entertainment (@Marvel) December 4, 2019
The duo most recently appeared at the beginning of War of the Realms: Uncanny X-Men, though only briefly to show the X-Men in action before heading off to take part in the super-mega-crossover event. First appearing in the original X-Factor series, Nanny is a former scientist who was employed by anti-mutant group The Right until she learned of their anti-mutant agenda, at which point she rebelled and was trapped inside her robotic egg body, where she became delusional and set out on a mission to save mutant children from evil parents by kidnapping them. Orphan-Maker is one of these children, abducted from Mister Sinister, whose silhouette also appears to be in the teaser image. That would add to the teased "dysfunction" of this team for sure.
Nanny and Orphan-Maker seemed the two most obvious silhouettes in the teaser, due to Nanny's unmistakable egg-shape. That seems to leave just four team members left to reveal. Two tomorrow, and two on Friday? We're feeling pretty confident that Mister Sinister and Squirrel Girl are amongst the mutants who will be revealed, but less confident about the others. Who do you see in the image?
Marvel has also tagged artist Stephen Segovia in the tweet, which could hint that this won't be the X-Corp book also set to be released at some time in the near future, as that one will be drawn by Carmen Carnero. Of course, the artist of a teaser image needn't be the final artist of the book, but it would seem likely. However, it could be that this book will continue the storyline from Fallen Angels, which is taking some kind of hiatus starting in February, as writer Bryan Hill did say that "there are already plans to continue the story — in a very cool way."
Whatever this mystery book is, it kicks off in March.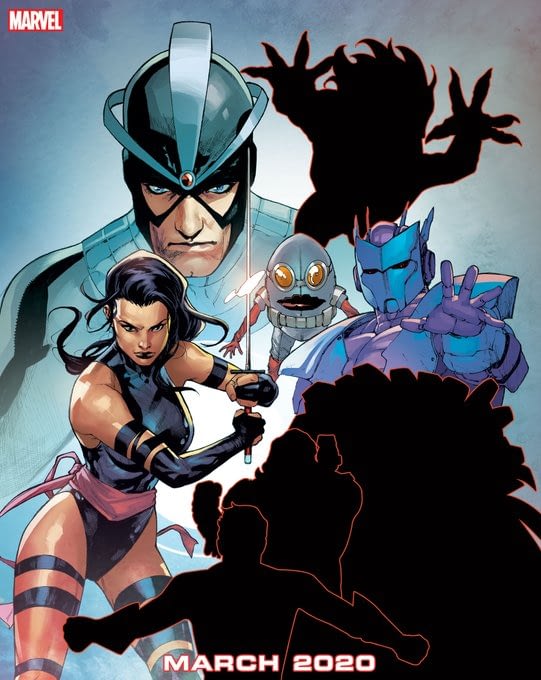 The post Nanny and Orphan-Maker Confirmed for Mystery Dysfunctional X-Team appeared first on Bleeding Cool News And Rumors.